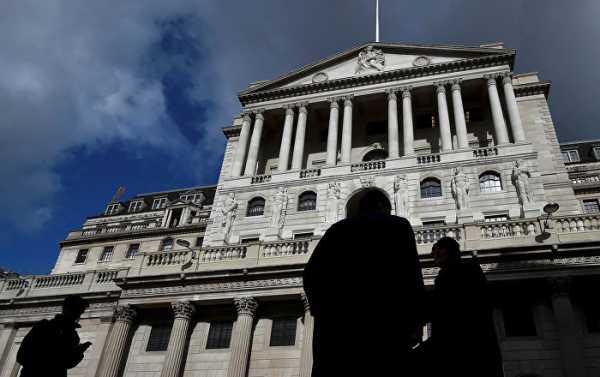 The British economy is set to accelerate in the current quarter after a sharp slowdown in Q1 caused by the cold winter, which weighed on consumption and the performance of the manufacturing sector, while GDP expansion from the entire 2018 is expected to be 1.6-2 percent.
Kristian Rouz — The UK's economic growth is forecast to hit the 2-percent mark for the current year, bouncing back after three months of harsh winter conditions hampered expansion in Q1. This comes amid the ongoing momentum in manufacturing and services, while inflation continues to decline closer to the Bank of England's (BoE) 2-percent target.
According to economic projections from the EY Item Club, the UK's Q1 GDP growth could brake to just 0.2-0.3 percent quarter-on-quarter, as the severe winter hindered consumption and overall output. In 4Q17 the UK economy witnessed 0.4-percent growth, resulting in a yearly downgrade in the annual growth outlook to 1.6 percent from the 1.7 percent expected previously.
"The UK economy is chugging along at a fairly steady but uninspiring rate. On the surface, the outlook appears stable. Inflation, which impacted consumer spending last year, continues to drop and we expect a tight jobs market to deliver some uptick in pay growth," Howard Archer of EY Item Club said.
However, this quarter is poised to brighten the overall picture. According Richard Buxton, fund manager at Old Mutual Global Investors, the economy will grow 2 percent his year, and will continue to accelerate once the Brexit turmoil is left behind in March 2019.
Meanwhile, the Office for Budget Responsibility (OBR) has predicted 2.5-percent yearly expansion, while the International Monetary Fund (IMF) left its projections unchanged at 1.6 percent GDP growth in 2018, and the BoE is expecting 1.8-percent growth.
Old Mutual's Buxton said these forecasts are 'gloomy'.
"Significantly, a transitional Brexit agreement between the UK and EU has been agreed to, which should also bring some certainty to businesses and support investment, although it still needs to be ratified," EY's Archer said.
According to the EY report, the BoE will undertake two interest rate hikes this year, lifting UK base borrowing costs to 1 percent. Rate increases are expected to take place in a more robust economic environment, allowing the central bank to stave off inflation, which fell to 2.5 percent last month from 2.7 percent in February, and 3.1 percent at its peak last November.
EY Item Club warned, however, that changes in monetary policy, along with other developments, could weigh on the economic rebound.
"These factors may be offset by rising interest rates; a recovery in sterling's value and still appreciable Brexit uncertainties bringing new headwinds over the year," EY's Archer warned.
The BoE Governor recently said a quarter-percent rate hike next month is not a done deal as of yet, with only one Monetary Policy Committee (MPC) member, Michael Saunders, vocally supporting an increase in base interest rates to 0.75 percent.
EY said further rate increases will likely have minimal negative implications for economic growth, as most mortgage borrowers — who constitute the largest segment of the UK's debt market — are on fixed rates. However, higher interest rates could curb consumer appetites for debt further down the line.
The UK's GDP is generally expected to accelerate to 0.5 percent in Q2, exceeding the pace of expansion in the previous two months.
Sourse: sputniknews.com