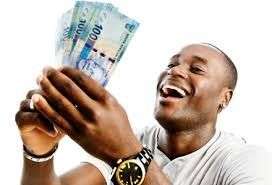 A study done by a South African payment solutions provider found that 36% of South Africans ran out of money before their payday at end of the month. And this situation is even worse in less developed African countries.

Access to credits in Africa is difficult because banks consider loans in this area to be risky. There are payday lenders who fill this gap and offer instant loans. In South Africa, these payday loans are regulated by NCA (National Credit Act). These loans include credits up to $571 and the amount is repayable within 6 months. But in practice, PDLs are almost always issued over a 30-day period and rarely exceed $250. Payday loans are assigned to supplement a borrower's salary when unforeseen expenses are incurred.
These small amount loans are available in Africa without many restrictions. And their interest can be really high. For example, Nigeria has the highest payday loan annual interest rates in Africa. The typical APR for a loan in this country is 1822%. In Zimbabwe, this rate is a little bit lower and is equal to 1785%. The lowest APR is in Morocco and it is 665%.

It may seem strange why someone would ever consider a payday loan with such rates.
But there are a few things that make them attractive, especially to those in financial difficulty:
Easy access to funds – Often it takes several minutes to apply for a loan and get the money. This almost-instant payment is a fundamental selling point of PDLs.
Negligent credit checks – Payday loans are often seen as loans for people with bad credit scores. The reason for it is less stringent lending criteria than for other credit products. Some payday lenders carry out a credit score check before issuing a loan, but some do not. This makes it easy to borrow PDL, but there is a risk that someone with bad credit history and no income may take out a loan they cannot afford. Creditors actively promote that people may qualify for PDL even if they have a bad credit record; and in some instances, loans are even extended to blacklisted persons. The microcredit industry focuses on customers that have no possibility to access traditional credits. This fact together with the relatively small amounts of loan, payday loans are often being used by low-income earners.
Rollover payments – Some PDL providers give the option to roll over payments and bill it as 'giving more time to repay'. The problem is that consumers will be slapped with even more interest
So, in summary, while PDLs can be easy to receive in certain areas of Africa, their high interest rates can be too expensive and very difficult to pay off. Governmental regulation in other regions of the world is stricter and the APR is dramatically lower. Data shows that nearly 2 in 4 payday loans in Africa are reborrowed nine times or more. And even considering the fact that the PDL industry is constantly developing and undergoing positive changes, it still has a long way to go to reach the level of more developed countries.