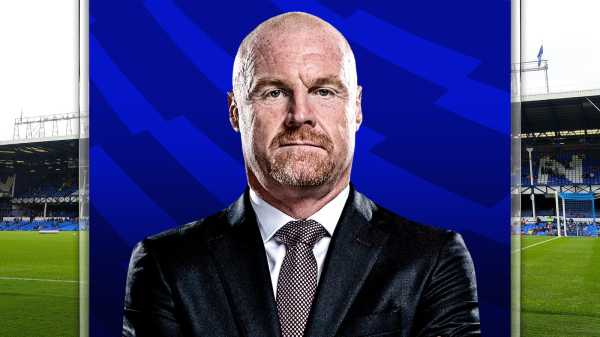 After a January transfer window in which Everton didn't sign a single player and Chelsea splashed £323m on eight new arrivals, it may seem strange but there are clear similarities between the challenge Sean Dyche and Graham Potter have faced at their respective clubs.
"It looks to me they're trying to form a way of working, like most of us are," Dyche told Soccer Saturday ahead of his relegation-threatened side's trip to Stamford Bridge for Saturday Night Football. "That's part of management, to form a way of working that suits the players, suits the feel of the club. But mainly you have to win."
The demand for victory may be in pursuit of different objectives this season but the pressure has been on both Dyche and Potter to quickly instil their playing styles and standards onto a new group of players.
For Dyche the challenge was having an impact after arriving in place of Frank Lampard mid-season. For Potter, who has had a longer run at Chelsea, it was about shifting to cope with new signings and a lengthy injury list.
Potter has revelled in the upturn in form he has finally achieved with Chelsea, with their three wins on the spin last week including a morale-boosting progression to the quarter-finals of the Champions League.
Trending
Transfer Centre LIVE! Real Madrid considering Lukaku swoop
Carra: Newcastle win leaves Man Utd with 'real fight' for top four
Wolff: Mercedes car will look 'very different' by mid-season
PL Predictions: Felix, Havertz combo to down Everton
Papers: Real Madrid monitoring Kane developments
FA Cup talking points: Kompany returns to City; Seagulls seek catch of the day
Villeneuve Pironi: Racing's Untold Tragedy – watch on Sky Sports F1
Verstappen tops Alonso, as Hamilton struggles in Jeddah P2
Leclerc: We are not that bad! | Were Ferrari holding back?
Are Chelsea back on track?


Chelsea
Everton
Saturday 18th March 5:00pm Kick off 5:30pm
Dyche has seen positive steps from his side too and explained how he approached the challenge of trying to turn around Everton's season and discussed the response of his players, who have won three of their seven Premier League games under him, having only won three matches in the top flight this season before his appointment at the end of January.
"The players have been very adaptive," he said. "They've listened, they've absorbed a lot of what we've offered them, particularly in the first week, 10 days, maybe two weeks because we really tried to cram a lot in then, really sort of force feeding them a lot of what we thought was important.
Also See:
Premier League relegation fight: Who's in trouble?
Stream the biggest moments on NOW
Download the Sky Sports app | Get Sky Sports
"People sometimes think, 'Well that's part of their profession' but you've still got to go out and play. You're taking in a lot of information, sometimes new to your style or your game. It is more tricky than people sometimes think, to add in new tactical thinking and different professional standards that we represent.
"As the weeks have gone on they've got more used to what we do and then it's about standards and driving the standards and the consistency of the standards."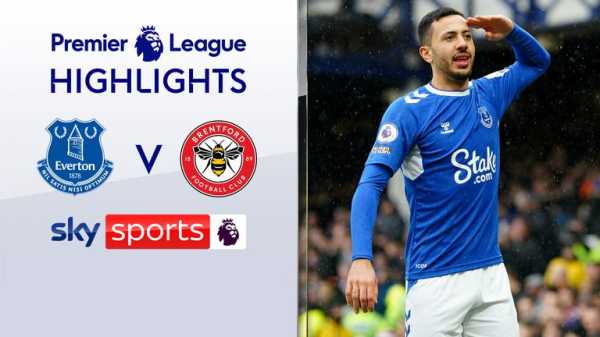 FREE TO WATCH: Highlights from Everton's win against Brentford in the Premier League.
Several of Dyche's initiatives upon arriving at the club grabbed headlines, from the bleep test he had the players complete, to a feedback questionnaire which asked them to open up about what had and hadn't worked well at the club previously.
"There are things I like to crossover with businesses I've been to," says Dyche. "The idea of feedback, I want it and I want it to be honest. It's a delicate one – people can write down some pretty interesting things!
"But it's not just where things are going wrong, we say what are the things that work? A lot of answers come out pretty similar, we share it back with the group and work on that basis. And then to change that we do this, this and this… There's a bit of common sense to it.
"There was a bit of noise about the yo-yo test. It's not to try to give some sort of hard line, which people suggest. It's a measure I've used many times, so I know where people should be at through years of using that measure. Your body needs to be at a certain level to take the requirements of what the game offers you.
"I've got three players here who I've worked with before but for some of the players that's probably a new thing, and I think they were excellent, very open minded and I believe they offered a truthful view. Complete anonymity, I just wanted honest feedback."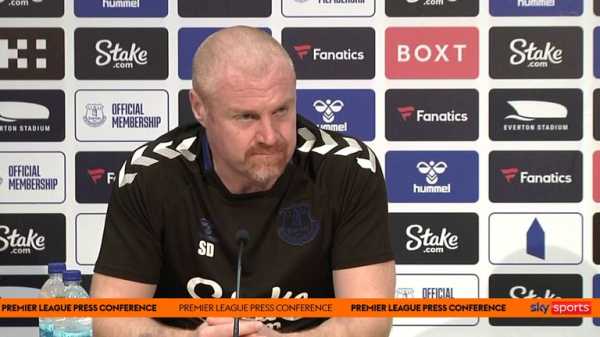 Everton manager Sea n Dyche says he is fully aware how tight the battle to avoid relegation from the Premier league is but has called on his players to keep building on the progress they have made since he took over at the club.
By applying the learnings from those sessions, Dyche has had a clear impact on Everton's style of play, as well as their results.
However, after their 1-0 win over Brentford last weekend, he was careful not to get carried away by the improvement, insisting the team still have a way to go to get to where he wants them to be, despite the result moving Everton up to 15th in the table.
Dyche reiterated that point again to Sky Sports. "It's steps. To jump straight to there [raising his hands], very rarely happens. We want to put in building blocks to get you where you want to be.
"People talk about putting money into clubs and sometimes it has an instant effect but there are many stories where it doesn't. The work has to be progressive. But there's a long, long journey."
It is a sentiment Potter could well relate to after his experience at Chelsea. On Saturday, the meeting between two sides trying to rebuild and continue on a positive path should provide an interesting checkpoint of where they are on that journey.
Watch Soccer Saturday from 12pm on Sky Sports News and then Chelsea vs Everton live on Sky Sports Premier League from 5pm; kick off 5.30pm.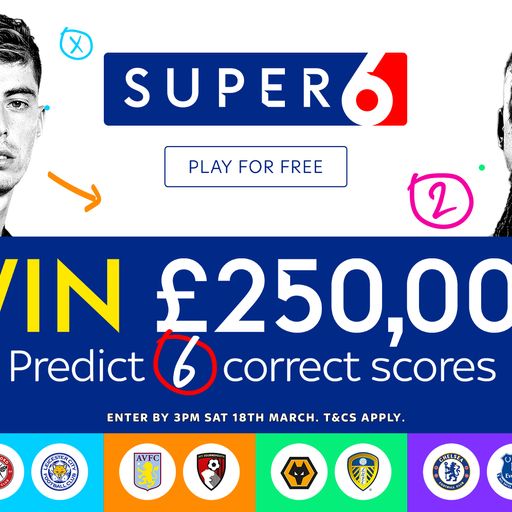 Win £250,000 with Super 6!
Another Saturday, another chance to win £250,000 with Super 6. Play for free, entries by 3pm.
Sourse: skysports.com