Liverpool manager Jurgen Klopp on Luis Diaz after he misses 3-0 win over Nottingham Forest following shocking news of parents' kidnapping: "The best thing we could do for our brother was win the game and maybe distract him a little bit. All the rest was super-negative."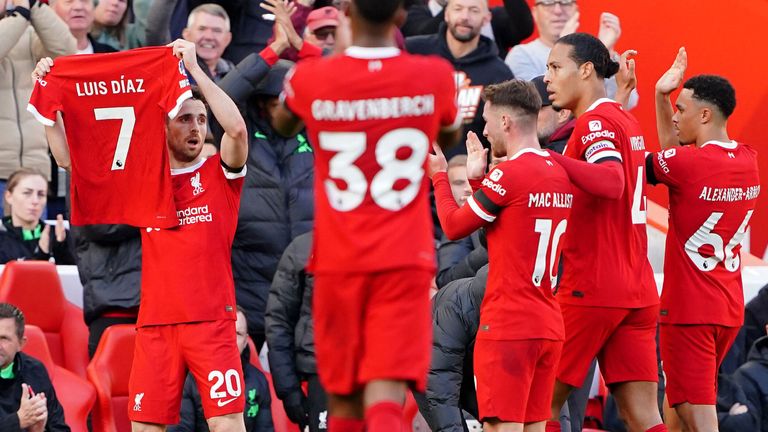 Image: Diogo Jota raises Luis Diaz's jersey as he celebrates scoring Liverpool's opening goal against Nottingham Forest
Jurgen Klopp delivered an emotional tribute to the absent Luis Diaz after Liverpool's win over Nottingham Forest which the forward missed due to his parents' kidnapping.
Klopp called the afternoon the "most difficult circumstance" he had ever worked in after the news broke overnight on Sunday that both Diaz's parents had been kidnapped in his native Colombia.
The player's mother has since been released, but his father remains missing.
Diaz had been due to start the game at Anfield and was replaced in the Liverpool line-up by Diogo Jota, who held up a 'Diaz 7' shirt after scoring the opener in their 3-0 win.
"We played in the most difficult circumstance I've ever had," Klopp told Sky Sports. "It was a really difficult day, which ended with a good result.
"The best thing we could do for our brother was that we win the game and distract him a little bit maybe, all the rest was super special in the most negative understanding. After more than 1,000 games you would think you have experienced everything, but no.
"But it's not about us, it's about 'Lucho' and his family, and we all pray and hope that everything will be fine. What we can do, we will do, we've done already in the club and the only thing we could do today was fight for their brother – and that's what they did."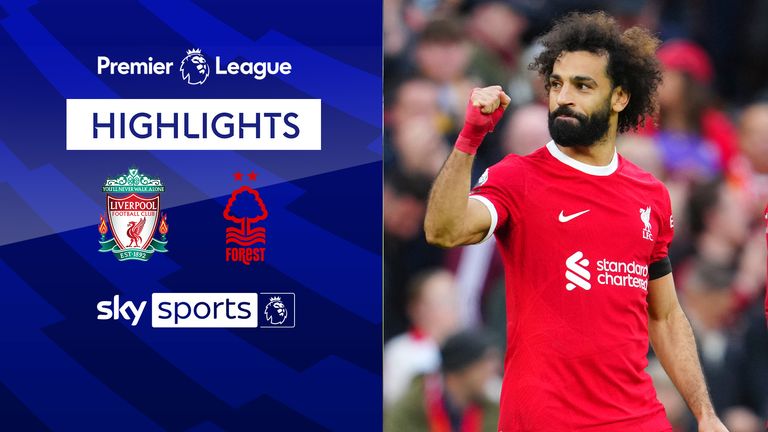 FREE TO WATCH: Highlights from Liverpool's win against Nottingham Forest in the Premier League
He later added in his press conference: "How can you make a football game important on a day like this? I've never struggled with that in my life. It was always my safe place, sometimes my hiding place. In this 90 minutes you are allowed to focus just on that – but it was absolutely impossible to do that today.
"It was clear we had to give the game extra sense, which was fighting for Lucho. I was not 100 per cent prepared for the shirt when they pulled it out, which was a really touching moment.
"We heard late last night about it. We spoke to Lucho to go home, sent people with him, and have people with him to take care of him. Part of his family is there, then we had the news about his mum which is fantastic, and since then nothing really.
"We are not the first people who get informed, but we try to have knowledge of everything as much as we can. We don't want to disturb in any way, we just want to support."
Jota: Situation unimaginable
Jota made the most of his role of starter in circumstances he would never have wished for, and paid tribute to his friend and team-mate Diaz after the game.
"Luis was with us in the hotel last night when he heard the news, it's unimaginable to think about the situation like this," he told Sky Sports. "I played instead of him, and I just remembered to do something as well like as a team to show him we're with him, and hopefully things work out well in the end."
Sourse: skysports.com