Sam Johnstone has kept more clean sheets than any other Premier League goalkeeper since making his Crystal Palace debut. His former coach Gary Walsh explains how. Watch Palace vs Spurs live on Sky Sports Premier League this Friday from 7pm; kick-off 8pm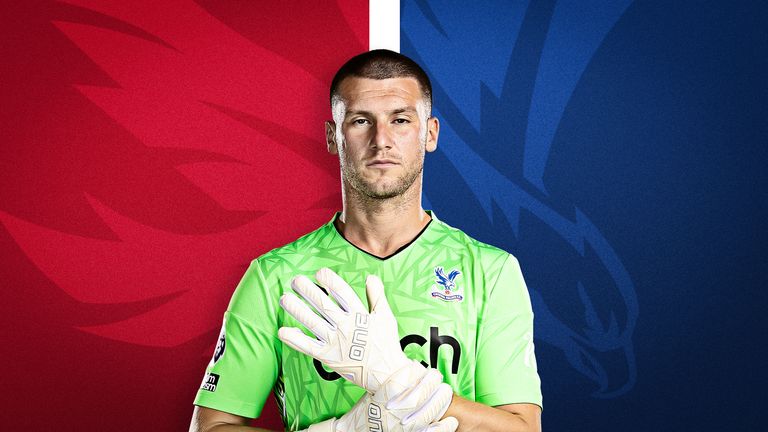 Image: Crystal Palace goalkeeper Sam Johnstone has kept seven clean sheets since making his Premier League debut for the club in April
"We were close many times," said Manchester United boss Erik ten Hag. "We created at least three clear chances to score," said Fulham's Marco Silva. "If anyone deserved to win it was us, considering the chances," said Nottingham Forest's Steve Cooper.
None of their teams were able to find a way past Crystal Palace goalkeeper Sam Johnstone. It reflects his fine form. Since making his Premier League debut for Palace in April, he has kept more clean sheets than any other goalkeeper in the competition.
Johnstone was recently rewarded with his first England cap in two years, keeping yet another clean sheet in the win over Australia. He has yet to concede a goal in any of his four appearances for the national team under Gareth Southgate.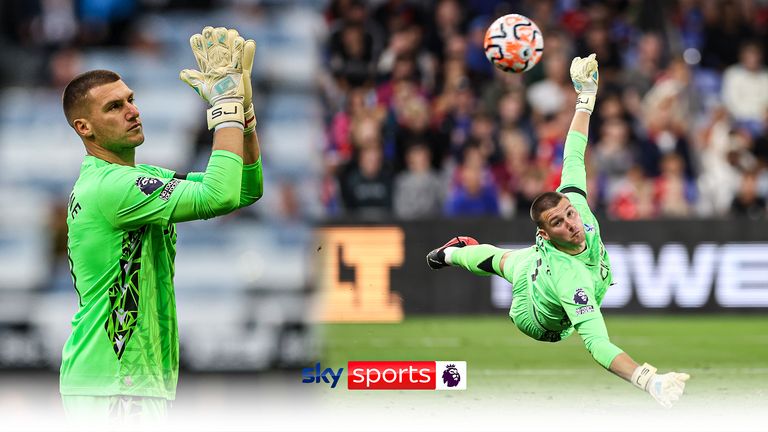 A look back at Sam Johnstone's best saves for Crystal Palace so far in the season
These performances are proving enough to keep out summer signing and fellow England international Dean Henderson at Selhurst Park. A new contract is imminent. It is testament to a work ethic that has surprised even seasoned observers.
Gary Walsh, the former Manchester United goalkeeper, certainly falls into that category. He spent five-and-a-half years working with Johnstone as his goalkeeper coach at Aston Villa and West Bromwich Albion. "His attitude is massive," Walsh tells Sky Sports.
"He has his own chef. He does plyometrics in the gym. He wants to do things right. He is someone who wants to look back on his career and know that he did everything he could possibly do. Anything you throw at him, he will just get on with it.
"That is the big thing with him. Every single day in training, he tries to get the best out of it. They instilled that in him at a young age at Manchester United and it means that his standards are so high in every session. That mentality is a huge part of it with him."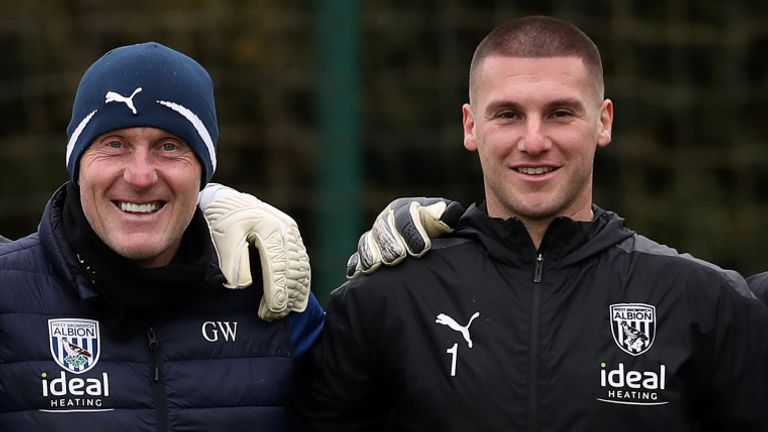 Image: Gary Walsh and Sam Johnstone pictured together at West Brom in 2021
Walsh forged a connection with Johnstone partly because of their shared experiences. Both moved away from United to progress. "It is a difficult place to leave but that time comes." Johnstone had 10 loans at seven different clubs before departing in 2018.
He was ready for the Premier League long before that, in Walsh's view, but five of their six seasons together were spent in the Championship, where Johnstone honed his craft. "We worked on his power in the box and doing things quickly," Walsh explains.
"In the Premier League, everything is about power and pace. As a goalkeeper, you are not going to be in the perfect position to make a save a lot of the time. So, it is about how quickly you can adapt and set yourself, no matter where you are in the goal.
Get Sky Sports | Download the Sky Sports app
Stream big Premier League moments with NOW
"One of the big debates in goalkeeping right now is whether it is a foot save or a reaction save. We did a lot of work on that, making sure that his body position was forward. We both agree that he is a much better goalkeeper when he keeps his head forward.
"For example, when you get a shot from the left going across you, when I played you were told to push off your right leg but there is no time now. You have to move your right leg in and push off the left. The angle of your dive has to be as if you are attacking the ball.
"Goalkeeping is all about that decision-making. The very best goalkeepers just make the right decision more often and quicker than everyone else. He has worked a lot on that, training at match tempo. I cannot think of one day when he was not on it."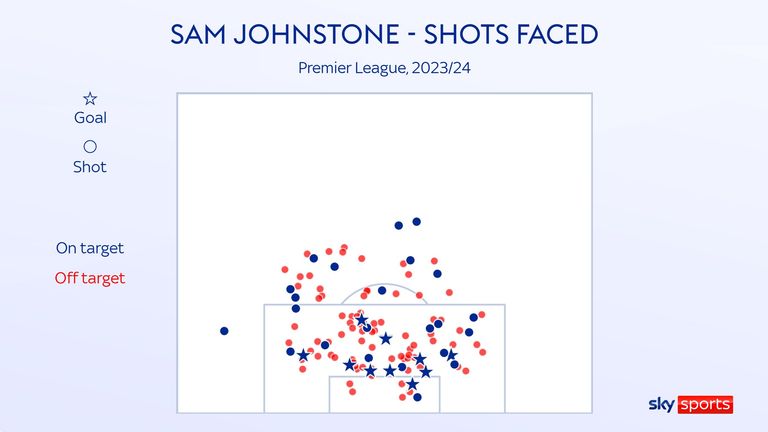 Image: Sam Johnstone's shots faced for Crystal Palace this season in the Premier League
The result is that Johnstone has turned himself into an all-rounder. Some goalkeepers catch it, others punch it. Since making his Palace debut, he ranks in the top four for both. "Technically, he has everything. He can kick with both feet and punch with both hands."
He is a product not only of Manchester United but those four seasons at West Brom where the only constant was change. "His adaptability was massive," says Walsh. "We had five different managers wanting to play different ways. He just got on with it."
Darren Moore asked him to play out from the back. Slaven Bilic too. "I think that really helped him with England." Sam Allardyce followed. Valerien Ismael had different demands. "He wanted him to play as an aggressive sweeper-keeper." It was all useful.
Datawrapper Due to your consent preferences, you're not able to view this. Open Privacy Options
Under Roy Hodgson, Johnstone is one of only two goalkeepers in the Premier League whose average pass length is over 30 metres this season but it is not all about pumping it long. His recent appearance for England showcased the range of passing that he has developed.
"He hit a pass where he found Trent Alexander-Arnold in the middle of the pitch. He did not play it to him, he played it into the space that he ran into. England almost scored from it. Not many goalkeepers can see that pass but he saw it. No coach can give you that really."
Walsh feels Johnstone was unlucky that his season in the Premier League with West Brom came during the pandemic. He recalls a draw with Manchester City. "I have never seen a goalkeeping performance like it." But the recognition is beginning to come his way.
'Super Sam Johnstone' is the familiar refrain from the Palace crowd these days. It took time. A rare injury coupled with the adjustment to life in London slowed his progress. But Vicente Guaita's calf injury presented an opportunity that he has seized.
"He is playing regularly in the Premier League and playing really well," says Walsh. At 30, the best years for club and country could be ahead. Johnstone will be putting the work in to make sure that happens. Expect more frustrated opposition managers in the future.
Watch Crystal Palace vs Tottenham Hotspur live on Sky Sports Premier League from 7pm on Friday Night Football; kick-off 8pm
Sourse: skysports.com