Manchester City won 3-0 at Old Trafford to move nine points clear of their neighbours just 10 games into the Premier League season; City have won as many trophies since the start of last season as United have since Sir Alex Ferguson retired with era of dominance during Guardiola reign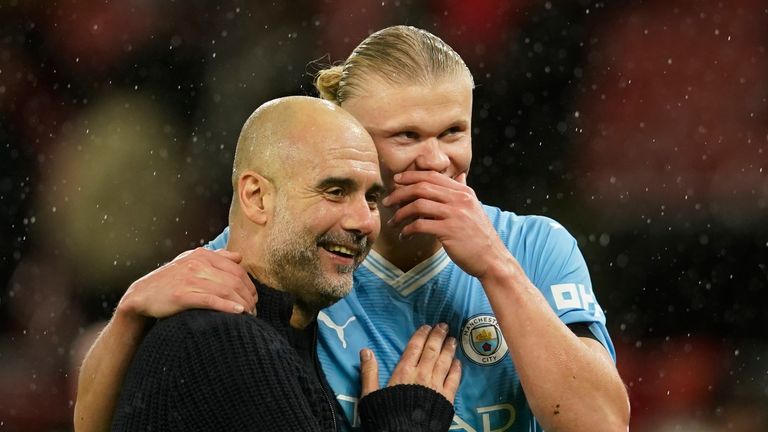 Image: Pep Guardiola talks to Erling Haaland after Man City's win at Man Utd
Pep Guardiola admitted he could not envisage Man City establishing such dominance over neighbours Man Utd when he took charge in 2016.
Guardiola oversaw a commanding 3-0 victory at Old Trafford on Sunday in his 20th Manchester derby, a result and performance which underlined the gap that exists between the two clubs. After 10 games, City are nine points clear of United and operating at a different level.
Indeed, since Guardiola took charge City have become the prevalent Premier League power, winning five of the last six titles and the treble last year. The four major trophies they've won since the start of last season is as many as Man Utd have managed since Sir Alex Ferguson retired 10 years ago.
Report: Man Utd 0-3 Man City
Keane: Fernandes should be stripped of Man Utd captaincy
Premier League table | Watch free Premier League highlights
Get Sky Sports | Stream the biggest moments on NOW
However, Guardiola, when asked about the chasm in his post-match press conference, admitted he had expected United to be more of a force when he first came to the country.
"I know what we have done. I don't know what Man Utd have done because I am not here," he said. "But I didn't expect it, honestly, when I arrived here with Jose Mourinho [in charge at United], with [Zlatan] Ibrahimovic [up front for United], with top, top players, [Romelu] Lukaku [signed in 2017]…"
Man Utd XI in Guardiola's first Manchester derby in 2016
Man Utd:De Gea, Valencia, Bailly, Blind, Shaw, Pogba, Lingard, Mkhitaryan, Fellaini, Ibrahimovic, Rooney.
Head coach:Jose Mourinho
Guardiola then directed his answer towards the overriding reason he believes City have been so successful during his tenure: unity from top to bottom and a common direction throughout the club.
It is an attribute which many would argue is not so evident at United, with Sky Sports pundit Gary Neville, on X, formerly Twitter, describing Guardiola's comments about stability as "a monstrous dig into the running of United!"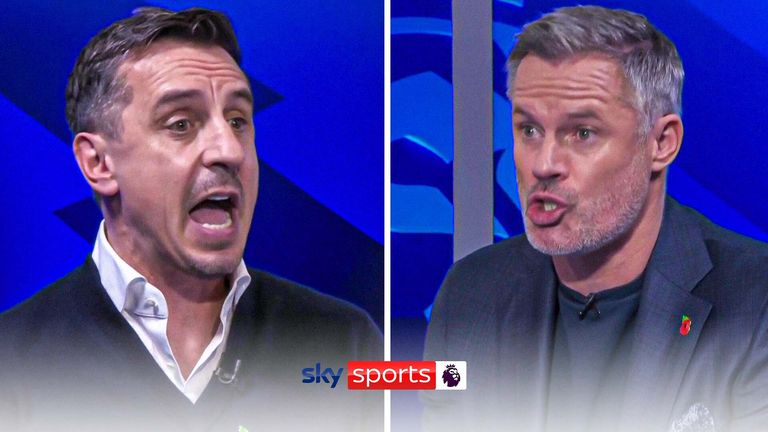 Gary Neville and Jamie Carragher clash on what the problems are at Manchester United following a comprehensive 3-0 defeat to local rivals Manchester City and where the blame lies after a lack of progress
"I said many times, we are in the same direction, the chairman, the CEO, the sport director, the manager and the players," Guardiola said. "We go there. Wrong or right, it doesn't matter we go there.
"We make mistakes of course. When we lose or the situation is not going well we're not here to blame someone. 'It's OK, we will have do better, what's happening? The opponent is getting better, we're getting worse, what do we have to do to find a solution?' That is nice.
"That's the way we've done it since day one. First season we didn't win, I didn't feel my chairman complain, absolutely not. He supported me unconditionally. I remember when we lost the final of the Champions League to Chelsea we were devastated, I was. And the chairman said 'we are going to win it, sooner or later. What do we have to do next? Come on, let's go'.
"The club rely on me, the players know I rely on them. When that happens we are not incredibly over-excited when we win and we lose it's not dramatic. OK it's a football game what do we have to do to get better? That's why I think the club organisation is so stable."
Neville: Why do fantastic coaches keep failing at Man Utd?
Speaking on The Gary Neville Podcast Neville picked out the "cultural failure" at United. The contrast with the ethos at City is striking.
"Erik ten Hag is a fantastic coach, we know that, we can't dispute that," said Neville. "Jose Mourinho is a fantastic coach, we can't dispute that. What we have to dispute is why they keep failing at this football club. Answer that question.
"It's not because of one player, or their ability. They can all take the responsibility, the medicine and say: 'I didn't achieve what I wanted to achieve'. But it's about cultural failure, and that's it."
Sourse: skysports.com