Jamie Carragher said this week that Manchester United have gone backwards this season; Erik ten Hag has hit back by saying that his team have actually improved; watch Man Utd vs Man City this Sunday live on Sky Sports from 3pm; kick-off 3.30pm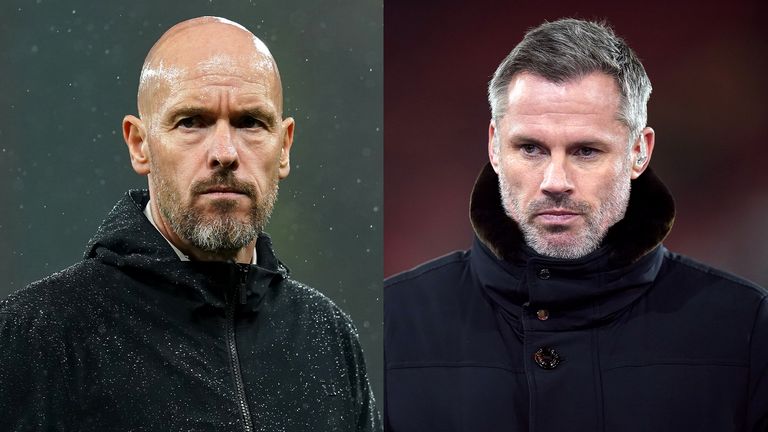 Image: Erik ten Hag (left) has hit back at Jamie Carragher's claims that Man Utd have gone backwards
Erik ten Hag has disagreed with Jamie Carragher's comments that Manchester United are going backwards this season – by saying the statistics show that his team has actually improved.
United host local rivals Manchester City in a Super Sunday derby this weekend, live on Sky Sports with kick-off at 3.30pm, in the latest acid test to see how far Ten Hag's side have improved from last season.
Man Utd vs Man City: Eyes of the world will be on this game
Ten Hag on Onana-Garnacho: We are united
Stream Man Utd vs Man City – Sunday at 3.30pm – with NOW
Get Sky Sports | Download the Sky Sports app
In his column in The Daily Telegraph, Carragher said United's summer signings have led to the club becoming "stale" – and that Ten Hag should now be questioned about whether he can get the best out of his squad.
But in his pre-match press conference for the City game, Ten Hag hit back at those claims.
"In possession we have to do better, but there are reasons and I don't go into them, but everyone is seeing why. But there are also facts so I disagree [with Carragher], we are much better," said Ten Hag.
"In high ball regains, we are a top of the Premier League. In the middle [of the pitch] ball regains, we are top. The pressing is very good. So that's not the truth, what he [Carragher] is telling."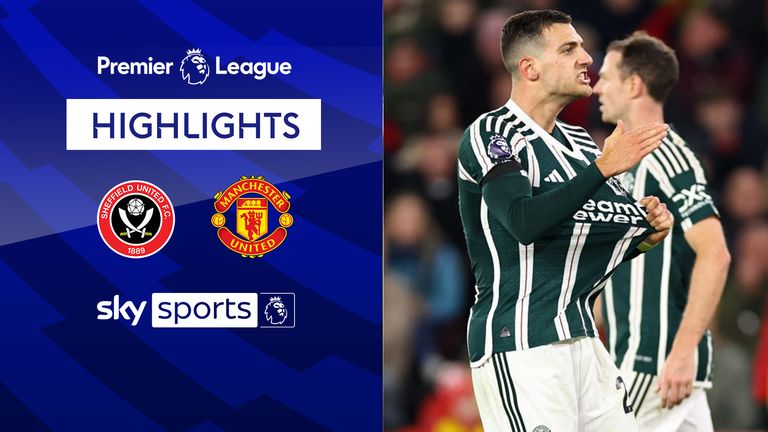 FREE TO WATCH: Highlights from Sheffield United's Premier League clash with Manchester United
In a fortnight where United have picked up three straight wins against Brentford, Sheffield United and FC Copenhagen, albeit via far from convincing performances, Christian Eriksen said United still need to find their "balance and routines" this season.
Asked about those comments, Ten Hag said: "We are in the right direction. We have a way to go. I see positives but I see negatives.
"What Christian is referring to is we are not consistently in possession on the level where we can be. Like Arsenal away, the first 30 minutes in Bayern Munich away. We should do this on a consistent basis.
"We don't take the benefit in the attacking transition moments, we should be because the ability in the team can take benefit from it. We pay attention to it, we need to grow. Then games will become easier."
So, what do the stats say?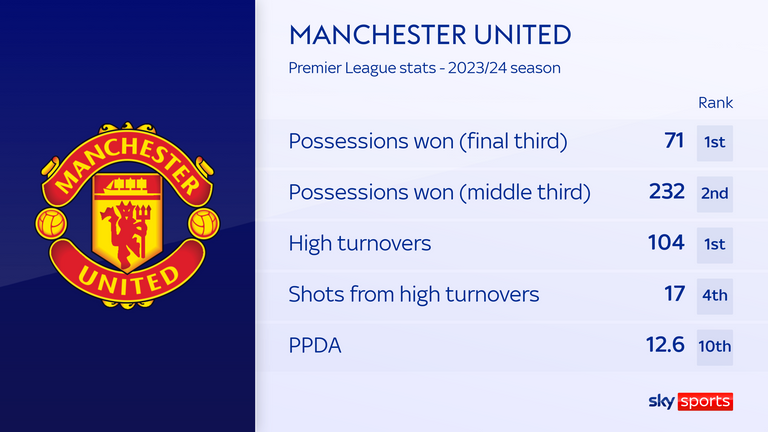 Sky Sports' Sam Blitz:
Ten Hag is indeed right – Manchester United do rank very highly in their pressing stats in the final two-thirds of the pitch.
United are, as he says, "top of the Premier League" in terms of possessions won in the final third and high turnovers. He is slightly wrong in terms of winning the ball in the middle third of the pitch – with United second behind Everton in that statistical table.
However, there is still work to be done in terms of improving United's pressing. Their passing permitted per defensive actions (PPDA) tally ranks 10th – so, average – in the league. It shows that while Ten Hag's side do win the ball high up the pitch, opponents do tend to keep the ball as well as play it around United's pressing forwards as well.
What is PPDA?
PPDA is the number of opposition passes allowed outside of the pressing team's own defensive third, divided by the number of defensive actions by the pressing team outside of their own defensive third. A lower figure indicates a higher level of pressing, while a higher figure indicates a lower level of pressing.
The other pressing concern United have, which Ten Hag did reference in Friday's press conference, is finishing chances when they win the ball high up.
United have the fourth-highest amounts of shots after winning the ball in their final third, but the glaring statistic is no goals from 104 high turnovers.
As expected, Manchester City have the highest amount of build-up attacks in the Premier League this season, so if United do win the ball high up in Sunday's derby, they need to start taking those chances.
Ten Hag on misfiring strikers: We need to be better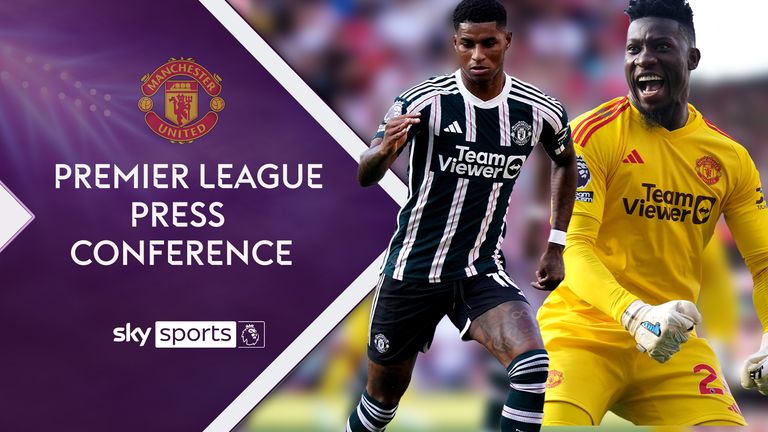 Manchester United boss Erik ten Hag speaks on the improvement he's seen in goalkeeper Andre Onana and insists he believes Marcus Rashford can get back to scoring goals
United go into Sunday's derby with a slight striker scoring problem. City forward Erling Haaland has scored more Premier League goals this season (9) than United's five forwards have managed in all competitions (8).
United's top scorer this season is actually defensive midfielder Casemiro with four strikes so far.
Asked if their forwards are to blame for this frontline problem, Ten Hag replied: "Fault? It's co-operation. It has to click.
"We have shown in some games, we have so many in overload positions to the opponents goal and we don't net or don't even hit the target. We should be doing this better."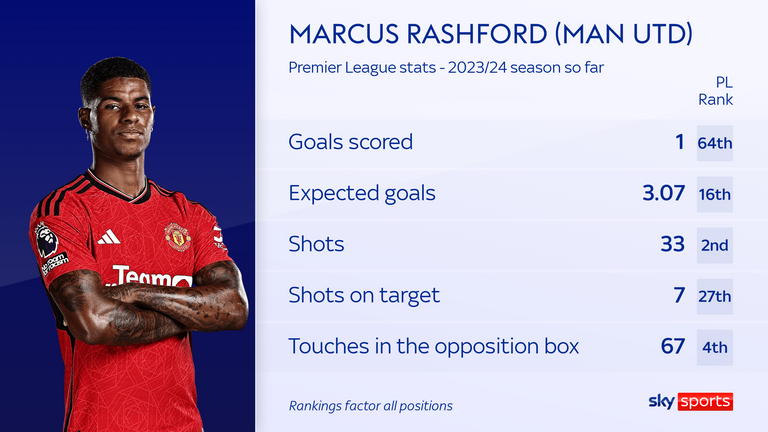 It has been a sobering start to the season for Marcus Rashford, who has one goal so far this term for United. But Ten Hag says he has full faith that the England forward, who scored 30 goals last season, can find his scoring boots again.
"If you give him the trust and I play him every game, most games also he finishes the game. I have strong belief he will return to scoring a lot of goals," said Ten Hag.
"It also has to do with the co-operation, with the movement around and the distribution to him. We have to work on that and that's my focus point."
Sourse: skysports.com