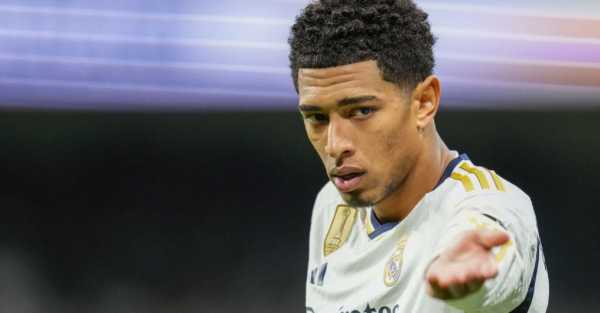 LaLiga president Javier Tebas says Jude Bellingham is from a "different planet" and hailed the England midfielder's impact on the Spanish league.
Bellingham has made a stunning start to life at Real Madrid following his summer switch from Borussia Dortmund, scoring 13 goals in his first 14 games in all competitions.
The 20-year-old, who has pulled out of international duty with England this week due to a shoulder problem, has been the star attraction at the Bernabeu and is already the new star of LaLiga.
Tebas admits people are surprised by how good Bellingham is and it is too early to estimate just how important he will be for the Spanish league from a commercial perspective.
"It's only been a few months, it's too soon to know the full extent, but in the viewing levels in the UK Bellingham is having a big impact in our league," Tebas told the PA news agency.
"He's an important player and the United Kingdom and other English-speaking areas are attracted to our league because of him.
"Bellingham is a top player, we knew he was a great player but we didn't realise the level he could reach, at Real Madrid it's like he's from a different planet.
"I'm sure he'll stay for a few more seasons."
Tebas, who was speaking at the Web Summit in Lisbon, admitted that the Premier League was bigger than LaLiga, but it was his league that had the best player in Europe.
"We have got the best player in Europe who is English," Tebas said of Bellingham. "We can't compare the two countries.
"Obviously the Premier League is bigger but the best player in Europe is playing in Spain.
"So we have the choice to get the best players to come to Spain."
Sourse: breakingnews.ie