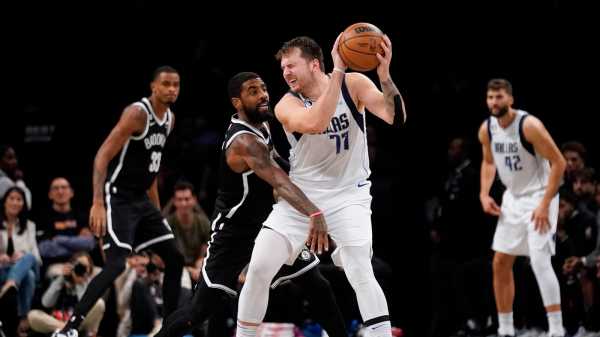 In his 14th season, Stephen Curry is leading the Warriors with some of the best plays of his storied career, averaging 31.4 points to go with career-highs of 7.1 assists and 6.8 rebounds per game.
His three-point shooting has been impeccable, and he continues to find the basket from all areas of the court.
For the Mavericks, Luka Doncic is averaging a league-leading 33.1 points along with 8.7 rebounds and 8.4 assists per game. Doncic held the record of scoring 30 or more points for the second-longest spell in the NBA (8), and although that spell was broken by the Orlando Magic, he rose from that stupor in the very next game against the New Orleans Pelicans, racking up a staggering 49 points.
As good as Curry and Doncic have been, neither of them has had the luxury of a good supporting act – perhaps a factor that makes their respective performances even more impressive.
The Dubs second unit is largely comprised of youth and inexperience, a good indicator of where the future of this franchise lies after their 2022 Championship title. Yet for all of the promise of better prospects on the horizon, this has made it increasingly difficult for Steve Kerr to pinpoint a secondary line-up that brings the best out of his favoured three (Curry, Draymond Green, Klay Thompson).
Trending
World Cup 2022 schedule, group tables and last-16 draw
England to face Senegal on Sunday | France or Argentina in QFs?
Transfer Centre LIVE! Khan rules out Ronaldo to Bayern, coy on Kane links
World Cup: Who plays who in the last 16 & group-by-group state of play
Wales 0-3 England – Rate the players!
Beale: Rangers 'not as broken as people think' | Why I left QPR
Binotto resigns at Ferrari after failed title bid | Vasseur set to replace him
Qatar 2022 World Cup fixtures and venues
Fury: I want 12 fights in 12 months next year | Usyk bout 'unlikely'
'The bad guy is back.' Eubank Jr and Smith go head to head
NBA Homepage
Golden State Warriors 2022 Champions story
Live NBA Schedule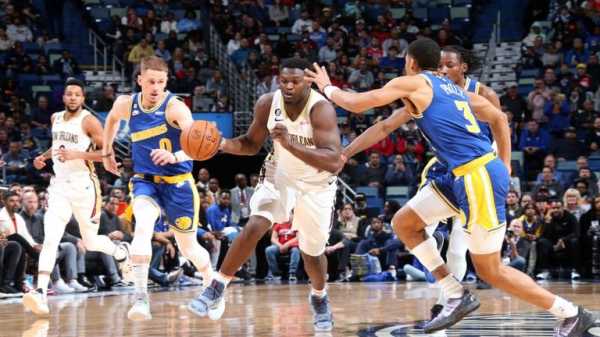 Highlights of the Golden State Warriors against the New Orleans Pelicans in Week 6 of the NBA season
The young boys have had a hard time earning starting minutes, and even more so, have been unable to deliver when given the spotlight. Of that group, James Wiseman was assigned to the G-League after a sluggish start to the season, and Jordan Poole, memorable for his pre-season clash with Green, has been signed onto a four-year $140 million contract extension and hasn't been able to show anything for it. Moses Moody and Jonathan Kuminga have seen their minutes steadily decrease since the opening week.
The situation in Dallas, however, paints a similar picture, and perhaps slightly more concerning in both form and permutation.
Also See:
Indeed, the Mavericks are 5-5 in conference play, on a losing streak, and average one of the fewest points and assists in the Western Conference.
Part of their woes this season can be contributed to losing Jalen Brunson to the New York Knicks last year in free agency after he flourished playing next to Doncic. The loss of Brunson also cost the Mavericks one of their two primary ball-handlers behind Doncic, meaning that Spencer Dinwiddie has had to carry most of that load this season.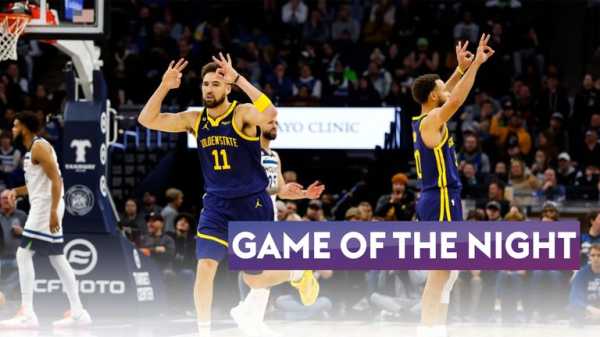 Highlights of the Golden State Warriors against the Minnesota Timberwolves in Week 7 of the NBA season
The shooters around Doncic have also been struggling, and this has been noticed by the front office. News emerging from the Associated Press on Monday suggested that the Mavericks are close to a deal with four-time All-Star guard Kemba Walker. Walker's career has been on hold because of knee injuries, but the 32-year-old could give superstar Luka Doncic some much-needed backcourt help.
Though it may seem that the records and form guides are similar, the momentum is not: the Warriors are riding a three-game win streak while the Mavericks have dropped four in a row.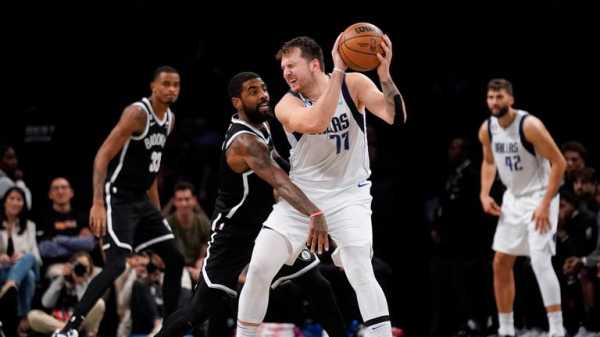 Image: Kyrie Irving defends against Dallas Mavericks guard Luka Doncic during overtime of an NBA basketball game
It hasn't just been down to Curry carrying his team. Both Thompson and Green have improved in their offensive abilities. With the pair contributing to the points, it means less pressure on the cavalry, and more freedom for Kerr to experiment with formations and positions.
On the other hand, Doncic has been the leading figure, with Dinwiddie battling alongside him. Does this make him any worse of a contender for the MVP running? Should Steph deserve the glory for his incredible abilities at the age of 34? Doesn't it make more sense for Doncic to claim the title as he singlehandedly pulls the Mavs by the scruff towards the playoffs? Who will emerge victorious?
This Wednesday's game may not be the decider of who the better player is, but there may be more evidence available for you to answer the question.
Sourse: skysports.com