Sky Sports exclusive: Barnsley midfielder Callum Styles on adapting to play in a new, more attacking midfield position under Neill Collins, experiencing huge lows at Millwall last term and dreaming of reaching Euro 2024 with Hungary and international team-mate Dominik Szoboszlai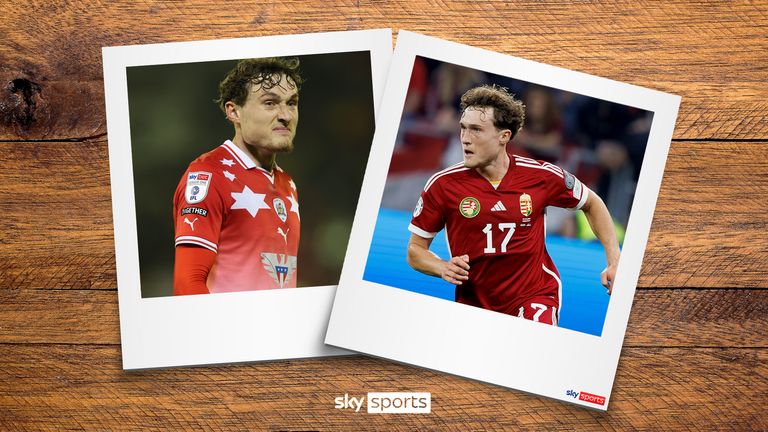 Had everything gone to plan, Callum Styles would have been playing in the Championship or higher this term.
The 23-year-old joined Millwall on loan last year, shortly after signing a new three-year deal at Oakwell, but a quadricep injury – more serious than first thought – sidelined him for three months. The Lions then missed out on the play-offs by only a point.
Simultaneously, Michael Duff's Tykes were flying. They reached the League One play-off final and were just seconds from forcing a penalty shootout at Wembley, after matching Sheffield Wednesday with 10 men until Josh Windass' 123rd-minute winner. A second straight season in the third tier beckoned.
Interest in Styles increased. Watford were reported to be exploring a potential move, while Millwall were keen on bringing him back to the capital on a full-time basis. A year before, there had been talk of a Premier League move.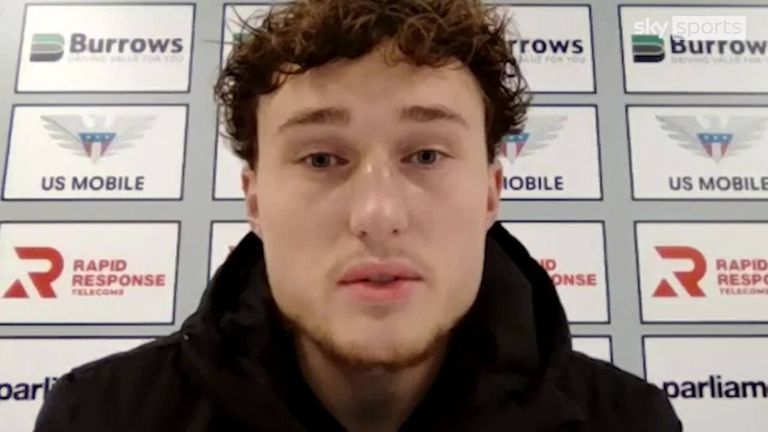 Barnsley midfielder Callum Styles on working under Neill Collins at Oakwell and the Tykes' ultimate goal
Styles wins Sky Bet League One Goal of the Month
League One table | Watch free League One highlights
Download the Sky Sports App | Get Sky Sports
New Barnsley boss Neill Collins was braced for bids for one of his most valuable assets in the summer, but nothing materialised and the player's future was taken out of his hands.
To his credit, there has been no fuss. In fact, perhaps in an attempt to make remaining at the club more attractive, Collins has indulged Styles by playing him in an advanced midfield role, rather than on the left where he has been seen most often during his career.
He has been thriving there, so much so that Collins has described him as being like a new signing.
"Everything's a lot different round here – for the better. It's been refreshing," Styles says in an exclusive interview with Sky Sports.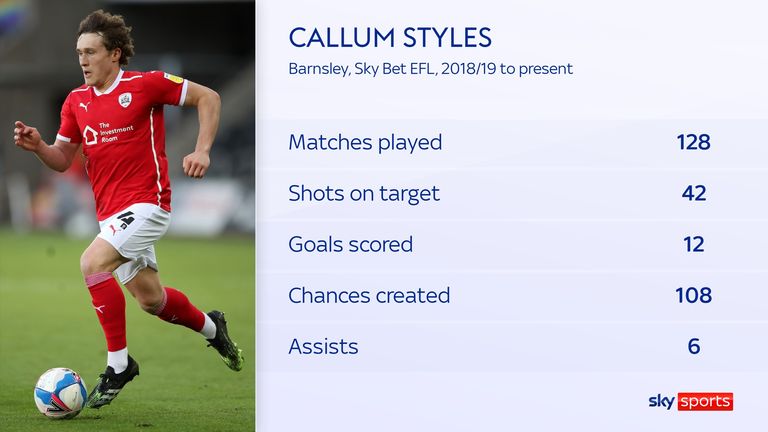 "I've played left wing-back in previous seasons and sometimes in the No 8, but at the minute I'm playing as more of a box-to-box No 8 and sometimes in the No 10. I feel like there's that bit more freedom to go forward, create and get on the end of things.
"Attacking is the best part of the game, it's just about implementing that more because I haven't done that in my career an awful lot and I'm not used to playing in that position for a long period of time throughout the season."
Styles has scored three goals and provided one assist already and there is evidently hunger to make up for time lost last term.
"In the moment, it was really frustrating. I kind of lost myself a little bit because it was one of the biggest injuries I've had, but in football you've got to learn to get over those obstacles as it's part of the game, unfortunately.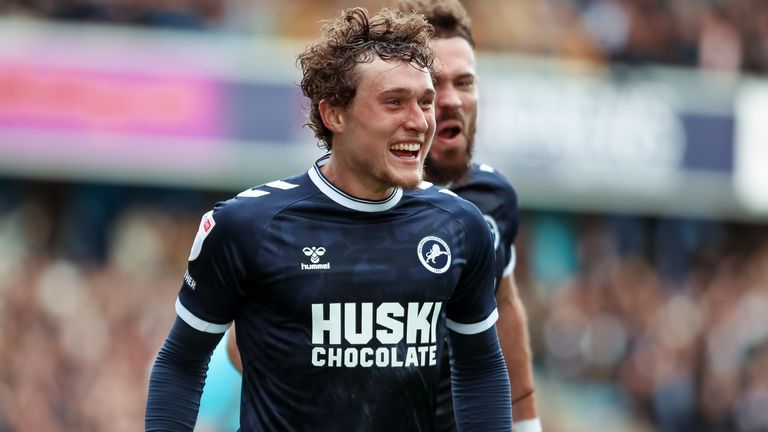 Image: Styles spent the 2022/23 season on loan at Millwall
"The annoying thing is I was doing well before the injury. I was straight back in the team when I came back, then the loan ended.
"It's horrible not playing, let alone being injured. I was at probably one of my lowest points because I wanted to prove myself at Millwall. You just have to overcome it and go again and that's what I'm doing."
What happens in January is anyone's guess, but it seems that Styles will be pursued again in the winter window, particularly given the fact he's shown his enviable high level of versatility.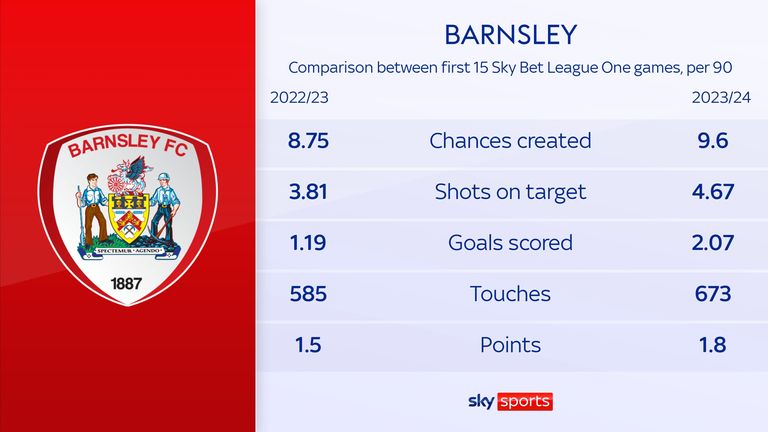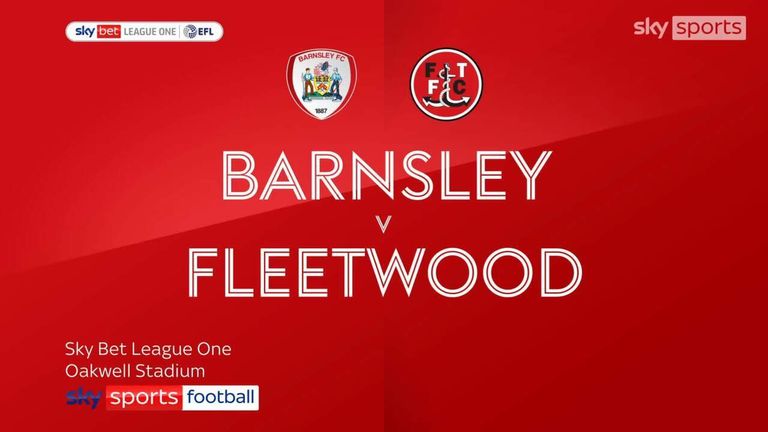 Highlights of the Sky Bet League One match between Barnsley and Fleetwood Town
For now, he is all-in with Collins' project and explicit in the end goal.
"We want to try and push for automatic [promotion], not play-offs this time. The lads have some sore memories from last season," he says.
"That's where you want to be playing, in the Championship or the Premier League. It's where we should be. We should never have had that season [2021/22] where we got relegated as we had too good of a team. It left a bit of a sour taste in the mouth.
"With the team we have this season, we shouldn't be in League One. We should be getting promoted and playing back in the Championship. That's where I want to be playing, that's where the team want to be playing, that's where we all want to be playing.
Barnsley's next five League One fixtures
Derby (a) – November 11, 3pm
Carlisle (h) – November 18, 3pm
Lincoln (a) – November 25, 3pm
Wycombe (h) – November 28, 7.45pm
Reading (a) – December 9, 3pm
"We're fifth in the table so we're obviously doing something well as a team and a whole club, so if we keep doing the same things we're doing now and keep improving game-by-game, I feel like we could achieve some really good stuff this season."
Styles' ambitions this season are not confined to domestic football; since March 2022, he has been a member of Marco Rossi's Hungary national team setup, having qualified through his late grandmother. "I can't speak the language fluently yet," he says. "It's coming on gradually, but it's so hard!"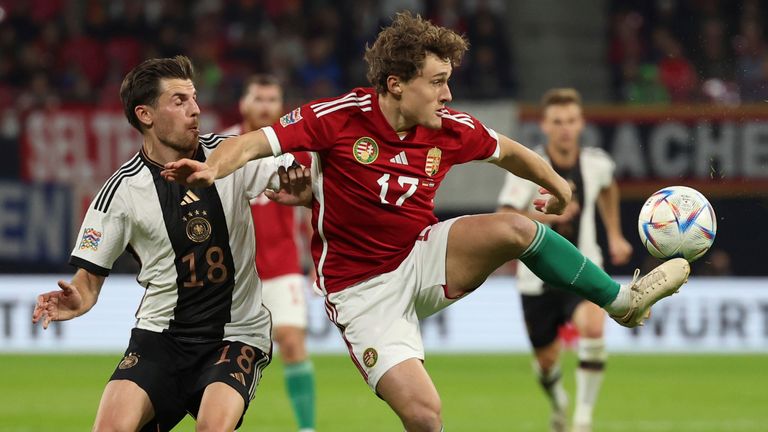 Image: He qualifies to play for Hungary through his late grandmother
Ahead of the November international break, he has earned 16 caps for the nation, one of which came in the shock 4-0 win over England in Budapest in June of last year. Next summer, he could be playing at Euro 2024.
All being well, he will be lining up in Germany alongside Liverpool's Dominik Szoboszlai.
"Any experience is a good life experience and, if you do it well, you learn from those experiences and you adapt," he explains. "It takes time, but adding everything together piece-by-piece can only develop you as a player on and off the pitch.
"Playing with the likes of Dominik Szoboszlai is an unbelievable experience and I just love playing with players of his calibre.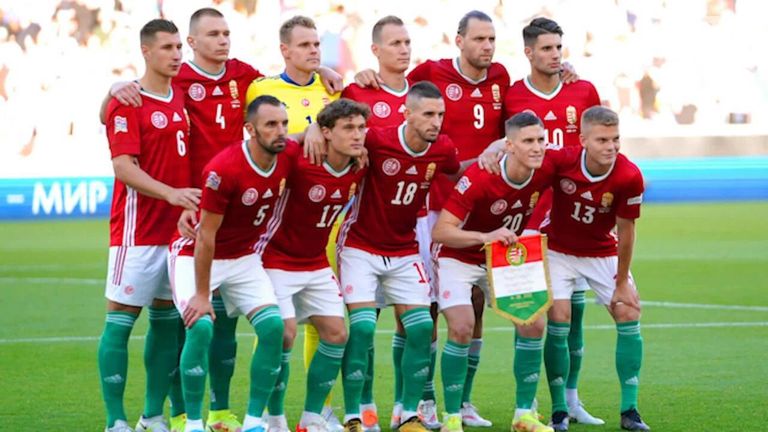 Barnsley midfielder Callum Styles on playing with Liverpool's Dominik Szoboszlai for the Hungarian national team
"He's just a superstar. You just know he's got that different ability – and he knows he's got it as well, which is even better. He's a top player and I feel like we've got a really good team. It's just enjoyable winning games and hopefully getting to the Euros as well. That would be top."
The Magyars sit top of qualifying Group G with two qualifiers to play, a point ahead of second-placed Serbia with a game in hand. They could have qualified with a win against Lithuania last month, but a 2-2 draw delayed their progression.
"We play Bulgaria away next and we just want to get the job done there and then so then the party begins," Styles says with a smile.
"We don't want to leave it to the last game when we play Montenegro, but I feel like we're confident as a team and we're basically there.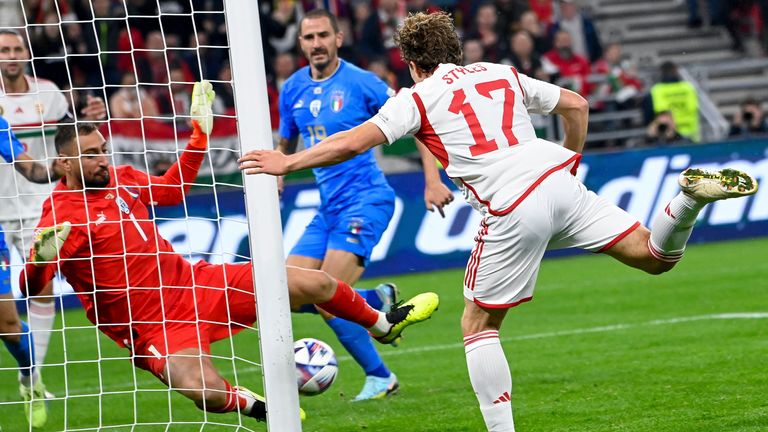 Image: Styles has earned 16 caps for the Magyars since his debut in March 2022
"It's something I dreamed of as a kid. When we get there – because we will get there, I'm confident – it would just be a crazy achievement. I'll have my family all coming out to watch and hopefully we can achieve something that the country is destined to achieve. It will just be crazy – I can't wait."
If he remains at Barnsley, the Tykes continue to thrive and Hungary wrap up what seems like inevitable qualification for the Euros, Styles could be set for the summer of his life.
Sourse: skysports.com