Treasury Secretary Janet Yellen told Congress on Thursday the U.S. "banking system is sound" after two bank failures stirred economic fears.
Yellen, testifying before the Senate Finance Committee, began her remarks by addressing the abrupt collapse of Silicon Valley Bank in California and Signature Bank in New York.
"I can reassure the members of the committee that our banking system remains sound, and that Americans can feel confident that their deposits will be there when they need them," she said. "This week's actions demonstrate our resolute commitment to ensure that depositors' savings remain safe."
MORE: Why most bank deposits are safe, despite the Silicon Valley Bank collapse
Yellen faced a grilling from lawmakers on the government's response and whether regulators missed warning signs that Silicon Valley Bank, the country's 16th largest bank, was in jeopardy. Investigations are underway at the Department of Justice and the Securities and Exchange Commission of Silicon Valley Bank's demise.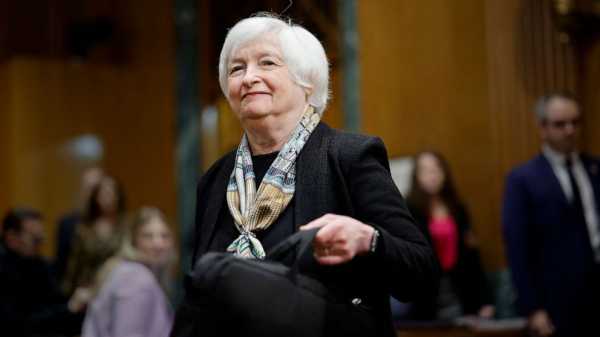 U.S. Treasury Secretary Janet Yellen arrives to testify about the Biden Administration's FY2024 federal budget proposal before the Senate Finance Committee on Capitol Hill, March 16, 2023. in Washington, D.C. Yellen said the nation's baking system is sound after the Treasury Department, the Federal Reserve, and the Federal Deposit Insurance Corporation announced Sunday that depositors in Silicon Valley Bank in California and Signature Bank in New York will be repaid in full after both banks collapsed last week.Chip Somodevilla/Getty Images
Yellen told lawmakers in her opening remarks that the government took "decisive and forceful actions to strengthen public confidence in our banking system" in the wake of the failures.
That included guaranteeing the protection of all Silicon Valley Bank and Signature Bank deposits, which many Republicans have slammed as a prioritization of the rich.
Yellen also highlighted the Federal Reserve's plan to establish a new lending facility to give additional support to banks to meet the needs of all depositors.
MORE: A bailout or not? Did the federal government bailout Silicon Valley Bank and Signature Bank?
"Nerves are certainly frayed at this moment," committee chair Sen. Ron Wyden, D-Ore., said as he began the hearing.
Sen, Mike Crapo, R-Idaho, pressed Yellen on whether there was a liquidity risk at Silicon Valley Bank. Yellen attributed the bank's downfall to a run that led to liquidity problems.
"There will be a careful look at what happened in the bank and what initiated this problem, but clearly the downfall of the bank, the reason it had to be closed, was that it could not meet depositors' withdrawal requests," she told the senator.
Sourse: abcnews.go.com