Republican presidential candidates including Mike Pence and Tim Scott are lamenting the Saturday shooting in Jacksonville, Florida, and the racism that authorities said motivated it — but the White House hopefuls are steering clear of the debate over gun laws.
Jacksonville authorities said the three Black victims were killed in a "racially motivated shooting" by a man who had detailed a "disgusting ideology of hate" in his writings.
Elsewhere on the campaign trail this weekend, entrepreneur and GOP primary candidate Vivek Ramaswamy compared Rep. Ayanna Pressley, D-Mass., a Black House member who is part of the progressive "squad," to the conduct of the Ku Klux Klan — drawing quick pushback.
And former President Donald Trump saw massive fundraising after he surrendered to Georgia authorities, on charges he denies, and his mug shot was released last week.
Here's what to know from the campaign trail.
MORE: Multiple people killed in 'racially motivated' shooting at Dollar General in Florida
Candidates decry latest shooting
The country's latest high-profile shooting was at a Dollar General in Jacksonville on Saturday, when a gunman armed with an AR-15-style rifle and a handgun shot the three people before fatally shooting himself, according to law enforcement.
"Devastated by the news out of Jacksonville, FL. There is nothing more hateful than murdering someone because of the color of their skin; violence of any kind has no place in our country," Scott, R-S.C., the only Black Republican in the Senate, wrote on X, the platform formerly known as Twitter. "1 Corinthians 13:7 teaches love endures all things. That is my prayer today for our nation."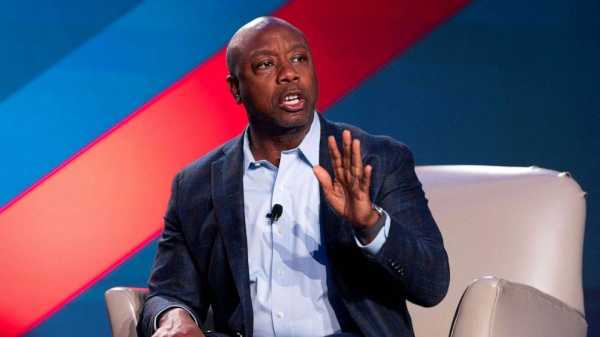 Senator and Republican presidential candidate Tim Scott speaks in Atlanta, Aug. 18, 2023.Cheney Orr/Reuters, FILE
Florida Gov. Ron DeSantis called the shooter a "scumbag" Saturday and said the attack was "totally unacceptable."
"We condemn what happened in the strongest possible terms," DeSantis told reporters.
"There's no place in America for racially inspired violence, and I condemn what occurred in Jacksonville in the strongest possible terms. That wasn't a criminal act. That was an act of evil," former Vice President Pence said on CBS on Sunday.
President Joe Biden, in his own statement, said in part that "we must say clearly and forcefully that white supremacy has no place in America."
Comparing lawmaker to the Klan
Ramaswamy escalated his attacks on Pressley, who had criticized what she called his far-right policies.
"We don't need any more brown faces that don't want to be a brown voice. We don't need any more Black voices that don't want to be a Black voice," Pressley said, prompting Ramaswamy to say those remarks were "the words of the modern grand wizards of the KKK."
"We typically don't engage in these bad-faith attacks but yesterday a line was crossed. A GOP candidate referred to Ayanna as 'a modern grand wizard of the KKK' because she speaks out against racial injustice," Pressley's team fired back in a fundraising pitch. "This is backwards and harmful, but that is the point."
Ramaswamy, who has campaigned similarly to Trump, with a penchant for headline-grabbing remarks, doubled down on Sunday, telling CNN anchor Dana Bash, "I stand by what I said to provoke open and honest discussion in this country."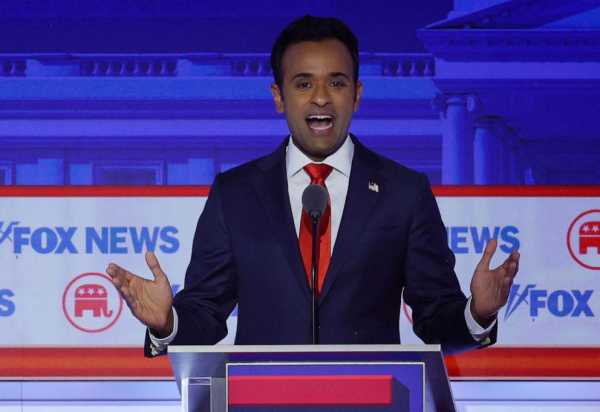 Former biotech executive Vivek Ramaswamy speaks at the first Republican candidates' debate of the 2024 U.S. presidential campaign in Milwaukee, Aug. 23, 2023.Brian Snyder/Reuters
Pressley has been a vocal progressive since joining the House in 2019 and was one of the founding members of the "squad," the small but growing and informal group among House Democrats who push leadership to adopt more liberal policies.
Another GOP candidate challenged Ramaswamy's remarks about Pressley: former Arkansas Gov. Asa Hutchinson, who took issue with them during his own appearance on CNN.
Trump's mugshot comes with a fundraising heyday
Trump is under four different criminal investigations (and he denies all wrongdoing), but he had his mugshot taken for the first time last week — and his campaign said that he is reaping some financial benefits from his supporters.
Trump's campaign said it had brought in $7.1 million from Thursday night, when the picture was released, to Saturday evening. That includes $4.18 million raised on Friday alone, the biggest fundraising day for the campaign so far, a spokesperson said.
In total, the campaign said it has raised nearly $20 million in the past three weeks, including when the former president was indicted in Washington, D.C., and in Georgia. That total already is over half of what Trump took in during his first seven months of campaigning.
MORE: 'Most amazing part' of GOP debate was candidates saying they'd back Trump if convicted: Christie
Biden campaign to focus on policy over legal troubles in potential rematch with Trump
President Biden's campaign indicated on Sunday that he and his team do not plan to make Trump's legal troubles a priority in his reelection bid and instead will focus on promoting legislative wins and policy differences with Republicans.
"The president has said from the beginning that he wanted an independent Justice Department … so we're not going to comment," Cedric Richmond, the co-chair of Biden's campaign, said in an interview with ABC "This Week" co-anchor Martha Raddatz, referencing investigations into Trump. "We're not going to focus on Donald Trump's legal problems."
Richmond went on to tear into Republican candidates' performances at last week's primary debate.
"I think what we saw that night was a race to the extreme part of the Republican Party, a race to the MAGA base," Richmond told Raddatz. "And that's what we expected."
"What we're gonna do is continue to do what we've been doing and that is to talk to people about the fact that we're creating jobs, bringing costs down, bringing manufacturing back to the United States from overseas," he added. "And that's what campaigns are for. For us to go out and tell the story of us meeting challenges, what we've accomplished, the challenges we still have to meet and all of those things."
Sourse: abcnews.go.com