President Joe Biden on Wednesday signed an executive order that his administration says will help low-income people pay for abortion services if they have to travel out of state to obtain them.
The order, according to administration officials, paves the way for Medicaid to cover abortion-related costs for people who have traveled from states where their abortion is banned to states where it is not.
But Biden and other officials on Wednesday provided few details about how the change would work — or a timeline for it to be implemented.
"Today, I'm signing the second executive order that responds to the health care crisis that has unfolded since the Supreme Court overturned Roe [v. Wade] and that women are facing all across America," he said at a White House event.
It remained unclear how this change to Medicaid coverage would avoid legal run-ins with the Hyde Amendment, a federal law that prohibits federal government dollars from being spent on abortion except in cases of rape, incest and to save the pregnant person's life.
Already, people covered by Medicaid have extremely limited abortion coverage in 34 states and the District of Columbia, while just 16 states use their own funds to aid abortion coverage under Medicaid.
MORE: Administering abortion from abroad in post-Roe America
White House press secretary Karine Jean-Pierre told reporters on Wednesday the order "will not violate the Hyde Amendment," but she did not elaborate.
Biden's order directs the secretary of Health and Human Services (HHS) to pursue these changes, and Jean-Pierre deferred specific questions about how the change would work to that agency.
Spokespeople for HHS did not provide additional details when asked by ABC News, and HHS Secretary Xavier Becerra did not mention the potential changes to Medicaid coverage when he spoke after Biden at Wednesday's event, which was the first meeting of an interagency task force Biden launched in the wake of the Supreme Court reversing Roe in June.
The new directive allows Becerra to "invite states to apply for Medicaid waivers so that states where abortion is legal could provide services to people traveling from a state where abortion may be illegal to seek services in their state," a senior administration official told reporters.
Technically, these states would apply through what's known as a Medicaid 1115 waiver.
The official noted that when the White House looked into declaring a public health emergency for abortion and what that would allow the federal government to do, this change to Medicaid — an assistance program for low-income patients' medical expenses — was one of the options. But the White House realized the president could also do that through an executive order.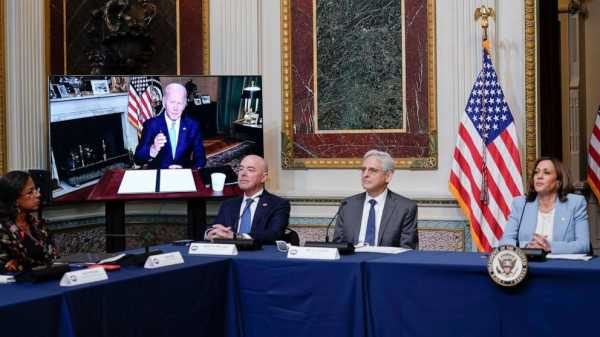 President Joe Biden speaks virtually during the first meeting of the interagency Task Force on Reproductive Healthcare Access at the White House complex in Washington, D.C., Aug. 3, 2022.Susan Walsh/AP
The timeline for these changes remains unclear, though.
ABC News Chief White House Correspondent Cecilia Vega pressed Jean-Pierre on Wednesday for more details on the implementation of the executive order for women who want to seek abortion care soon.
"Are we talking about days, are we talking about weeks, are we talking about six months?" Vega asked.
MORE: Traveling for abortion care was on the rise even before Roe was overturned, data shows
Jean-Pierre said the administration didn't "have the details to share today but [HHS] will soon have more on what a waiver could look like and the timeline."
Biden's order also directs HHS to make sure "health care providers comply with federal non-discrimination laws so that women receive medically necessary care without delay," according to the White House. That could include "providing technical assistance for health care providers who may be confused or unsure of their obligations in the aftermath of the Supreme Court decision [on Roe]," or providing other info and guidance to providers about their obligations and consequences of not complying with non-discrimination laws.
The order further instructs the HHS secretary to improve research and data collection on maternal health outcomes, according to the White House.
Speaking broadly on the state of reproductive rights, Biden on Wednesday reflected on the last few weeks, calling it a "critical moment where women's health and lives are on the line amidst chaos and uncertainty unleashed by this decision."
His executive order comes just one day after abortion rights activists secured a major win in Kansas, where voters on Tuesday overwhelmingly rejected removing the right to abortion from the state constitution.
Biden said the U.S. Supreme Court "practically dared women in this country go to the ballot box and restore the right to choose that the Court just ripped away after 50 years."
"The voters of Kansas sent a powerful signal that this fall the American people will vote to preserve and protect the right and refuse to let it be ripped away from politicians," Biden said.
Sourse: abcnews.go.com