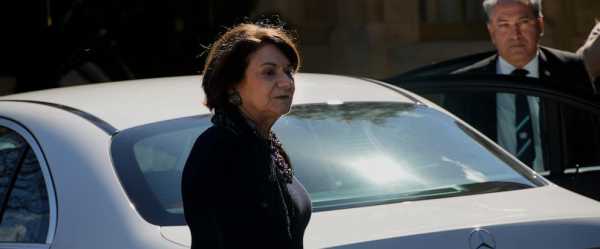 NICOSIA, Cyprus — The United Nations remains committed to helping rival Greek Cypriots and Turkish Cypriots reach an agreement remedying the island nation's ethnic cleave that has been the source of instability in the east Mediterranean for decades, a senior U.N. official said Wednesday.
U.N. Under-Secretary-General for Political and Peacebuilding Affairs Rosemary DiCarlo said that she reiterated to new Cypriot President Nikos Christodoulides the "commitment of the Secretary-General to supporting a resolution on the Cyprus issue."
She is scheduled to speak with Turkish Cypriot leader Ersin Tatar later in the day as well as addressing peace activists in the U.N. controlled buffer zone that divides the capital Nicosia.
The U.N. has been facilitating numerous failed rounds of talks between the two sides since 1974 when a Turkish invasion triggered by a coup aimed at a union with Greece split the island into a breakaway Turkish Cypriot north and a Greek Cypriot south where the island's internationally recognized government is seated.
A peace deal in Cyprus that is home to a key U.K. air base and a listening post would be seen as removing a political thorn vexing the international community for decades at a time when Russia's war in Ukraine brought instability to the globe.
Moreover, a deal could expedite the development of sizable natural gas deposits off Cyprus' southern shores amid Europe's energy crunch and help smooth the rocky relationship between NATO allies Greece and Turkey.
Christodoulides has said that his new administration's top priority remains a deal reunifying Cyprus as a federation and is keen to get the ball rolling on resuming the process that has been stalemated since the last round of talks in 2017.
But one of the main obstacles to getting back to the negotiating table is an about-face by Turkey and the minority Turkish Cypriots regarding the agreed-upon shape of a deal after the most recent failed push for peace at a Swiss resort in the summer of 2017.
There had been a long-held understanding that any deal would reunify Cyprus as a federation made up of a Turkish-speaking zone in the north and a Greek speaking zone in the south. But Turkey and the Turkish Cypriots are now seeking a two-state deal that recognizes separate Turkish Cypriot sovereignty, something that Greek Cypriots reject out of hand. It has also been shunned by the European Union, the United Nations, the U.S. and other countries.
It's unlikely that formal talks could resume before Turkey's May 14 election, but Cyprus government spokesman Konstantinos Letymbiotis said the Greek Cypriot side is ready for an immediate restart of negotiations "and we expect Mr. Tatar to sit at the negotiating table with a sincere willingness to achieve" a federation-based agreement.
Letymbiotis also reiterated Christodoulides' aim for the EU's more active engagement in peace talks through the appointment of a senior official. Turkey and the Turkish Cypriots accuse the EU of not being even-handed because although Cyprus is a bloc member, only the south enjoys full benefits.
"We mustn't view this proposal as having a detrimental contribution, but as contributing very positively to cultivating the necessary climate" for a resumption of peace talks, Letymbiotis said.
Sourse: abcnews.go.com