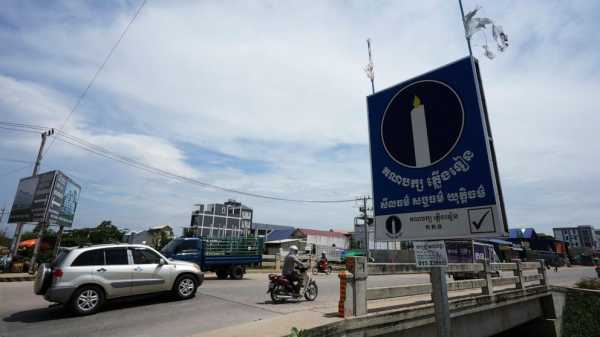 PHNOM PENH, Cambodia — Cambodia's top opposition party was barred Thursday from participating in elections set for July after the Constitutional Council refused to overturn a decision not to register the party over a paperwork issue.
The Candlelight Party, the sole credible challenger to the governing Cambodian People's Party in the upcoming polls, lost its appeal because its complaint was deemed unlawful, the council said in a brief statement.
The decision is final and cannot be appealed.
Cambodian courts are widely considered to be under the influence of Prime Minister Hun Sen's government and his Cambodian People's Party.
The National Election Committee on May 16 had refused to register the Candlelight Party, saying it failed to provide necessary documents. A few days later the party officially filed an appeal with the Constitutional Council asking it to overturn the election commission's ruling.
Kimsour Phirith, a spokesperson for the Candlelight Party, said he "regretted" Thursday's decision since it denies the party's supporters nationwide from being able to vote for their preferred candidates.
"The absence of the (Candlelight Party) from the election means the voices of the people are dismissed. Such a move would never occur in a real democratic country," Kimsour Phirith said.
Eighteen political parties are registered and recognized by the election committee, including Hun Sen's party.
The Cambodian People's Party has held an iron grip on power for decades and controls almost every level of government. Hun Sen, 70, an authoritarian ruler in a nominally democratic state, has held his position for 38 years. His eldest son, army chief Hun Manet, is widely expected to replace his father as prime minister after the polls.
The Candlelight Party is the unofficial successor to the Cambodia National Rescue Party, which threatened to present a serious challenge to Hun Sen's party in the 2018 elections. But it was dissolved just months ahead of the polls by a controversial court ruling that said it had plotted the illegal overthrow of the government.
The party's disbanding enabled the governing party to win all the seats in the National Assembly. Western nations declared the election was neither free nor fair, and imposed mild economic sanctions in response.
About 9.7 million Cambodians are registered to vote in the July 23 elections for the 125 members of the National Assembly.
With the Candlelight Party barred from taking part in the election, the sole competition for the governing party will be groups aligned with it, or small, obscure parties without a national presence.
Hun Sen and the Cambodian People's Party are certain to easily top the polls, holding all the advantages of incumbency. They are dominant in terms of nationwide organizing, personnel, finances and influence with the mass media.
Most prominent opposition members are in self-imposed exile to avoid being jailed on various charges they say are trumped up and unfair.
Sourse: abcnews.go.com