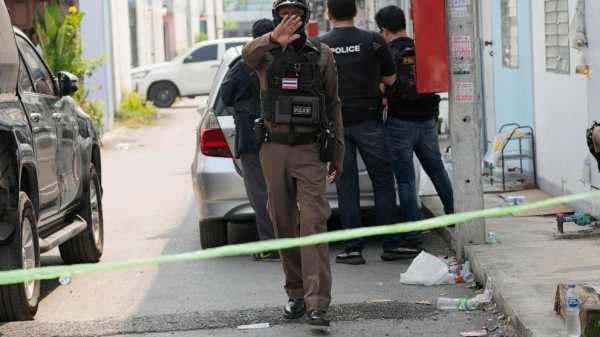 BANGKOK — Police in Thailand will be subject to random checks of their physical and mental health, officials said Thursday, after a 27-hour standoff in which a senior officer holed up and fired a gun into the air until he was subdued by fellow officers.
Police Lt. Col. Kitikarn Sangbun died in a hospital Wednesday night of multiple gunshot wounds sustained during the standoff at his home on the fringes of the capital Bangkok, said police Col. Rangsan Sornsing, superintendent of the police station in the Sai Mai neighborhood where the standoff took place.
Kitikarn had been suffering from mental health issues and stress in his work and personal life, police said, without elaborating.
Thai media reported that the police Inspector General's Office has ordered random health checks be carried out on officers nationwide to help avoid similar situations. Members of the public are also encouraged to report cases where they are concerned about officers' mental health.
Kitikarn had holed himself up in his home Tuesday when fellow officers came to take him for psychiatric treatment, said deputy national police chief Gen. Torsak Sukvimol and other officials. He fired into the air and in the direction of police who arrived at the scene.
Police evacuated and cordoned off the surrounding area as they tried several methods to apprehend him. In addition to initially using tear gas and stun guns in an effort to evacuate him, a junior officer sang for Kitikarn in an attempt to calm him down, intermittently asking him to turn himself in.
But as the confrontation escalated, shots were exchanged between Kitikarn and the officers besieging him.
Video of the end of the confrontation released by the police showed Kitikarn, clad in shorts and a T-shirt and clutching a carving knife in his left hand, smashing through a second-story window and leaping down into a small, cluttered backyard. He lay dazed for several seconds until police in full tactical gear rushed out from the house's back door, seizing him roughly.
Torsak said an autopsy performed Thursday showed that Kitikarn had suffered six gunshot wounds and died from blood loss.
Torsak and other senior police officers expressed regret that the situation turned deadly, saying that police used real bullets only after exhausting other means to get the situation under control.
Thailand's deadliest massacre took place in October when a former police officer shot and slashed to death 36 people at a daycare center. The country's previous worst mass killing involved a disgruntled soldier who opened fire in and around a mall in the northeastern city of Nakhon Ratchasima in 2020, killing 29 people and holding off security forces for some 16 hours before eventually being killed by them.
Sourse: abcnews.go.com