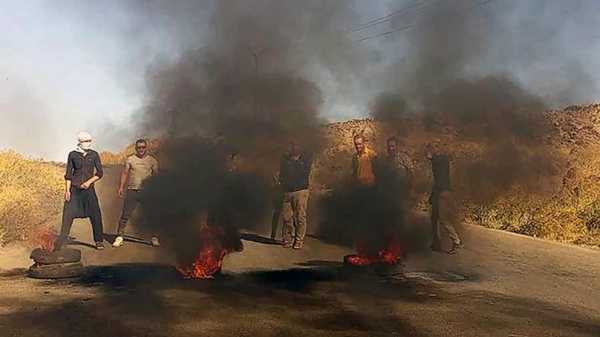 BEIRUT — Angry protesters raided the local offices of the ruling Baath party in a southern Syrian province Wednesday, as protests intensified against the country's government during a severe economic and financial crisis battering the war-torn country.
Opposition activists said protesters also partially blocked a highway that links the Druze-majority Sweida province to the capital Damascus in anti-government rallies that broke out Tuesday night.
The demonstrations were sparked by worsening living conditions and inflation that surged after President Bashar Assad's decision last week to double public sector wages and pensions.
Protests have so far not spread to government strongholds along the Mediterranean coast, the capital Damascus and the largest cities, including Aleppo and Homs.
However, they have also taken place in the nearby Daraa province that borders Jordan. The region's economy has deteriorated and crime has risen since government forces reclaimed it in 2018.
The Syrian government has not responded to the protests.
The country's economy has been struggling after years of conflict, corruption and mismanagement, and Western-led sanctions over accusations of government involvement in war crimes and the illicit narcotics trade. The United Nations estimates that about 90% of the population lives in poverty.
Sweida province is home to the country's Druze minority, and has mostly isolated itself from Syria's conflict, now in its 13th year.
"These are the largest protests that have taken place in Sweida," Rayan Maarouf, Editor-in-Chief of local activist media collective Suwayda24, told The Associated Press. "At one point most people were neutral or unsure, but now they don't believe their lives can improve without political change."
The Syrian pound's value against the dollar declined to a new all-time low, down from 7,000 at the beginning of 2023 to 15,000 pounds to the greenback. At the start of the conflict in 2011, the dollar was trading at 47 pounds.
Elsewhere, Russian airstrikes overnight in an opposition-held enclave in northwestern Syria killed two displaced people and wounded five others, residents and local civil defense first responders said. The strikes targeted a disused water station where the displaced people lived.
Syrian state media reported Wednesday that a rocket attack from the enclave wounded one civilian in the town of Qardaha, Assad's hometown.
The northwestern enclave is Syria's last rebel stronghold, mainly under the control of Hayat Tahrir al-Sham, an al-Qaida-linked group, while northern Aleppo province is under the control of Turkish-backed rebel groups. More than 90% of the population there live in poverty and rely on humanitarian aid to survive.
Sourse: abcnews.go.com