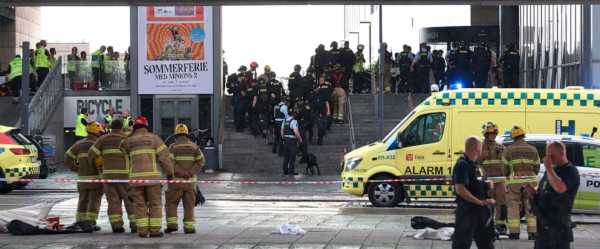 COPENHAGEN, Denmark — Danish prosecutors said Tuesday they will ask for a 23-year-old man to be detained in a secure mental health facility if he is convicted of murder and attempted murder over a mall shooting in which three people died.
Danish authorities have ruled out terrorism in the July 3, 2022, shooting in the huge Field's shopping center on the outskirts of Copenhagen.
The suspected gunman, who cannot be named due to a court order, was detained 13 minutes after the shooting began and apparently selected his victims at random.
When the trial starts June 12, the prosecution will not seek a prison sentence but will request that he is placed in mental health facility "without a set time limit."
Two 17-year-olds and a 47-year-old Russian man were killed in the shooting. The suspect has been charged with murder and numerous counts of attempted murder for, among other actions, shooting into a crowd of about 20 people. No one was injured in the crowd.
A nearby concert by former One Direction star Harry Styles that was scheduled for later that day was canceled due to the shooting.
A few days after the shooting, thousands gathered outside the mall to pay tribute to the victims, including Crown Prince Frederik and Prime Minister Mette Frederiksen who described it as "cruel, unjust and senseless."
Sourse: abcnews.go.com