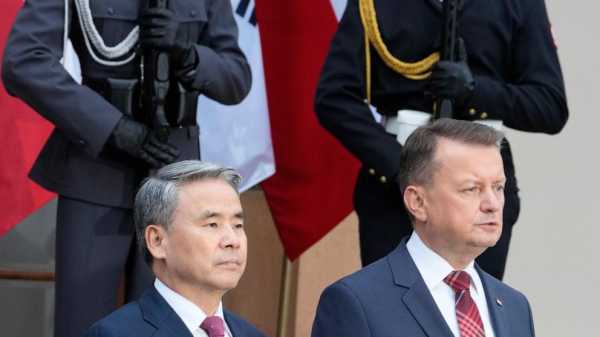 WARSAW, Poland — Poland and South Korea plan to hold joint military exercises in Poland soon to show the effectiveness of Korean equipment in the Polish armed forces, defense ministers for the two countries said Thursday.
Poland's Defense Minister Mariusz Blaszczak and South Korea's Defense Minister Lee Jong-Sup held talks in Warsaw on security and support for Ukraine in its fight against Russia's aggression, as well as on further cooperation in the armaments sector.
Blaszczak said that a joint exercise called Autumn Fire would soon be held by Poland's armed forces, using recently purchased South Korean armaments. He also said that steps are being taken to allow for some of the equipment made in Korea to be produced in Poland.
Poland is purchasing tens of billions of dollars worth of weapons and military equipment from South Korea as it upgrades its defense potential with concern rising because of the war in neighboring Ukraine.
The new equipment is also replacing that which Poland has given to Ukraine to help it defend itself against the Russian invasion.
The military equipment Poland bought from South Korea includes K2 tanks, Thunder K9 howitzers, training and combat FA-50 fighter jets and K239 Chunmoo rocket artillery systems.
Sourse: abcnews.go.com