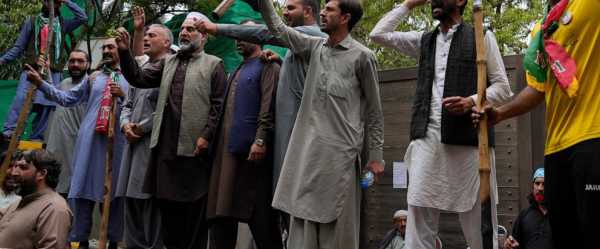 ISLAMABAD — A top Pakistani court on Friday suspended an arrest warrant for former Prime Minister Imran Khan, giving him a reprieve to travel to Islamabad and face charges in a graft case without being detained.
Khan has been holed up at his home in the eastern city of Lahore since Tuesday, after failing to appear at an earlier hearing in the case. His supporters hurled stones and clashed with baton-wielding police for two days to protect the former premier from arrest.
Khan, now in the opposition, was ousted in a no-confidence vote in Parliament last April. He is accused of selling state gifts while in office and concealing assets. It's one in a string of cases that the former cricket star turned Islamist politician has been facing since his ouster.
He is now due in court on Saturday, after Aamer Farooq, the chief justice at the Islamabad High Court, suspended the warrant in the graft case. The court on Friday also warned Khan that he could face contempt proceedings if he again fails to show up before the judge.
The former premier has avoided court appearances since November, when he was wounded in a gun attack at a protest rally in eastern Punjab province. Khan still enjoys a huge grassroots following and has campaigned for early elections.
The 70-year-old opposition leader has also claimed that his removal from power was part of a conspiracy by his successor, Prime Minister Shahbaz Sharif, and the United States. Both Washington and Sharif's government have denied the allegations.
Friday's suspension of the warrant was welcomed by Khan's Pakistan Tehreek-e-Insaf party. "Imran Khan will come to Islamabad to appear before the court," said Shibli Faraz, a party leader.
After the suspension, a jubilant Khan and an entourage of cheering supporters marched into a top court in Lahore, where the judges granted him reprieves from possible arrest until March 24 in nine other court cases, all on charges of incitement to violence.
Tensions have been high in Lahore since Tuesday, when the clashes first erupted outside Khan's residence in the upscale Zaman Park neighborhood. Khan's supporters threw petrol bombs at the officers, who fired tear gas and water cannons.
Maryam Sharif, a top leader in Sharif's ruling Pakistan Muslim League party, criticized Khan on Friday for resisting arrest and lauded the security forces for their restraint.
"The state can arrest him in five minutes, but it exercised restraint to avoid bloodshed," she said.
Sourse: abcnews.go.com