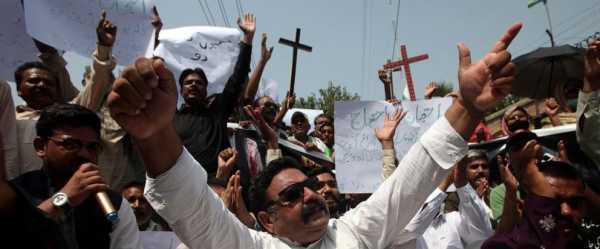 MULTAN, Pakistan — Authorities in Pakistan are promising 2 million rupees ($6,800) in compensation for each of nearly 100 poor Christians who lost their homes when a Muslim mob angered over the alleged desecration of a Quran stormed their neighborhoods, burning at least 19 churches and damaging houses, officials said Monday.
Police said they have arrested dozens more rioters in ongoing raids, bringing the total number of detainees to 160.
Last week's attack was one of the most destructive in the country's history. The violence drew nationwide condemnation, with caretaker Prime Minister Anwaar-ul-Haq Kakar ordering the arrest of all those linked to the rioting.
Kakar in a statement Monday said he was traveling to the area to meet with the victims of the attacks.
Mohsin Naqvi, the top official in Punjab province, made the compensation announcement on X, previously known as Twitter, a day after he visited Jaranwala in Punjab, where hundreds of Muslims went on a rampage last Wednesday over allegations that a Christian man and his friend had desecrated Islam's holy book.
Naqvi held a Cabinet meeting at a burned church in Jaranwala to get approval for the compensation for the victims in the presence of local priests and residents.
Hundreds of terrified Christians who fled their homes have returned only to see destruction everywhere. They have been living outside their burned homes, fearing the structures may collapse.
"They are worried for their safety, they are worried for their children, who witnessed the tragedy and are traumatized," Christian priest Khalid Mukhtar said. He said according to his information, all 26 churches in Jaranwala were attacked, burned or damaged.
The rioters said a local Christian and his friend tore pages out of a Quran, threw them on the ground and wrote insulting remarks on other pages. Police have arrested the two men.
Local police chief Mansoor Sadiq said they have arrested 160 rioters and are continuing raids to arrest 450 more suspects.
Police say local leaders from the hard-line Tehreek-e-Labaik Pakistan (TLP) party also incited people to violence during which a Christian graveyard was desecrated. TLP has a history of staging violent rallies in Pakistan against the desecration of the Quran in Sweden, Denmark and elsewhere in the world.
On Monday, Naqvi, the caretaker chief minister of Punjab, said all Christians who suffered financial losses from the attacks will receive 2 million rupees in the next 48 hours. He said authorities have begun to repair the churches, and that all damaged places of worship will be restored to their original condition.
But Mukhtar told The Associated Press that Naqvi and other officials only visited one damaged church on Sunday and did not go to the homes of anyone who suffered losses. He challenged Naqvi's claim about the repair of churches, saying that the walls of two churches were only painted, and needed to be rebuilt.
Under Pakistan's blasphemy laws, anyone found guilty of insulting Islam can be sentenced to death. While authorities have yet to carry out capital punishment for blasphemy, often mere accusations can incite mobs to violence.
___
Ahmed reported from Islamabad.
Sourse: abcnews.go.com