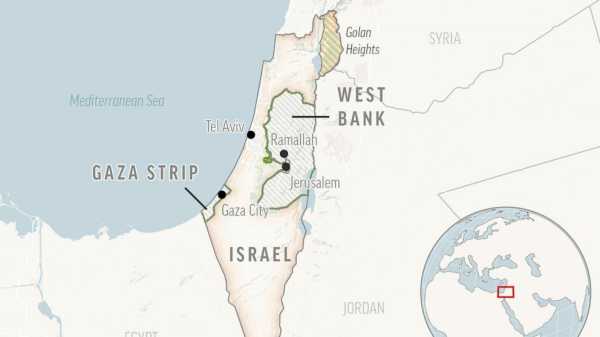 JERUSALEM — The Israeli military said Palestinian militants in the Gaza Strip fired a rocket toward southern Israel Saturday evening.
The rocket fell and exploded in an open area, triggering warning sirens in the Nahal Oz community to the east of Gaza City.
There were no reports of casualties or damage. The Israeli military usually responds to such rocket fire with airstrikes in the Hamas-ruled Gaza Strip, raising the possibility of further violence just ahead of the Muslim holy month of Ramadan.
The rocket attack comes a day before Israeli and Palestinian officials are set to meet in Egypt in a U.S.-backed effort to defuse violence that has soared especially in the West Bank and east Jerusalem for nearly a year.
The meeting in the Red Sea resort city of Sharm el-Sheikh is a follow-up to last month's meeting in Jordan for the same purpose. However, deadly Israeli raids in the West Bank and Palestinian attacks continued since the Feb. 26 meeting in Aqaba. Twenty-three Palestinians and three Israelis have been killed in the ongoing bloodshed since then.
Since the start of this year, 85 Palestinians have been killed by Israeli fire. Palestinian attacks against Israelis have killed 14 people in the same period.
According to an Associated Press tally, about half of the Palestinians killed this year were affiliated with militant groups. Israel says most of the dead were militants. But stone-throwing youths protesting the incursions, some in their early teens, and others not involved in confrontations, including three men over 60, have also been killed.
Nearly 150 Palestinians were killed in the West Bank and east Jerusalem in 2022, making it the deadliest year in those areas since 2004, according to the leading Israeli rights group B'Tselem. Palestinian attacks against Israelis during that same time killed 30 people.
Israel captured the West Bank, the Gaza Strip and east Jerusalem in the 1967 Mideast war. The Palestinians seek those territories for their future independent state.
Sourse: abcnews.go.com