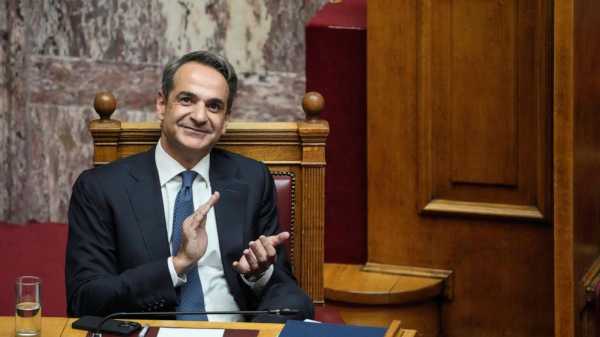 ATHENS, Greece — Greece's government on Friday survived, as expected, a no-confidence vote following a motion by the country's opposition leader over a wiretapping scandal that has stung the center-right governing party in the run-up to elections.
Of parliament's 300 members, 143 voted in favor of the no-confidence motion while 156 voted against. One lawmaker was absent. The vote followed a heated three-day parliamentary debate. The motion had been expected to fail, as the governing New Democracy party holds a comfortable majority of 156 seats.
Main opposition Syriza party leader Alexis Tsipras said Wednesday when he filed the motion that it would force Prime Minister Kyriakos Mitsotakis to answer publicly about the scandal, in which a series of high-ranking politicians, government ministers and military officers were reportedly under surveillance.
Speaking during Friday's acrimonious debate, Tsipras accused Mitsotakis of personally ordering the wiretaps.
"You knew very well that the surveillance had occurred, and you knew very well that the surveillance had occurred because you had ordered it, Mr. Mitsotakis," Tsipras said.
The wiretapping scandal broke in earnest in August, when a top government aide and the head of the country's intelligence agency resigned following revelations that a Socialist politician — who was later elected as head of Greece's third largest party — had been under telephone surveillance. Mitsotakis insisted at the time that the wiretapping was legal but improper, and that had he known about it he would not have approved it.
The government also later introduced legislation tightening regulations over the use of spyware in the country.
"The government and I have expressed ourselves clearly since the start," Mitsotakis said in response to Tsipras' speech, noting that he had assumed the political responsibility, had replaced people in specific positions related to the scandal and that the government had recently voted on legislation amending the functioning of Greece's national intelligence services.
This was done, Mitsotakis said, "without us ignoring the mistakes which were made, but also without it being our intention to dismantle a critical state structure, whose overall contribution to national security, I repeat, must not be overshadowed by isolated mistakes and missteps."
Allegations that other senior officials, journalists and cabinet members had also been targeted with spyware that can snoop on cell phone calls, stored contacts and data, and access devices' microphones and cameras prompted a judicial investigation.
Speaking in Parliament on Wednesday, Tsipras said Greece's Authority for Communication Security and Privacy had confirmed, following a request he had made to it for further information, that others who had also been placed under telephone surveillance included the government's own labor minister, the head of the National Defense General Staff, the former head of the army, a former national security adviser, and the former and current heads of defense armaments.
"How patriotic is it for you to have under surveillance the leadership of the armed forces? I ask you," Tsipras said Friday.
Although still ahead of Syriza in opinion polls, New Democracy has seen its strong lead hurt by the scandal as well as by the increased cost of living. Greece is to hold elections in the first half of 2023, although no date has yet been set.
Sourse: abcnews.go.com