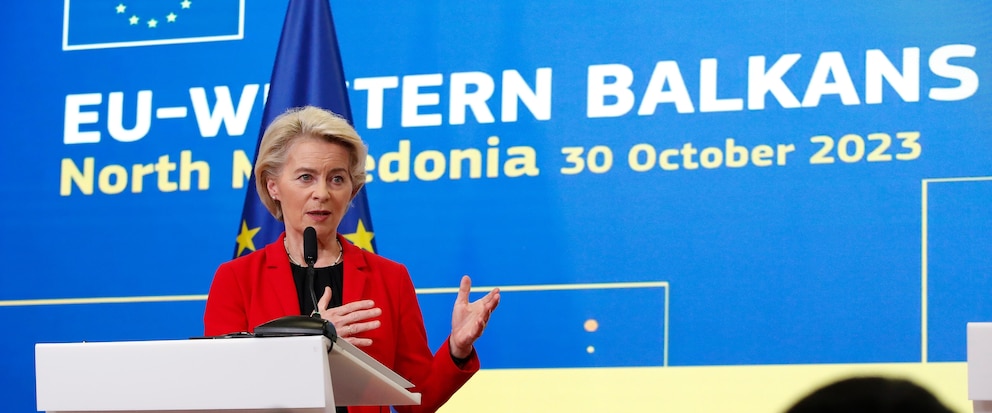 SKOPJE, North Macedonia — The European Commission's top official said Monday that a decade-long investment package for Western Balkan countries seeking to join the bloc could vastly improve the region's economy but is conditioned on required reforms.
EU Commission President Ursula von der Leyen discussed details of the 6 billion euro ($6.37 billion) package during a visit to North Macedonia's capital, Skopje, at the start of a four-day trip to the region. EU leaders presented the package at a Western Balkans meeting in Albania earlier this month.
At a news conference Monday with North Macedonian Prime Minister Dimitar Kovachevski, von der Leyen said the EU package had the potential to double North Macedonia's economy within a decade. "That is the goal, and it will play an important role in your path towards the EU," she said.
She said the plan would allow Western Balkan companies access to key sectors of the block's single market, while at the same time countries in the region would be expected to open their own markets to their neighbors.
"If completed, the common regional market could increase (Gross Domestic Product) by 10% in the Western Balkans," she said.
Von der Leyen also stressed the need for the Western Balkans to carry on "positive reforms."
She said North Macedonia should secure efficient public administration, sound public finances and an independent judiciary. It also needs to better fight corruption, she said.
Later Monday, the EU commission chief visited Kosovo and underlined that the bitter dispute between Serbia and Kosovo, a former Serbian province that declared independence in 2008, remains a great concern for the EU. Serbia has refused to recognize Kosovo's independence.
"We can only achieve all these steps forward and successes if Kosovo and Serbia normalize their relations," she said at a news conference after meeting with Kosovar President Vjosa Osmani.
An EU-facilitated dialogue to normalize ties has failed to go in the right direction, especially following a recent shootout between masked Serb gunmen and Kosovo police that left four people dead and sent tensions soaring in the region.
Von der Leyen urged Kosovo to meet its commitment to set up an association to coordinate work on education, health care, land planning and economic development in northern Kosovo communities mostly populated by ethnic Serbs.
She also will travel to Serbia, where she said a key topic of discussion would be that Serbia should "deliver" on recognition of Kosovo.
Both countries have said they want to join the 27-nation bloc.
She will also make stops in Montenegro and Bosnia.
Six Western Balkan countries are at different stages on their path to join the EU, in a process expected to take years.
While Montenegro and Serbia are advancing, North Macedonia and Albania started membership negotiations with the EU in July 2022. Bosnia was granted candidate status five months later, while Kosovo was recognized as a potential candidate to join the block.
Osmani called on the EU to give candidate status to Kosovo at its December summit.
——
Llazar Semini contributed from Tirana, Albania.
Sourse: abcnews.go.com