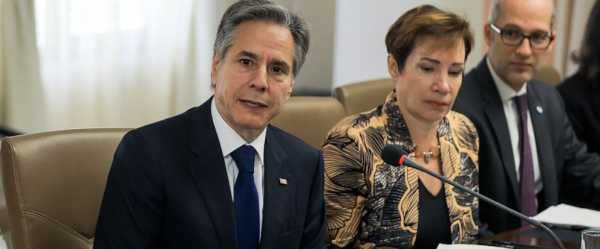 NAIROBI, Kenya — U.S. Secretary of State Antony Blinken is in Ethiopia to meet with Prime Minister Abiy Ahmed and others about the recovery from a devastating two-year conflict in the country's Tigray region that killed hundreds of thousands of people.
Blinken will address journalists later Wednesday about his visit that Ethiopia's government said also includes discussions about a dispute with downstream Egypt over Ethiopia's completion of Africa's largest hydroelectric dam.
Ethiopia's government is eager to see the return of economic and other assistance from the U.S. and others, but there are concerns about how the government will address the widespread human rights abuses committed by all sides in the conflict. The government has objected to a United Nations commission of inquiry.
"There's a lot to be done," Blinken told Foreign Minister Demeke Mekonnen. "But the most important thing is to keep the peace that has now taken hold in the north and to strengthen our ties as we move along."
A peace deal signed by the government and Tigray representatives in November is still being implemented in a region of more than 5 million people that saw communications, banking and other basic services cut off for much of the conflict. Humanitarian organizations now returning to the region report hunger and lack of medical supplies, with many health centers damaged or destroyed.
A major challenge to the peace deal is the presence of troops from neighboring Eritrea, which was allied with Ethiopia's government in the conflict and was not a party to the agreement. Observers have said the Eritreans have pulled back to border areas.
Sourse: abcnews.go.com