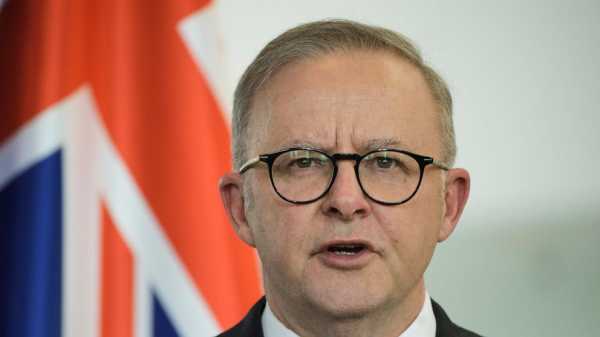 CANBERRA, Australia — Australians will vote on Oct. 14 on a proposed law to create a so-called Indigenous Voice to Parliament in the nation's first referendum in a generation.
Prime Minister Anthony Albanese on Wednesday announced the referendum date, triggering just over six weeks of intensifying campaigning by both sides of the argument.
The referendum would enshrine in the constitution an Indigenous Voice to Parliament, a collection of advocates aimed at giving the nation's most disadvantaged ethnic minority more say on government policy.
Albanese urged people to vote "yes" as polls showed more than 80% of Australia's Indigenous population – Aboriginal and Torres Strait Islander peoples – intended to do so.
"Let's be very clear about the alternative: because voting 'no' leads nowhere. It means nothing changes," Albanese told 400 Voice supporters in the city of Adelaide.
"Voting 'no' closes the door on this opportunity to move forward. I say today, don't close the door on constitutional recognition, don't close the door on listening to communities to get better results. Don't close the door on an idea that came from Aboriginal and Torres Strait Islander people themselves, and don't close the door on the next generation of Indigenous Australians. Vote 'yes,'" Albanese added.
Australia has not held a referendum since 1999 and a referendum has not passed since 1977.
No referendum has ever passed without bipartisan support and the major parties remain divided over the Voice.
Proponents argue that giving Indigenous people a say in policies that effect their lives would lead to less disadvantage.
Indigenous Australians account for 3.8% of population and they die around eight years younger than Australia's wider population.
Proponents say there would be no Indigenous right of veto over government policy and lawmakers would be free to disregard the Voice's representations.
But opponents argue the courts might interpret the Voice's constitutional powers in unpredictable ways, creating legal uncertainty. They also say the Voice would be the biggest ever change in Australia's democracy that would divide the nation along racial lines.
Albanese has long maintained confidence that the referendum would succeed despite opinion polls showing marginal majority support for the Voice has waned in recent months as the public debate has become more heated and divisive.
Sourse: abcnews.go.com