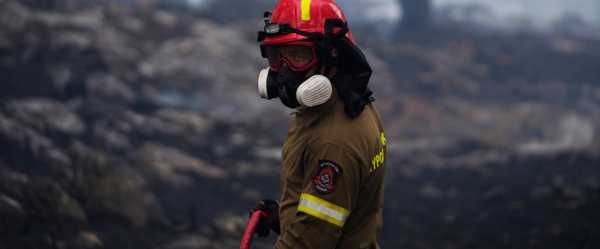 ATHENS, Greece — A massive wildfire that decimated vast tracts of forest in northeastern Greece over 17 days was gradually abating on Monday, although hundreds of firefighters were still tackling pockets that continued to burn, the fire department said.
Reinforcements were sent over the weekend to battle the wildfire burning in the Evros region near the border with Turkey, bringing the total number of firefighters on Monday to 741, backed by 124 vehicles and two aircraft. The blaze has been blamed for the deaths of 20 people, all believed to have been migrants who had recently crossed the border.
The fire, which broke out on Aug. 19 near the northeastern city of Alexandroupolis and joined with other blazes to form one massive wildfire, burned more than 93,000 hectares (230,000 acres) of land by Sunday, according to the European Union's Copernicus Emergency Management Service, making it the largest single blaze to hit an EU country since records began in 2000.
Wildfires are common in Greece and other southern European countries during their hot, dry summers. Dozens of fires have been breaking out each day across the country for weeks, with the fire department saying its forces tackled 82 wildfires between Saturday afternoon and Sunday afternoon, with 49 of them having broken out in those 24 hours.
Another fire broke out Monday in woodland on the northern outskirts of Athens. More than 70 firefighters, including 18 from France, backed by two airplanes and three helicopters, managed to bring the blaze under partial control within hours, the fire department said.
With its firefighting forces stretched to the limit, Greece appealed for help from other European countries and has received hundreds of firefighters, as well as a fleet of planes and helicopters, from across the continent. On Sunday, forces from France, Spain, Cyprus, Romania, the Czech Republic, Bulgaria, Slovakia, Albania and Serbia were still operating in the country.
Sourse: abcnews.go.com