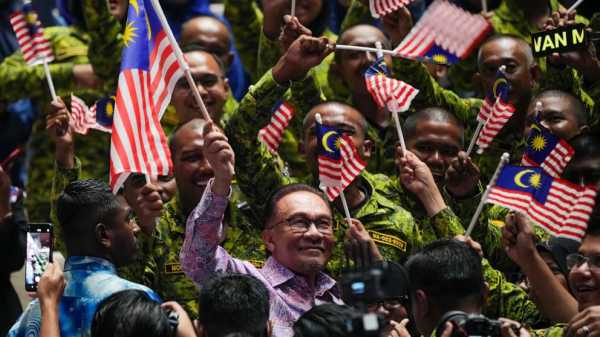 PUTRAJAYA, Malaysia — Prime Minister Anwar Ibrahim urged Malaysians to unite and reject racial and religious bigotry, as the country marked its 66th year of freedom from British rule on Thursday with fireworks and a street parade.
Fireworks were set off in various locations at midnight to usher in National Day. Tens of thousands of people thronged the government administrative capital of Putrajaya early Thursday for the main procession, waving national flags and cheering as bands. dancers and convoys of vehicles went past.
Anwar, along with the nation's King Sultan Abdullah Sultan Ahmad Shah, were among the dignitaries at the parade.
In a televised speech on the eve of National Day, Anwar appealed to Malaysians not to let their differences ruin the nation. He warned that powerful nations have collapsed not just due to mismanagement or corruption but because they "played with fires of ethnic and religious fanaticism."
"Don't take this lightly … our differences can be a strength or a force that can destroy the fabrics of society and the country," said Anwar, who took power in November after a divisive general election. "We can choose to continue to sow doubt and suspicion, political and racial hatred or we can choose to say that enough is enough."
Islam is the official religion in Malaysia and by law, Malays — who make up over 2/3 of the country's 33 million people – must strictly be Muslims and cannot convert. Malaysia also has large Chinese and Indian minorities.
Racial and religious divides further deepened in Malaysia after Nov. 19 general elections led to the rise of a strong Islamic-Malay nationalist opposition bloc. Anwar's coalition won the most seats but fell short of a majority to form a government. Anwar, 76, later established a multi-coalition unity government with the backing of former rivals.
The opposition Perikatan Nasional bloc, which included a powerful Islamic party, further reinforced its strength in local polls earlier this month. It made major inroads in three government-controlled states and nearly swept all the seats in three other states it ruled. It has framed its gains as a protest vote against Anwar's unity government.
Sultan Abdullah, in a National Day post on Facebook, echoed Anwar's call for racial unity.
"This unity is the main key to the country's stability and prosperity, as well as the seed and source of strength for us to face any current and future challenges," he said.
Although his government has a two-thirds majority in Parliament, Anwar has not yet managed to shore up support among Malay voters, many who view him as too liberal. They fear their Islamic identity and economic privileges under a decades-old affirmative action program could be chipped away.
Anwar refused to budge from his multiethnic stance, urging Malaysians in his speech to reject outdated and parochial mindsets. He said the status of Islam and Malay privileges are enshrined in the constitution and will not change. At the same time, he said his unity government will also defend the rights of all minorities and marginalized groups.
Malay society is generally conservative, in other respects, including banning all LGBTQ activities.
"Malaysia must not only be known for its skyscrapers…but also for its guarantee of justice for all citizens," he said.
Sourse: abcnews.go.com