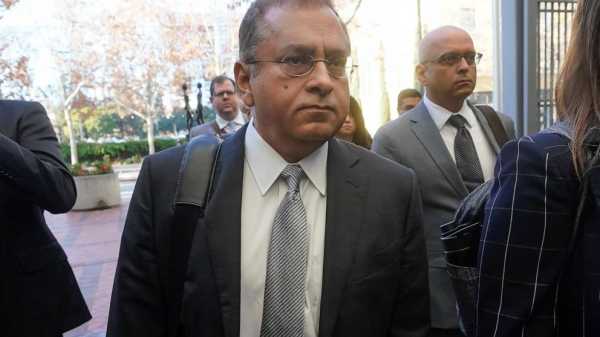 Former Theranos executive Ramesh ""Sunny" Balwani is scheduled to begin his nearly 13-year prison sentence Thursday afternoon for a blood-testing hoax he engineered with his former boss and lover, Elizabeth Holmes, who is still fighting to remain free while she appeals her conviction.
Balwani, 57, has until 2 p.m. PDT Thursday to surrender to authorities after a federal judge denied his bid to remain free while appealing his conviction on 12 counts of fraud and conspiracy in a ruling issued last week.
Holmes, 39, and her lawyers will have their chance to try to persuade to U.S. District Judge Edward Davila to allow her to delay the scheduled April 27 start of her more than 11-year prison sentence during a hearing set for Friday morning in San Jose, California.
It will mark Holmes' first appearance in court since giving birth to the child she was carrying at the time of her Nov. 18 sentencing on four counts of fraud and conspiracy.
In a change of plans, Balwani will serve his prison term near a Southern California harbor instead of the Atlanta facility that he had been initially assigned, according to a disclosure filed late Wednesday by his lawyer, Jeffrey Coopersmith.
The revision means Balwani will be staying in the Terminal Island prison located in San Pedro, California, located about 30 miles (48 kilometers) from downtown Los Angeles. The prison has incarcerated several other prominent figures, including gangster Al Capone in the 1930s, notorious murderer Charles Manson for an auto theft in the 1950s and LSD evangelist Timothy Leary in the 1970s.
In a filing last week, Coopersmith had asked Davila for additional time to appeal the Bureau of Prisons' decision to send him to an Atlanta prison plagued by allegations of widespread of misconduct and other abuses. Davila had recommended Balwani be sent to a Lompoc prison in Santa Barbara County located about 250 miles (400 kilometers) from the San Jose courtroom where his trial took place.
Although they had separate trials, Holmes and Balwani were accused of essentially the same crimes centered on a ruse touting Theranos' blood-testing system as a revolutionary breakthrough in health care. The claims helped the company become a Silicon Valley sensation that raised nearly $1 billion from investors.
But its technology never came close to working like Holmes and Balwani boasted, resulting in Theranos' scandalous collapse and a criminal case that shined a bright light on Silicon Valley greed and hubris.
Sourse: abcnews.go.com