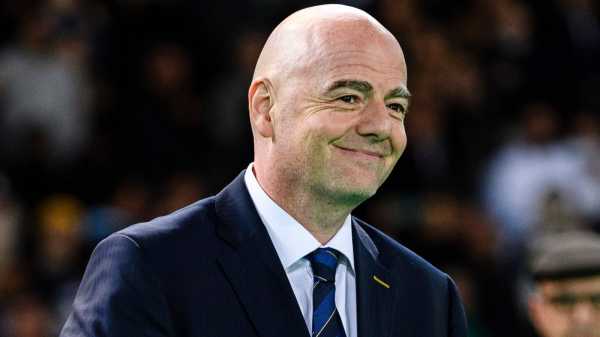 FIFA has shown "complete disregard" for the importance of national competitions by approving a 32-team Club World Cup and an expanded World Cup, according to LaLiga.
Ahead of its congress in Kigali, Rwanda, FIFA announced on Tuesday that the 2026 World Cup will have 104 matches instead of the current 64 games due to the expanded format with 48 teams taking part.
The governing body also greenlit an enlarged Club World Cup which will be played every four years from June 2025.
World Cup 2026 increased to 104 matches & 48 teams | FIFA expands Club World Cup
Get Sky Sports | Download the Sky Sports app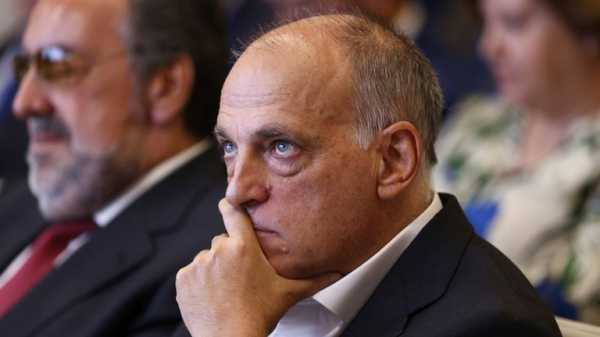 Image: LaLiga has been run by Javier Tebas, the president, since 2013
But the decisions were criticised by LaLiga, with the Spanish top flight saying: "FIFA continues its malpractice of making unilateral decisions on the world football calendar, showing complete disregard for the importance of national championships and the football community in general.
"FIFA completely neglects the economic damage these decisions inflict on leagues around the world. Leagues were not consulted about any of the changes presented today, especially about the new annual club competition.
Trending
Transfer Centre LIVE! Lukaku to return to Chelsea, says Inter CEO
Ceferin: Liverpool, Man Utd most involved in ESL plans | 'I lost it a bit'
Man Utd takeover: Sheikh Jassim and INEOS to meet club this week
Leclerc handed grid penalty at Saudi Arabian GP
Ferrari? Red Bull? Stay put? Brundle analyses Hamilton's future
Merson Says: Liverpool have no chance at Real Madrid
LaLiga: FIFA has shown 'complete disregard' with World Cup changes
Rodgers: My intention is to play for New York Jets
Arteta: Europa is not a distraction for Arsenal | 'We want to win'
Premier League relegation fight: Who's in trouble?
"These decisions do not take into account the competitive, sporting and economic impact on national leagues, clubs and players by further cramming an already overloaded schedule. FIFA only takes into account a small group of clubs and players."
LaLiga added it and other leagues in the World Leagues Forum (WLF), an organisation representing professional association football leagues, would "analyse FIFA's decisions and decide on the most appropriate next steps".
Also See:
In December, the WLF criticised the creation of a 32-team Club World Cup, saying it could have damaging consequences for the football economy and player welfare.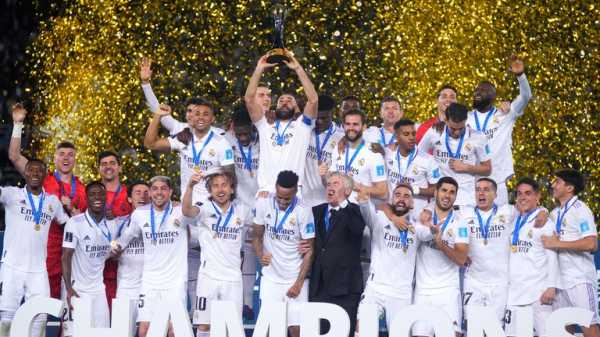 Image: Real Madrid celebrate winning the Club World Cup last month
PFA: Schedule impacting players' wellbeing
The Professional Footballers' Association also hit out at the changes, with Maheta Molango, the union's chief executive, saying: "Fundamentally, the football calendar needs a complete reset.
"The expanded World Cup format being announced for 2026 means that, yet again, more games are being forced into an already overcrowded schedule.
"It is right that FIFA have listened to players' concerns and announced a working group to address the critical issues surrounding fixture congestion and player welfare.
"However, it's very difficult to see how that aligns with the constant expansion of the domestic and international calendar.
"We know that the current workload players face is having an ongoing impact on their wellbeing, both on and off the pitch. We can't simply push them until they break."
The revamped match calendars were approved by the FIFA council, the main decision-making body of the world soccer organisation which has 37 members, including president Gianni Infantino and 28 others elected by member associations.
WLF: FIFA plans 'further crowd and already overloaded calendar'
The World Leagues Forum, which includes the Premier League among its members, has accused FIFA of failing to consult with professional leagues over its plans for the 2026 World Cup and a new 32-team Club World Cup.
The leagues are concerned about the squeeze that new and expanded FIFA and UEFA international club competitions would leave for their domestic competitions, and on the impact on the quality of their product if players continue to be pushed further and further.
The WLF is now considering "appropriate next steps" to tackle what it sees as the damaging impact of FIFA's proposals on their competitions and on player welfare.
A WLF statement read: "Despite multiple requests, FIFA did not consult with the World Leagues Forum or any of its member leagues, which represent the foundations of professional football and organise the vast majority of professional competitions globally, about the recent international match calendar decisions by the FIFA Council.
"FIFA's decisions, including the expansion of the 2026 World Cup and the new versions of the Club World Cup, further crowd an already overloaded calendar and fail to consider the impact on domestic league competitiveness and player welfare.
"The WLF and its member leagues will now analyse FIFA's decisions and decide on the most appropriate next steps.
"The leagues continue to be ready to engage constructively with FIFA and all confederations on decisions made regarding the match calendar and other issues that implicate domestic leagues, players, and fans."
How will the 2026 World Cup work?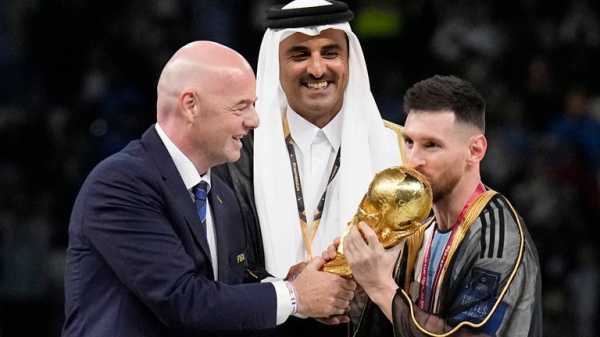 Image: Argentina won the 2022 World Cup in Qatar
The 2026 tournament in the United States, Mexico and Canada will have 12 groups of four teams. The top two teams will advance to a round of 32 with the eight best third-placed teams.
FIFA had been considering a format of 12 groups of three teams but the excitement generated by the traditional four-team group format used in the Qatar World Cup has helped to convince the FIFA Council to stick with four-team groups.
The combined number of rest, release and tournament days remains the same as previous World Cups in 2010, 2014 and 2018 – 56 days.
It means teams reaching the final will now have to play eight matches, rather than the seven played by Qatar 2022 finalists Argentina and France.
The final in the United States is due to be on Sunday July 19, 2026.
Why FIFA had a 'rethink' over World Cup format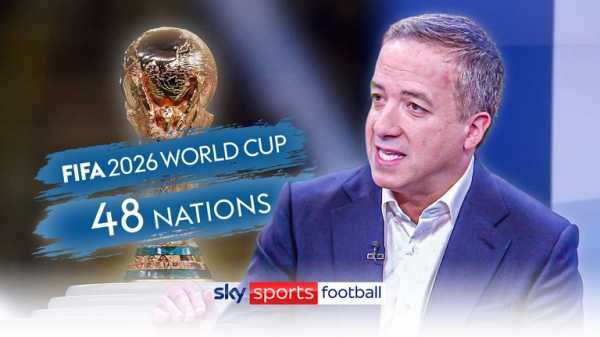 Why have FIFA agreed to enlarge the World Cup?
Sky Sports News chief reporter Kaveh Solhekol:
"FIFA had a problem because this is going to be the first World Cup with 48 teams so they were trying to work out how it was going to be organised.
"It was going to be 16 groups of three teams and you could have had the situation where two teams would have only played two games before being knocked out and going home.
"FIFA had a rethink, which was accelerated by the World Cup in Qatar. FIFA thought the Qatar World Cup was exciting – there was so much jeopardy and so much at stake.
"That's why they have had a look at it again and at this FIFA Council meeting in Rwanda, it is going to be officially approved.
"A lot of traditionalists will say they are unhappy with 48 teams because it is too many teams and the quality is going to suffer. It is also bad for the environment having more teams flying around Mexico, Canada and the USA.
"The other argument, though, is that FIFA is made of 211 different countries and of those countries only 78 have ever played in the World Cup, so they have been lobbying FIFA to say they need to have a chance to play in the World Cup otherwise their standards of football aren't going to improve.
"If you look at the slot allocation, at the World Cup in Qatar we only had five countries from Africa even though there are 54 African countries that are members of FIFA.
"Their slot allocation is going to go up from five to nine, there are now going to be eight teams from Asia, six teams from CONCACAF so if you take off your blinkers and look at football not just from a western European perspective, the rest of the world – well, the people I speak to – do like that the World Cup will be expanded and it really will be the World Cup."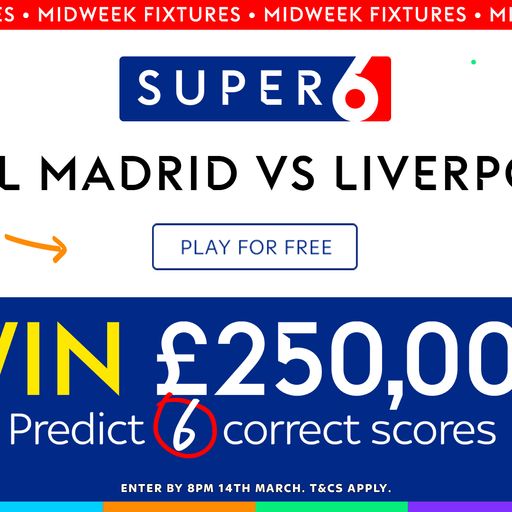 Win £250,000 with Super 6!
Could you win £250,000 for free on Tuesday with Super 6? Entries by 8pm, good luck!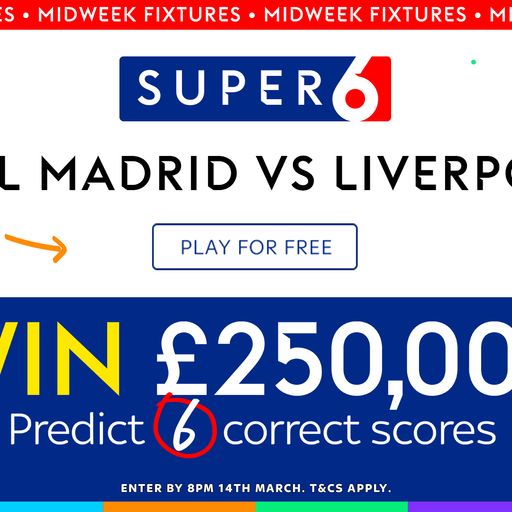 Win £250,000 with Super 6!
Could you win £250,000 for free on Tuesday with Super 6? Entries by 8pm, good luck!
Sourse: skysports.com