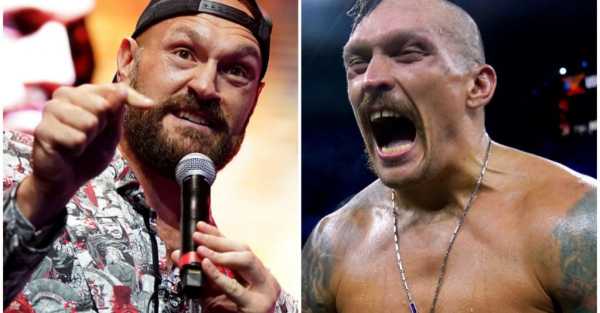 Tyson Fury is doubtful to face Oleksandr Usyk for the undisputed world heavyweight title on December 23 after being left bloodied and bruised in a contentious points win over Francis Ngannou.
What seemed a total mismatch on paper between the unbeaten WBC champion and a mixed martial artist making his professional boxing debut in Riyadh, Saudi Arabia, almost went awry for Fury.
Fury was expected to toy with the former UFC heavyweight champion but instead endured a torrid night, receiving a small cut on his forehead before being knocked down in the third round.
Fury rose almost straight away but was clearly unnerved by an awkward opponent whose style he could not quite get to grips with, relying on his jab and the odd combination to get by over the 10 rounds.
Ngannou produced the flashier blows, leading to an outcry on social media when Fury was awarded a split decision win, given the nod 96-93 and 95-94 on two scorecards as a third judge sided against him 95-94.
The fight was rumoured to be the preamble to the announcement of Fury taking on Usyk just before Christmas and the WBA, IBF and WBO champion was ringside as he engaged in a staredown with the Briton.
While Fury, who was also left with a swollen left eye, was animated, there was an overall flat feeling after he had his hand raised and his promoter Frank Warren issued a more sobering appraisal.
"Tyson's got a cut there so it's no good setting a date whilst he's got that cut on the top of his head – we've got to see how that heals," Warren said in the ring afterwards.
"He's going to rest up, that's what's going to happen next then he'll make his decision (about) what he wants to do because he's the boss. But this fight is on. It's just a matter of now setting a date."
There was no celebratory press conference following the fight after Fury (now 34-0-1, 24KOs) admitted he had been given one of the toughest tests of his career by the former UFC heavyweight champion.
However, he told Usyk in the ring: "I'm a fighter, he's a fighter, I'm sure we'd go now. We're prizefighters, let's go now if you want. These guys (promoters) will sort it all out and it'll be on."
Usyk, a London 2012 gold medallist and former undisputed world cruiserweight champion who has won all 21 of his professional contests, said: "We're back in this ring on 23 December, I'm ready to fight."
Fury had likened Ngannou's chances in the non-title bout to that of a table tennis champion facing Novak Djokovic in the Wimbledon final – and his words came back to bite him post-fight.
Ngannou, 37, who had not fought in any capacity since January 2022 and had reconstructive knee surgery in that time, said pointedly on X, formerly known as Twitter: "Table Tennis champion of the world."
The Cameroonian-Frenchman also took aim at the scorecards, adding: "This boxing world wild but some judges should be responsible for their actions. This type of stuff is what f**** up people's career."
Ngannou also shared the thoughts of American basketball great LeBron James, who wrote: "Exactly why i don't watch boxing! C'mon man!". Former England striker Gary Lineker added: "We've just seen a robbery."
Andy Murray, former world number one tennis player, believes boxing has suffered a setback following Fury's hugely unconvincing showing in this crossover event.
He wrote: "How many points would the world no1 squash player win vs the world number 1 tennis player in a tennis match and vice versa? Im thinking close to zero for both….bad look for boxing."
Lennox Lewis, the last heavyweight to be undisputed champion before the four-belt era, was among the boxing royalty ringside and was similarly unimpressed by Fury.
He said: "The lion can't let the shark come into the jungle and nearly beat him. Ngannou's stock is up. Fury's stock is down in a luckluster win for Fury."
Sourse: breakingnews.ie