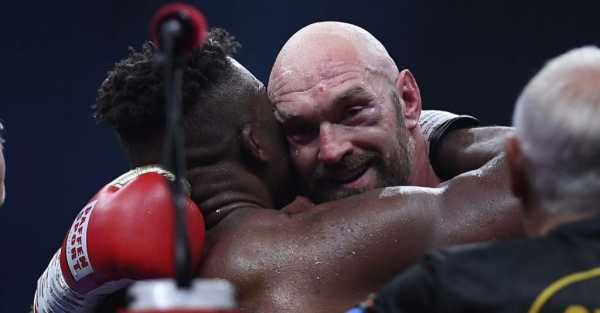 Tyson Fury had to get up off the canvas before grinding his way to a highly unconvincing split decision win over Francis Ngannou in their heavyweight showdown in Saudi Arabia.
What appeared a mismatch between the WBC champion and a mixed martial artist boxing professionally for the first time did not go according to plan for Fury, who was decked by a left hook in the third round.
Despite rising to his feet almost immediately, Fury was on unsteady legs in the moments afterwards before getting behind his jab, keen to stay out of range of the former UFC heavyweight champion.
Fury ate a few more big shots and ended the fight with a cut above his forehead and a welt under his left eye – which could have an impact on a proposed showdown against Oleksandr Usyk on December 23.
But the Briton, whose world title was not on the line, was spared what would have been one of the biggest upsets of all-time after being given the nod 96-93 and 95-94 on two scorecards, as the third judge sided with Ngannou 95-94 following an unexpectedly keenly contested 10-round encounter.
"That definitely wasn't in the script," Fury said in the ring immediately after improving his record to 34 wins and one draw.
"Francis is a hell of a fighter; strong, a big puncher and a lot better boxer than we all thought he would ever be. He's a very awkward man and a I respect him a lot – before the fight and afterwards.
"He's given me one of my toughest fights in the last 10 years. I don't know how close it was but I got the win and that's what it is. No excuses, Francis caught me with some good punches, fair play to him."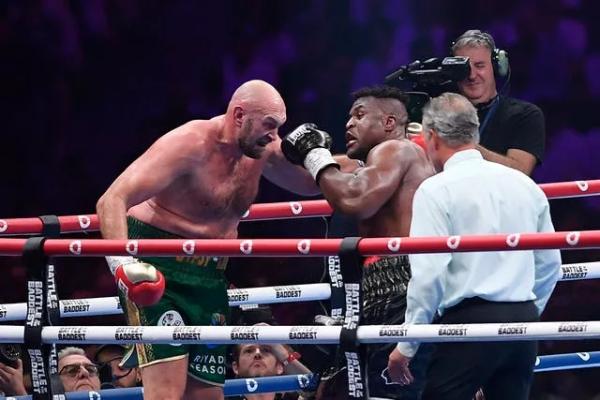 The fight was billed as the start to 'Riyadh Season', with Saudi Arabia heavily criticised for trying to 'sportswash' its reputation and distract from its long history history of human rights abuses.
After fans shuffled to the main arena from a nearby venue which held the undercard, there was an opening ceremony featuring performances from musicians, accompanied by dancers, and culminated in a boxing ring rising from the floor on to the stage.
It was an elaborate spectacle in front of a star-studded crowd which included rappers Kanye West and Eminem as well as footballer Cristiano Ronaldo, plus a host of boxing and MMA royalty such as Sugar Ray Leonard, Mike Tyson, Manny Pacquiao, Roberto Duran, Lennox Lewis, Ricky Hatton and Conor McGregor.
Both fighters wore crowns and sat on thrones before making way their way to the ring, Ngannou for the first time aged 37. After the anthems and introductions, there was an expectation the Cameroonian-Frenchman would bull rush his foe but it was Fury who threw a wild overhand right at the outset.
He landed a good jab to the body and head and even appeared to be giving instructions to Ngannou when they were in the clinch, calling to 'break'. The smaller and slightly lighter Ngannou seemed plodding in comparison as Fury ended the round with a solid combination which rocked his rival's head back.
However, Ngannou started to settle in the second round and connected with a lead left look before an accidental head clash. It was unclear which caused the cut to Fury's head but it unsettled the world champion who repeatedly touched the small wound.
If that was a minor issue, Fury had to confront a major setback in the third round after a clubbing counter left hook to the side of his temple – above his right ear – put him on his back.
Ngannou taunted his adversary, briefly dancing over him, but while it was a flash knockdown, it instantly swung the momentum of the fight. From that point Fury was reluctant to engage too much, wary of the power of a man who holds the world record for the hardest punch ever recorded.
Fury was off-balance again in the fourth before rediscovering some rhythm with a jab and right hand in the fifth although he stayed at range, refusing to allow Ngannou any chance of a response.
The pattern of Fury staying on the outside and flicking out the jab continued into the sixth and while Ngannou seemed to be tiring, he was able to routinely outmuscle the favourite in the rare clinches.
There was a lack of urgency down the stretch from Fury and he soaked up another heavy left from Ngannou in the eighth before perhaps doing just enough to nick the final two rounds and with it: the fight.
This was not the tune-up Fury would have envisaged for an undisputed world title showdown against Usyk, the WBA, IBF and WBO champion who was ringside to witness his rival's underwhelming display.
"It will be our next fight guaranteed," Fury added. "I'm going to go home, take a long, hard rest and we'll see what's next."
Sourse: breakingnews.ie