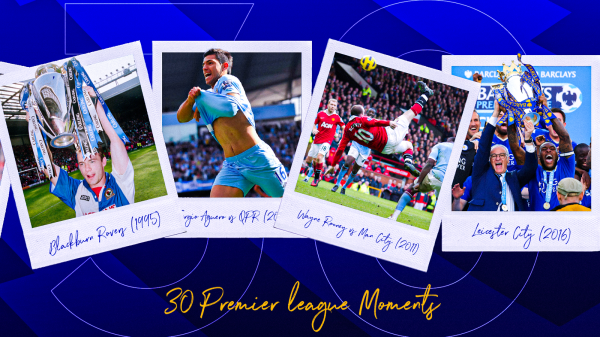 To celebrate the Premier League's 30th anniversary, we take a look at the most memorable moments from the last three decades including Wayne Rooney's overhead kick in the Manchester derby and Sergio Aguero's last-gasp title-winning goal for Manchester City…
Also See:
Brian Deane scores the first PL goal – August 1992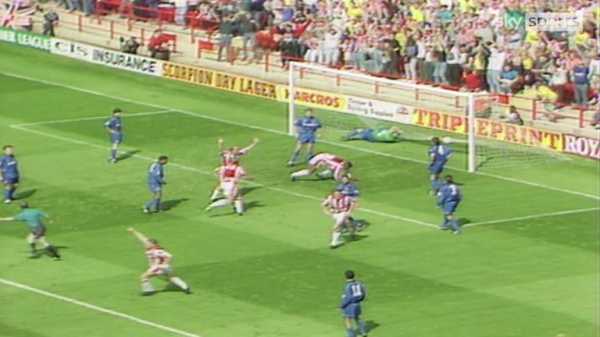 The first Premier League goal scored was by Briane Deane in Sheffield Utd's 2-1 win over Manchester Utd
Steve Bruce's winner against Sheffield Wednesday – April 1993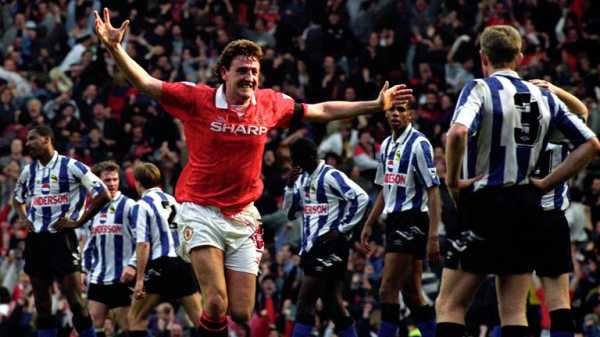 Steve Bruce's injury-time winner that helped Manchester United claim the first ever Premier League title
Everton's final-day Great Escape against Wimbledon – May 1994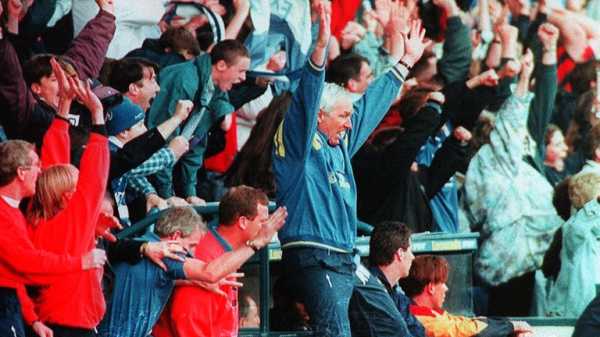 Everton's comeback from 2-0 down to beat Wimbledon 3-2 on the last day of the season to secure safety
Blackburn's final-day Premier League title win – May 1995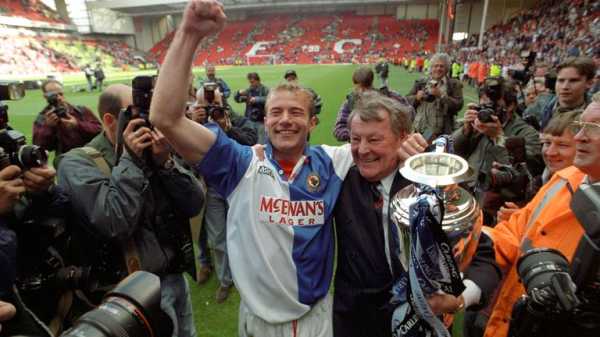 Blackburn's last-day title win, their first top-flight title for 81 years.
Tony Yeboah's hat-trick for Leeds against Wimbledon – September 1995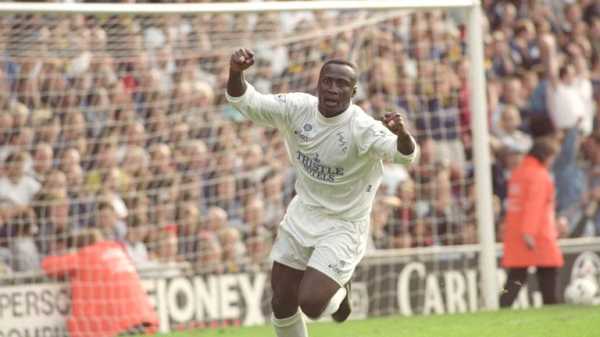 Tony Yeboah's hat-trick for Leeds against Wimbledon, including a screamer for his second goal.
"Collymore closing in!": Liverpool 4-3 Newcastle – April 1996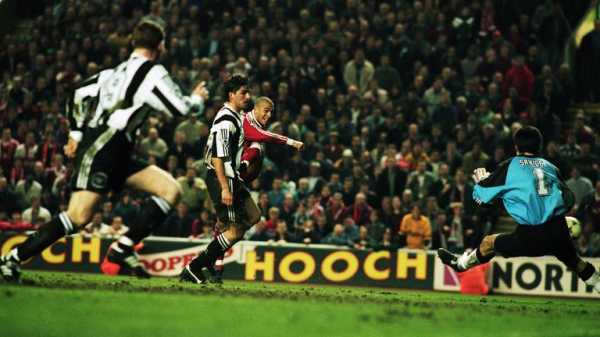 In 1996, Liverpool and Newcastle were both gunning for the title, in their fixture at Anfield they produced an all-time classic match
"I would love it!": Kevin Keegan's rant – April 1996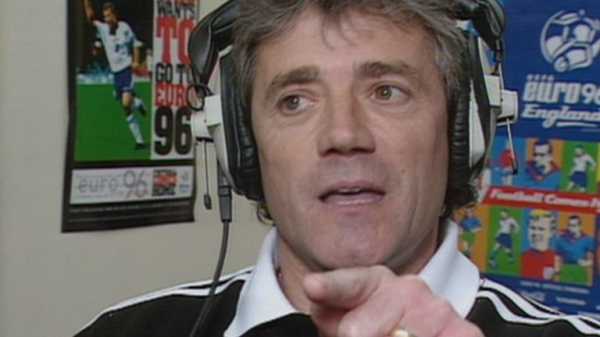 Kevin Keegan gave one of the most famous post-match interviews of the Premier League era, but what caused the Newcastle boss's rant?
David Beckham's halfway line goal for Man Utd against Wimbledon – August 1996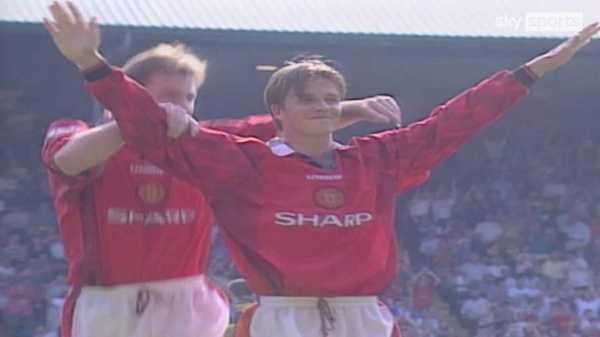 David Beckham scored for Manchester United from the halfway line at Wimbledon on the opening day of the 1996/97 season
Tony Adams clinches Arsene Wenger's first PL title for Arsenal – May 1998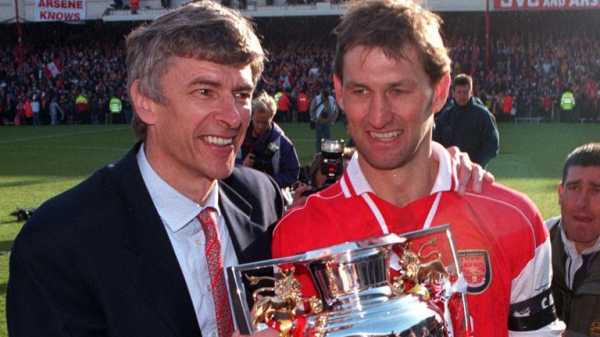 Tony Adams raced through to score the final goal in a 4-0 win against Everton to confirm a first title for Arsene Wenger in 1998
Man Utd beat Spurs on the final day to secure first trophy of the Treble – May 1999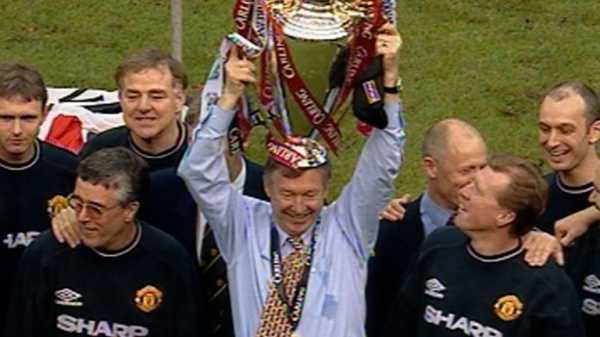 In 1999 Manchester United completed part one of their famous treble as a win over Tottenham on the final day won them the Premier League
Dennis Bergkamp's wonder goal against Newcastle – March 2002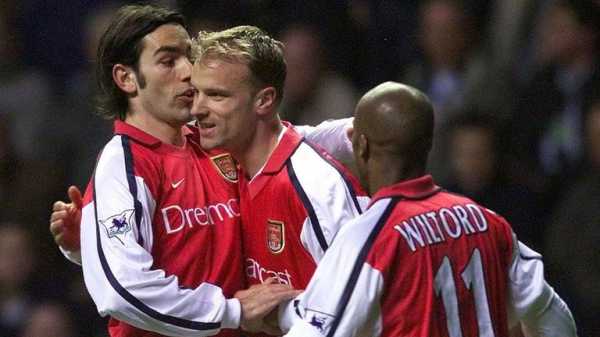 Here is Dennis Bergkamp's historic goal for Arsenal at Newcastle that dazzled and took everyone by surprise!
Wayne Rooney's first PL goal for Everton against Arsenal – October 2002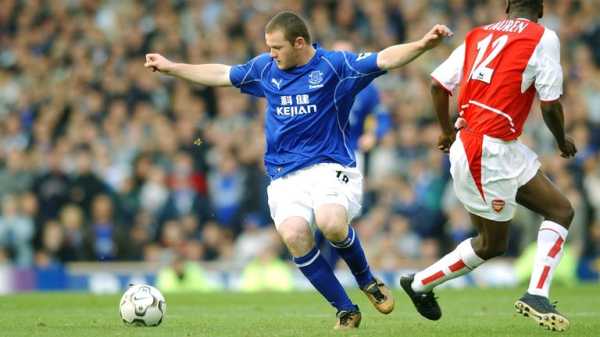 In 2002 Wayne Rooney announced himself on the world stage with his first Premier League goal for Everton against Arsenal
Martin Keown and Ruud van Nistelrooy collide after penalty miss – September 2003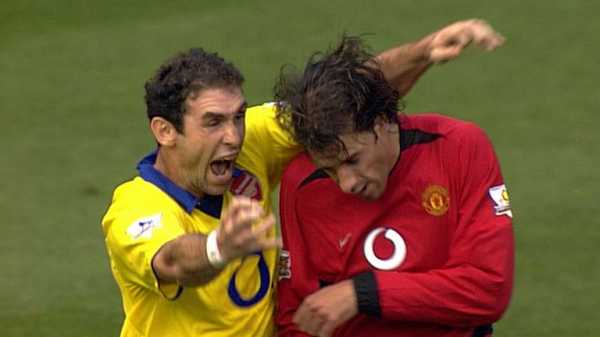 In 2003, things boiled over the edge when Man Utd and Arsenal drew 0-0 after Ruud van Nistelrooy missed a last-minute penalty
Arsenal's 2-1 win over Leicester completes Invincible season – May 2004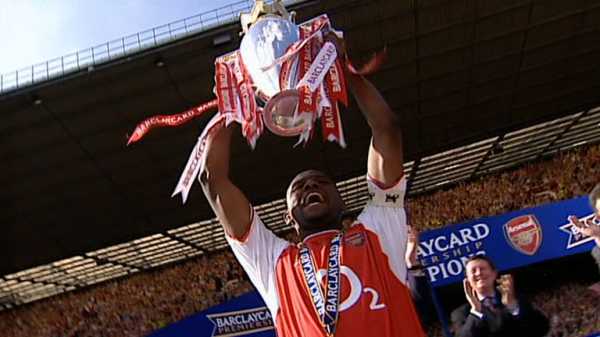 Arsenal's historic 2003-2004 campaign saw them win the Premier League and stay undefeated the whole league season
'The Special One' arrives: Jose Mourinho wins first PL title at Chelsea – 2004/05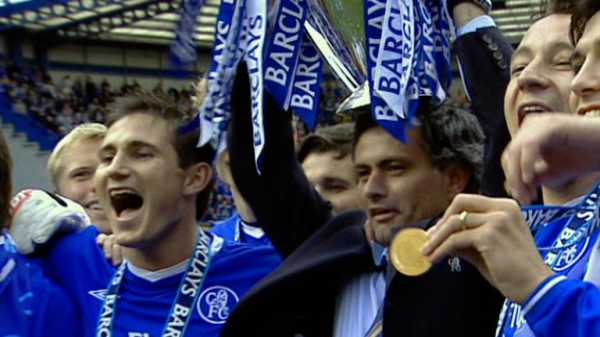 Jose Mourinho labels himself the 'Special One' and backs up his words by helping Chelsea to their first PL title.
Roy Keane and Patrick Vieira's Highbury tunnel bust-up – February 2005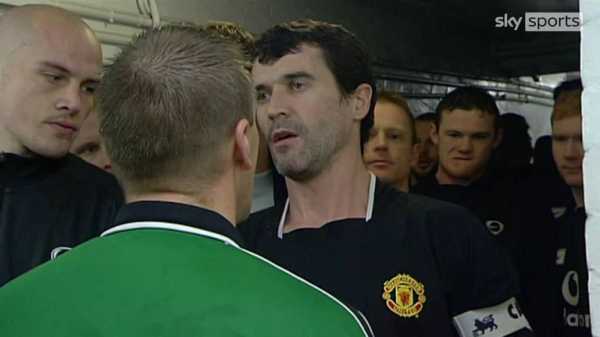 In 2005, temperatures boiled over in the tunnel at Highbury between captains Roy Keane and Patrick Vieira
West Brom become first club to stay up after being bottom at Christmas – May 2005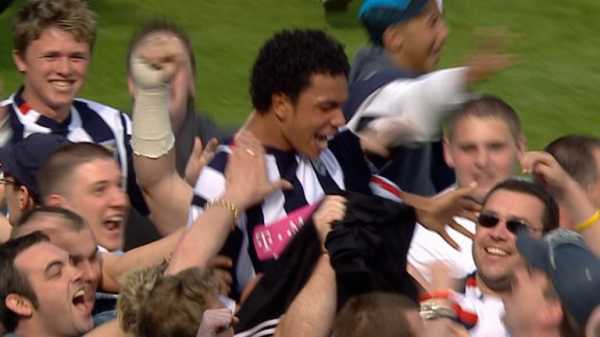 West Brom produced a Great Escape to become the first side to be bottom on Christmas Day and still make it to Premier League safety
Robert Pires and Thierry Henry's penalty mix-up – October 2005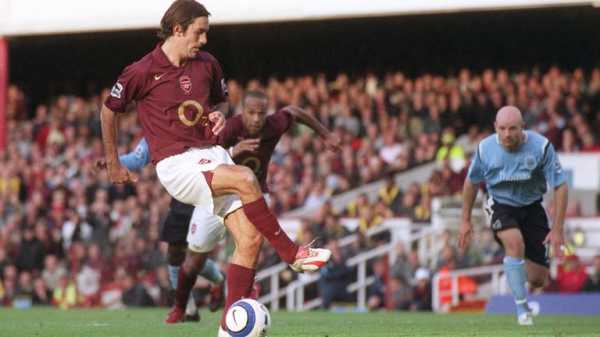 Robert Pires and Thierry Henry combined to miss a penalty against Manchester City in 2005
Manchester City sign Robinho on Deadline Day – September 2008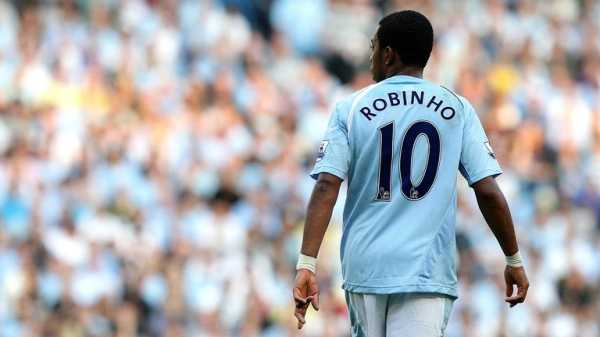 In 2008, Manchester City broke the British transfer record by signing Robinho for £32.5m from Real Madrid
Rafael Benitez's 'facts' meltdown amid Liverpool's title challenge – January 2009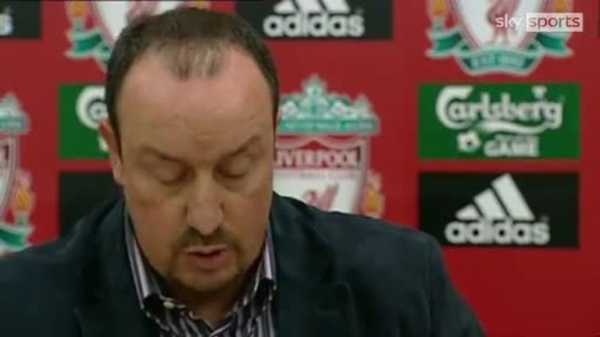 In January 2009, Liverpool manager Rafael Benitez took aim at title-rival Sir Alex Ferguson during a press conference with his infamous 'facts' comment
Darren Bent's beach ball goal for Sunderland against Liverpool – October 2009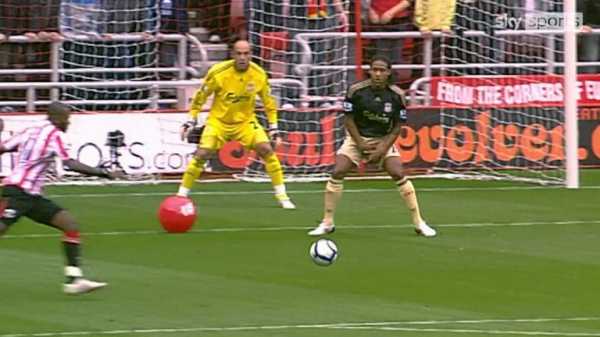 Darren Bent scores a fortuitous goal against Liverpool for Sunderland, where his half-volley deflected in off of a beach ball
Newcastle 4-4 Arsenal: Cheick Tiote scores incredible equaliser – February 2011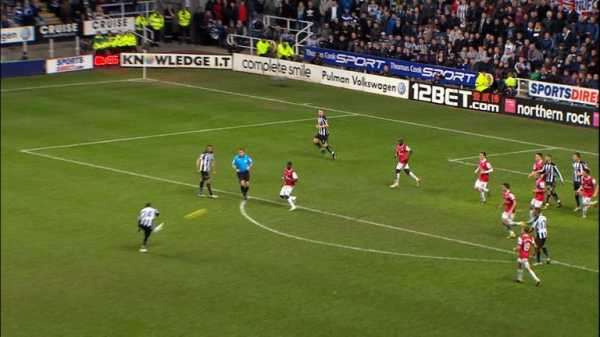 In 2011, Newcastle fought back from 4-0 down against Arsenal to claim a point after Cheick Tiote's volley rescued a 4-4 draw
Wayne Rooney's spectacular overhead kick to win Manchester derby – February 2011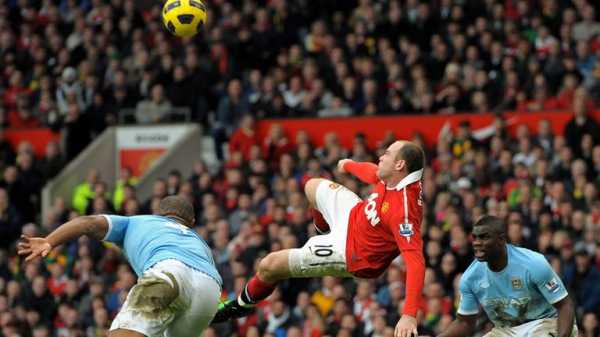 Wayne Rooney's overhead kick in the Manchester derby. Is it the best ever Premier League goal?
'Why Always Me?': Mario Balotelli's celebration as Man City win 6-1 at Man Utd – October 2011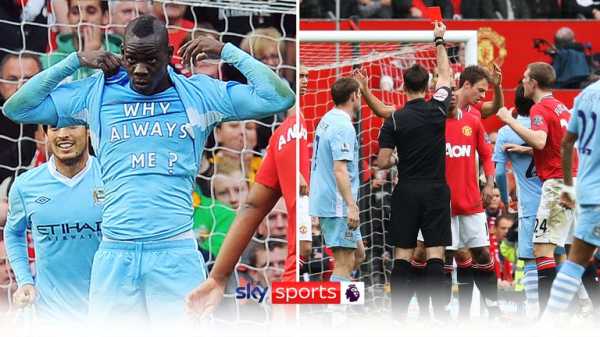 Mario Balotelli scored twice in Manchester City's unbelievable 6-1 defeat over Manchester United at Old Trafford on October 23, 2011
"Aguerooooo!": Sergio Aguero's last-gasp goal wins Man City first PL title – May 2012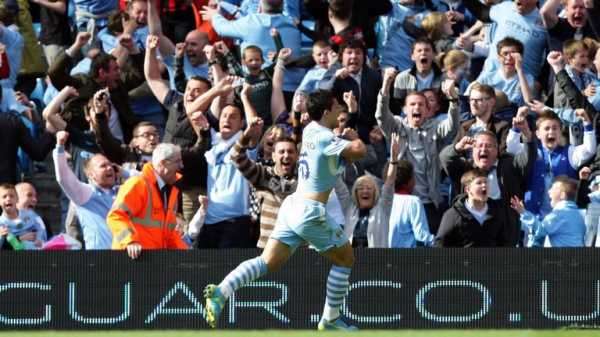 The best angles from Sergio Aguero's dramatic stoppage-time winner against QPR to seal Manchester City's first Premier League title in 2012
Steven Gerrard's slip against Chelsea costs Liverpool the PL title – April 2014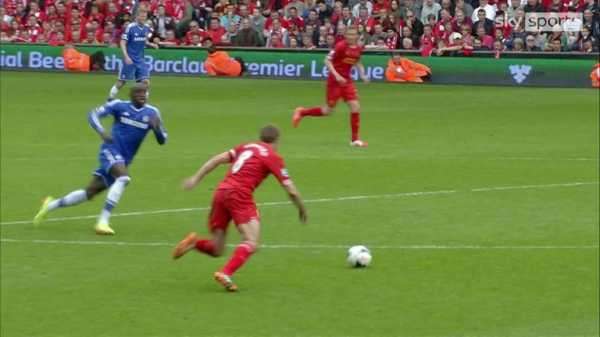 Steven Gerrard's costly slip against Chelsea as Demba Ba scored and ultimately gave Man City the edge for the PL title
5000/1: Leicester City's miracle title win – May 2016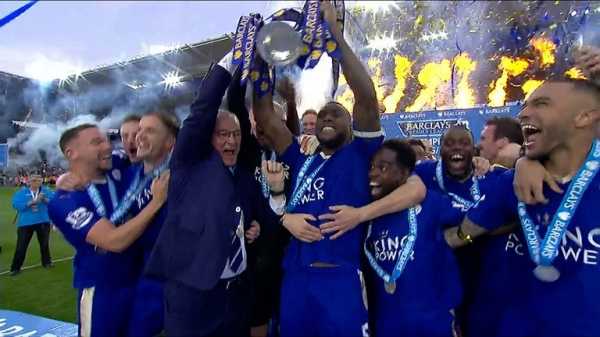 In 2016, Leicester City defied all the odds to win the Premier League title, becoming English champions for the first time ever
"Where do you want your statue Vincent Kompany?": Man City captain's winner against Leicester – May 2019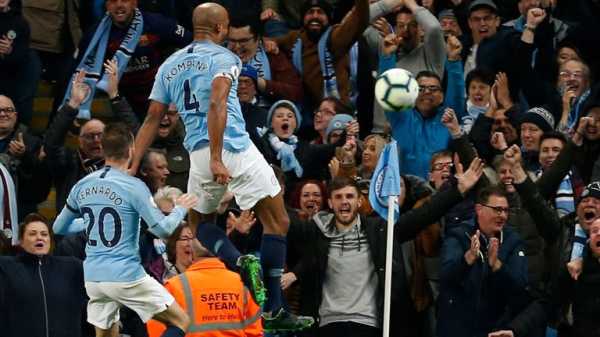 Vincent Kompany scored a stunning goal for Manchester City against Leicester City on the way to claiming the Premier League title
Liverpool crowned PL champions to end 30-year wait for a top-flight title – June 2020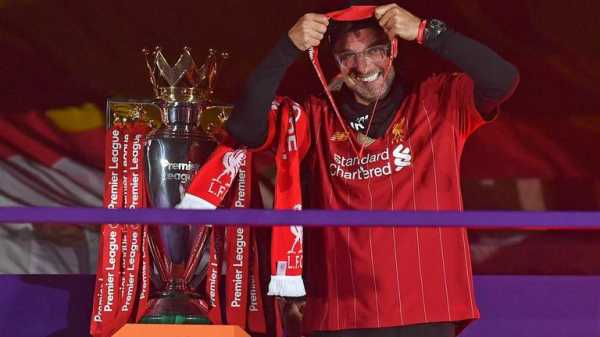 Amid the Covid-19 pandemic in 2020, Jurgen Klopp led Liverpool to their first Premier League title
Liverpool goalkeeper Alisson Becker scores incredible injury-time winner at West Brom – May 2021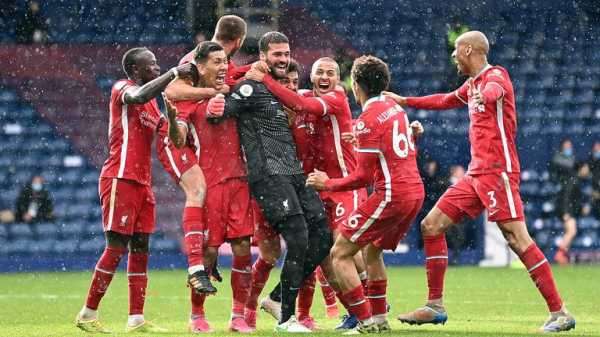 Alisson Becker's dramatic injury-time goal for Liverpool as his header helped them secure a top-four place in the Premier League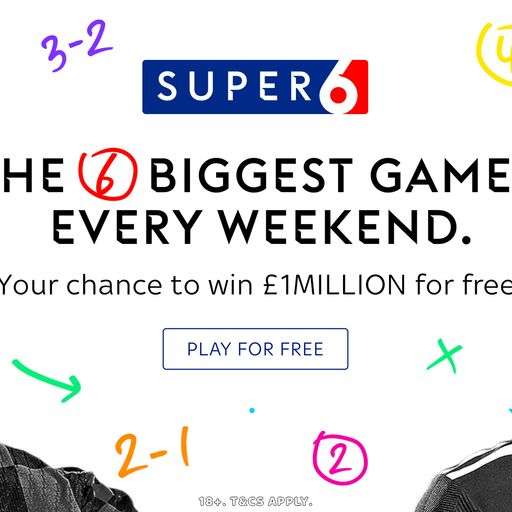 WIN £1,000,000 WITH SUPER 6!
Super 6 is back, bigger and better than ever with a ONE MILLION POUND jackpot. Play for free.
Trending
Transfer Centre LIVE! Icardi, Rabiot, Gakpo – will Man Utd strengthen?
Papers: Man Utd weighing up £45m move for Atletico striker Cunha
Nev on Nunez red: It was a moment of madness
Reporter notebook: How Man Utd's early optimism under Ten Hag evaporated 
Joshua: I'm going to smash Usyk on Saturday
Unsettled Fofana feels Leicester pricing him out of Chelsea move
Neville: Conte has brought fight to Spurs
'Distressed' Giggs went in slippers to neighbour for help on night he 'headbutted' ex
PL hits & misses: Liverpool playing catch up | Chelsea need a striker
"We've hit rock bottom" | Man Utd fans group demand Glazer explanation
Sourse: skysports.com