In an exclusive interview with Sky Sports, Sean Dyche reflects on a sad week at Everton and the challenge of trying to build something special at the club; watch West Ham vs Everton live on Sky Sports Premier League from 12pm on Sunday: kick-off 1pm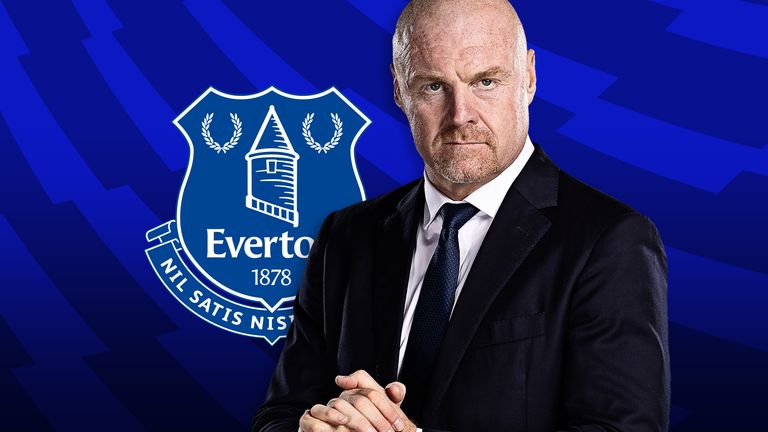 Image: Everton manager Sean Dyche has had to navigate a challenging week in the history of the club
After a period of silence inside the press room at Everton's training ground and having paid tribute in front of the assembled media, Sean Dyche is reflecting further on the passion of the club's chairman Bill Kenwright, who passed away this week aged 78.
"True Blue. It rubs off on you," Dyche tells Sky Sports.
"Obviously, he played a big part in bringing me to the club." Kenwright did not have to sell Everton to Dyche but that never stopped him. "Some of the stories from the past. His own work here, the ups and downs. All that stuff. He was incredibly supportive."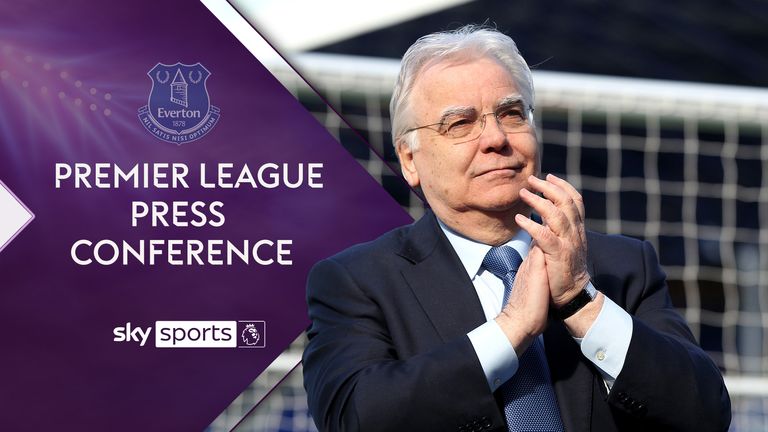 Everton manager Sean Dyche shares some of his favourite memories Bill Kenwright
Kenwright had long been an admirer of Dyche, something that the now Everton boss had been aware of through mutual acquaintances. Kenwright identified the strong leadership that has been in evidence again in this most difficult of weeks.
West Ham vs Everton preview: Watch live on Sky Sports
How Bill Kenwright gave his all to Everton
Everton chairman Bill Kenwright dies aged 78
Dyche was taking a training session when an Everton colleague walked over to the pitch to inform him of the news of his chairman's passing. "I cancelled everything there and then. I just thought, 'No. That's too much for today.' It just felt the right thing to do."
After a period of reflection, the challenge is to continue. "The people who have known him longer than me have said that he would definitely want you to crack on. They said, 'He would want you to get on with things, work hard with the team and focus on that.'"
West Ham make for poignant opposition on Sunday, led as they are by Kenwright's longest-serving manager David Moyes. This fixture, in January of last season, also marked the final game before Dyche was appointed, tasked with arresting their slide down the table.
With more than half of the season played, Everton were level on points with bottom-club Southampton at the time. They sat five places below Leicester and two points behind a Leeds team that had two games in hand. The Toffees had lost eight of their last nine.
"When we took over it was in a low place," says Dyche.
Victory over Arsenal in his first game changed the mood and although it was far from smooth thereafter, Everton stayed up with something to spare. "It took a lot of work by the players, the staff and the fans, actually, who were terrific, to get us into a better spot."
Are they in a better spot? Off the field, reports of a possible 12-point deduction are just another complication at this traumatic time for the club. But Dyche is focusing on what he can control and sees positives. He is beginning to change the culture at Everton.
"I think we are in a better spot," he insists.
"It has been slow progress. We have not been able to go straight into the market and sign whoever we wanted. We have had to work very diligently in the market, lose some players, bring some in, try to find a better balance to the squad.
"But I think there are clear signs to me as a manager that this is happening. That change of culture, that change of environment that we have been trying so hard with is beginning to show signs. We want to continue to progress.
"We probably deserve more than we have got in the league table as regards points. But I think some of the performances have been very strong. There has been a good feel about the performances and about the group on a daily basis."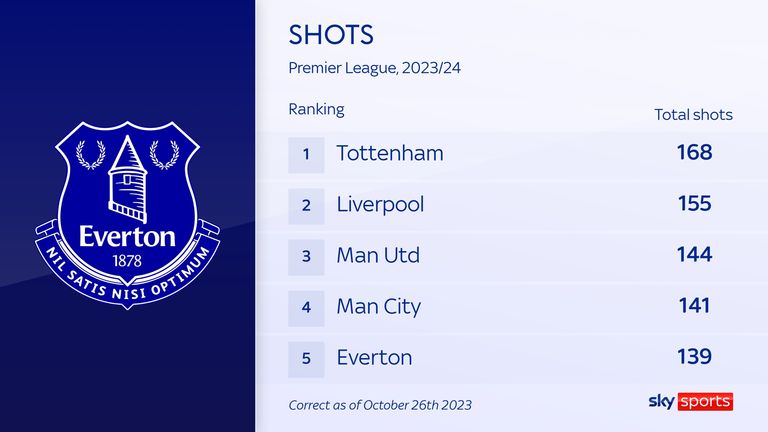 Image: Everton have had the fifth most shots of any team in the Premier League this season
He has a point when claiming Everton deserve more. Statistically, they have had the better chances in six of their nine games this season but won only two of them. Everton have had 139 shots this season, more than all but four teams in the Premier League.
Dyche just about resists a roll of the eyes as the subject of expected goals is raised. He settles for a wry smile instead. "I am not that into stats." But he has made an exception this season, publicly bringing up the data himself recently because it was so striking.
Datawrapper Due to your consent preferences, you're not able to view this. Open Privacy Options
"It was so overwhelming, so powerful that people kept showing them me." The difference between the goals that Everton have scored and the goals that a team with those chances might be expected to score is by far the biggest in the Premier League.
"I know what my eyes tell me and what I see. But sometimes there are some markers that are really strong. It did pay us back against Bournemouth when we did finish our chances. We created a lot again and were clinical. We have to do that more."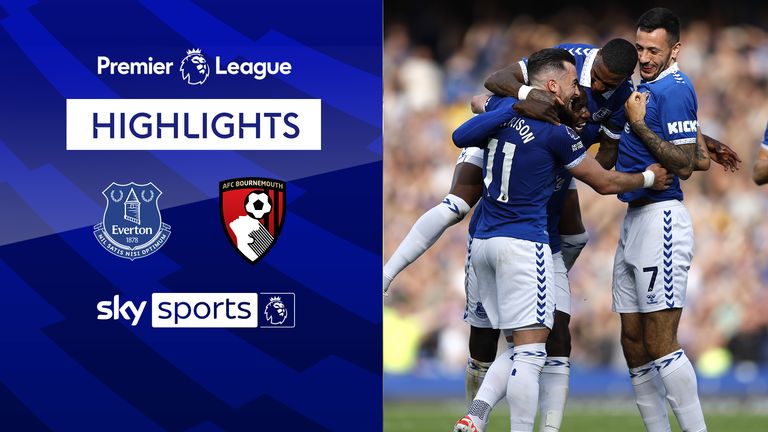 FREE TO WATCH: Highlights of Everton against Bournemouth in the Premier League
That is a collective effort. "It is not just the strikers because set-pieces are big for us." But how much the manager can do about the finishing is a matter for debate. "It is probably the hardest thing to coach because it is like an instinct," he acknowledges.
But his patience is interesting. Despite the immediate pressures, Dyche is taking a long-term view. Perhaps that is not so surprising given that he spent almost a decade in his previous job with Burnley. Consider his words as the conversation moves on to his players.
On Beto, he talks of allowing the striker to find his feet naturally. "Now we will start gearing up his individual coaching." Regarding young defender Jarrad Branthwaite, he adds: "We are still keeping the coaching level quite low, just letting him learn as he is going."
This is not inertia on his part.
These are the lessons learned from a lifetime in the game.
"Sometimes less is more. Sometimes it can be how little to give them because there is so much information now, it is about choosing the things that are really important because you can clutter players with so much information that they cannot absorb it. It is a balance."
Premier League table | Watch free Premier League highlights
Get Sky Sports | Stream the biggest moments on NOW
At the mention of Wolves boss Gary O'Neil's appearance on Monday Night Football, which was well received by viewers because of the sheer depth of tactical insight provided, Dyche warms to the topic despite not catching the show himself.
"There is a lot of detail that goes into it, I can assure you," he says. "Never more so than in the modern game with all the analysis that goes into it. This is stuff that most fans will not see but there is a lot of pre-game build-up that goes into the performances."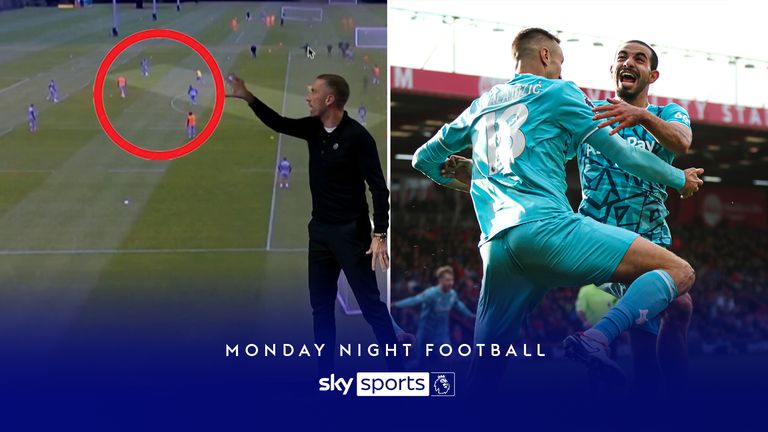 Gary O'Neil dissects his side's win by talking us through some exclusive training footage
Against Liverpool, he removed both wingers and went to a 5-3-1 when Ashley Young was sent off inside the first half. "You look at possible scenarios. But it is also about seeing the picture quickly. It is about making decisions if you can smell something happening."
He adds: "Everyone seems to talk about tactics. Sometimes it is about the delivery of tactics. Everyone talks about how this manager got this right and this manager got that wrong. Sometimes they did not get it wrong, the team just did not deliver the tactical plan."
This work is his calling, one suspects.
Just as Everton was Bill Kenwright's.
Dyche is grateful that his team had the opportunity to hold a training session at Goodison Park this week. "Where we could pay our respects as a team on the pitch in private." They, and Everton, are carrying on, just as their old boss would have wanted.
Watch West Ham vs Everton live on Sky Sports Premier League and Main Event from 12pm Sunday (kick-off 1pm).
Stream the Premier League and more with NOW
Sourse: skysports.com