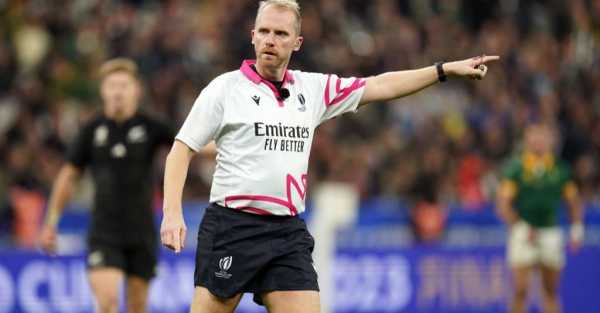 Rugby World Cup final referee Wayne Barnes has labelled social media abuse towards him and his family as "vile" and called for the trolls to be held to account.
The 44-year-old English official's last match was one of his most challenging, with Barnes showing the first ever red card in a men's World Cup final to New Zealand captain Sam Cane during South Africa's 12-11 victory in Paris.
It was among a number of contentious decisions made by Barnes, who announced his retirement five days later having taken charge of a record 111 Tests.
"When people make threats against your wife and kids, they should be held to account and punished," Barnes said in an interview with BBC Sport.
"Threats of sexual violence, threats of saying we know where you live. It crosses that line."
Barnes feels maintaining a social media presence was important for him to promote charitable work and also to explain officiating decisions, but accepted with that "comes the ability for people to send messages of hate and violence".
He said: "If you're a fan at your local rugby club, and you're sending vile messages to people's families and making threats, why should you be able to be involved in the rugby family?
"I want prosecuting agencies to consider ways of doing that (tackling online abuse).
"I want legislation of what social media sites can do to prevent it and I also want governing bodies to consider what they can do."
Sourse: breakingnews.ie