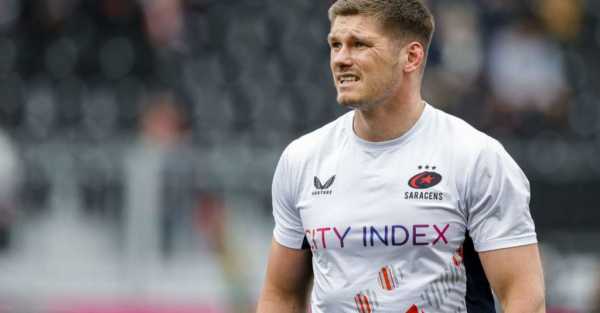 Owen Farrell insists Saracens return to the Gallagher Premiership final with more strings to their bow as a result of last year's Twickenham heartache.
Leicester were crowned champions at Saracens' expense and although it was a narrow 15-12 defeat, a disappointing performance prompted a tactical rethink that has produced greater emphasis on attack.
Now they face the ultimate test of their progress in the winner-takes-all clash with Sale on Saturday.
"It took us a while to figure out how to get the best out of ourselves after last year's final because we didn't do that in that game," Farrell said.
Advertisement
"What happened probably allowed us to change a bit more than we usually would after a final. It got us looking at ourselves a bit more than usual.
"Just simply because we were nowhere near our best and we didn't give the best version of ourselves.
"Obviously Leicester played a massive part in that, but we don't want to come off the field feeling like that again. That 80 minutes made us look at everything and look at how we can be better.
"Everyone talks about us now like we have turned into a team that plays attacking rugby this year alone. We've won stuff before playing good rugby.
"We have always had a solid basis behind us and we still have but there were times during the year and sometimes in big pressure games that we were trying to stay in the fight whereas now we want to take opportunities and make good decisions.
"Part of that could be staying in the fight – we want to be good at that – and part of that could be moving the ball. It could be anything – kick pass, run.
Advertisement
"We want to be good enough to play any way the game demands of us and we feel like we have taken a step forward with that this year. Hopefully that plays a big part in what we have do on Saturday."
A key battle that will shape the contest is Farrell's fly-half duel with George Ford, his long-term friend and former England team-mate who has been hugely influential for Sale since returning from an Achilles injury.
Sport Lewis Hamilton third in opening practice in Monaco… Read More
"I have known George since I was a kid. When you come up against him, first and foremost you know you are playing against a quality player," Farrell said.
"You know you are playing against someone who knows what they are doing and as he has shown since coming back into the Sale team, he has been outstanding.
"He's in a good place, he looks calm, he looks in control and I am sure he is a big driver behind this Sale team so I am looking forward to it."
X
Sourse: breakingnews.ie