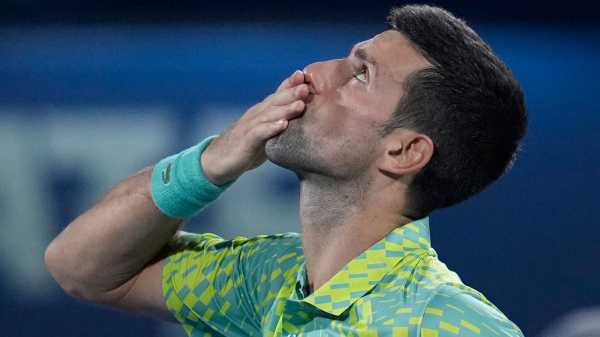 Novak Djokovic will be allowed to play at the US Open this year, after the Senate voted to end Covid-19 measures.
The former world No 1 has not played tennis in the United States since losing the 2021 US Open final because of Covid measures introduced by the government during the height of the pandemic.
The United States requires international visitors to show proof of vaccination, and the 22-time Grand Slam champion has not had the jab.
Emma Raducanu beaten in first round of Miami Open
Novak Djokovic has 'no regrets' over missing events
Latest tennis scores, schedule and results | Latest tennis video
However, on Wednesday, the US Senate passed a bill that will end Covid-19 declarations that were put in place by former President Donald Trump on March 13, 2020.
The bill, which was cleared by the House of Representatives earlier this year, will now been sent to Joe Biden, who is expected to sign it.
Trending
Verstappen tops Hamilton in chaotic first Melbourne practice LIVE!
Papers: Al-Hilal offer to make Messi world's highest-paid player
Merson: Nightmare return for City & Liverpool | 'Arsenal give me Leicester vibes'
Transfer Centre LIVE! De Gea: I'm still really happy at Man Utd
Richarlison: I wasn't 'mutiny leader' behind Conte's Spurs exit
Russell rejects Hamilton claims over 'lucky' car choices
Perez 'certain' he can battle Verstappen for world championship
Premier League talking points: The race for glory, Europe and survival
Haaland, Saliba miss training ahead of PL return
Djokovic set for US Open after Senate Covid vote
The vote means the agencies in the US will start winding down Covid measures, paving the way for Djokovic to take part in the US Open, which is live on Sky Sports in August.
The 35-year-old missed the tournament at Flushing Meadows last year and also missed out on the Miami Open and Indian Wells, after being denied permission to enter America.
Also See:
He had applied for special permission to enter, but a request to play in Miami and at Indian Wells was rejected by officials.
Djokovic has won the US Open title three times, most recently in 2018, while finishing as runner-up six times.
Carlos Alcaraz won his first Grand Slam last year, when he beat Casper Ruud in four sets.
Tennis returns to Sky Sports this summer, with the US Open live in August. Stream the biggest moments on NOW and Get Sky Sports.
Sourse: skysports.com