Mikel Arteta was furious Anthony Gordon's goal for Newcastle against Arsenal was not overturned despite VAR checks; FA have written to manager and Gunners over comments; Arsenal hoping to bounce back from defeat when they face Sevilla in Champions League Group B on Wednesday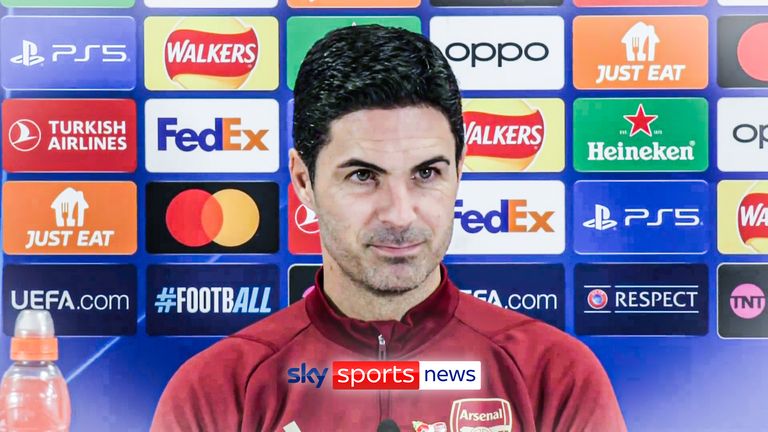 Arsenal manager Mikel Arteta doubles down on his post-match comments in the wake of Saturday's controversial 1-0 defeat at Newcastle saying he stands by what he said after the game
Mikel Arteta says he stands by his comments relating to Anthony Gordon's controversial goal in Arsenal's 1-0 loss to Newcastle, insisting it is his duty to defend his club and players.
The furious Arsenal manager described the decision to award the goal after a triple VAR check as "disgraceful" and "embarrassing" in the aftermath of Saturday's game at St James' Park.
The VAR officials determined they could not overturn the on-field decision after finding nothing conclusive following checks for the ball going out of play, a possible offside against Gordon, and an apparent push in the back of Gabriel Magalhaes by Joelinton.
Arsenal subsequently released a statement in support of their manager, asking PGMOL to "urgently address" officiating standards.
The FA have written to Arteta and Arsenal to seek their observations.
Ref Watch: Anthony Gordon goal should have been ruled out
'Disgraceful' – Arsenal demand refereeing standards addressed
Jamie Carragher: Arsenal have problems in both boxes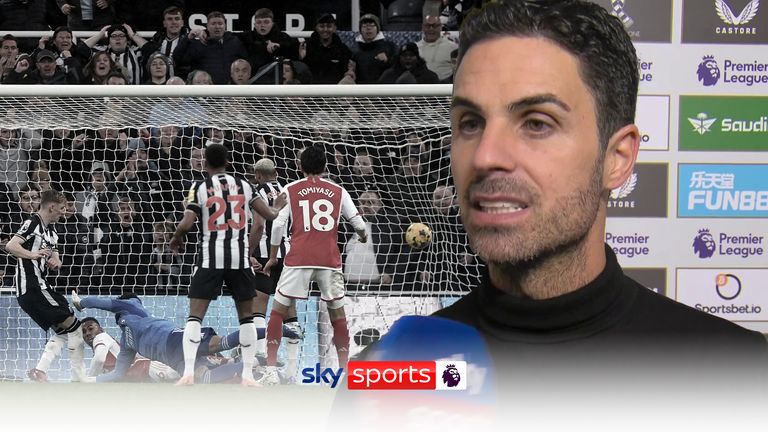 Arteta slammed the decision to allow Anthony Gordon's goal to stand in Newcastle's win over the Gunners
Speaking on Tuesday, ahead of the Champions League clash with Sevilla, Arteta insisted he had no regrets about his comments, saying: "It is my duty to stand in front of you, the cameras, and give a very clear and honest assessment of what happens in the game. That's what I did.
"I reflected very openly how I felt the team played, and how the game was conditioned by the decisions which were made.
"It's my duty to defend my players, support my players, defend my club, support my club, in the best possible way. It's what I'm going to do time after time.
"I do it not the way I feel, but with the evidence I'm being as clear as possible. I always do it – when we have lost, I take my responsibility to do it. It's the way I am, and I have to defend my club."
Asked if his anger related solely to events at St James' Park or a build-up of decisions, Arteta said: "These things don't happen overnight. When I was that clear and had the evidence for the words I used in the media, it's because I feel strongly about it.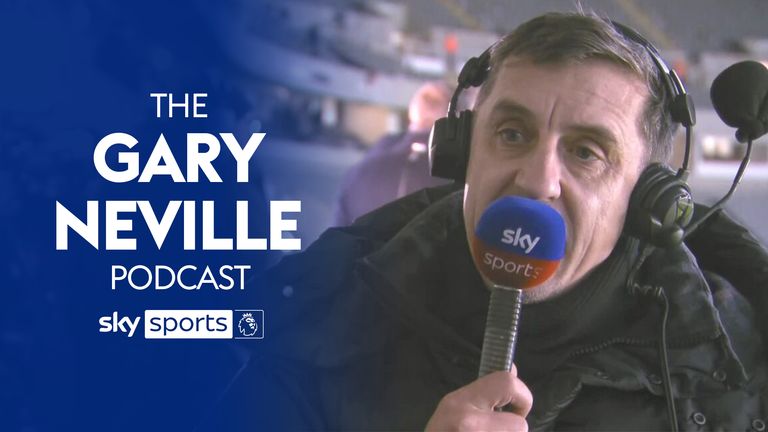 Gary Neville believes officials made the correct decision to allow Gordon's controversial goal to stand in Newcastle's win over Arsenal
"One thing I say externally and internally to my players, too, is to ask how we can play better, be more dominant, do the game the way we want.
"But one thing is my duty towards you guys, and another thing as a coach. It's exactly what I've done – nothing special, nothing different, and I and the club would do it again and again."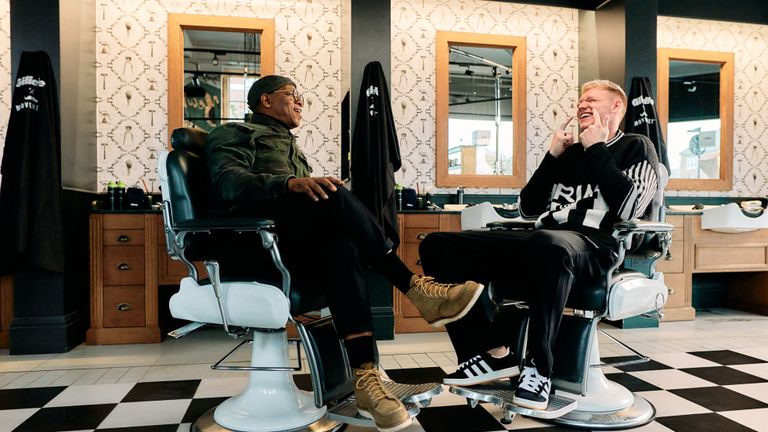 For this year's Movember on behalf of Gillette, Ian Wright has enlisted Arsenal goalkeeper Aaron Ramsdale to be his Mo Mate and grow a moustache on his behalf. The pair discuss the importance of mental health, parenthood and football
Arteta refused to be drawn on why, specifically, he felt Gordon's goal should have been ruled out and rejected suggestions of hypocrisy in light of comments he made a month ago in which he stated that refereeing mistakes are part of the game.
"I stand by the words that mistakes are part of football in any other way, and we're here to constructively improve the game in any way we can.
"In the club, individually in my duty as a manager, in the managers' meetings, to get a better game. That's the only thing we are looking to achieve, everybody. That's it."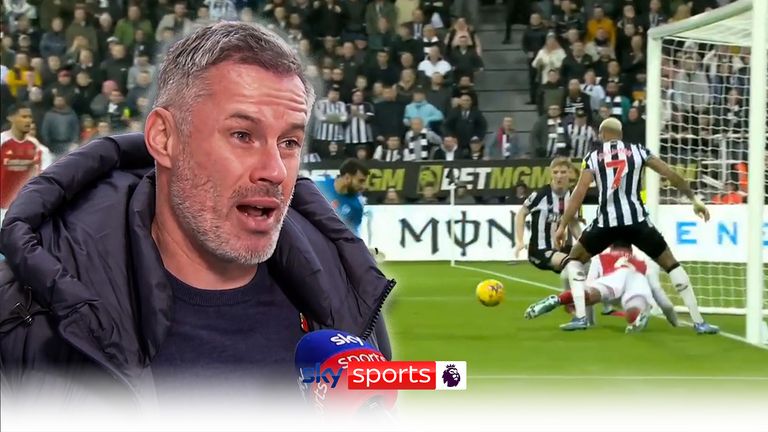 Jamie Carragher doesn't agree with Arsenal's statement on Gordon's goal, insisting there was no conclusive evidence to disallow it
Arteta also backed the club's statement after Sky Sports pundit Gary Neville said it set a "dangerous" precedent, insisting it showed Arsenal's unity.
"Again, we have a duty to express with all the evidence we have, the history of what happened. We have to stand for our people, our values, and who we are.
"When the club has done it, they've done it in very specific moments for the right reasons, and it shows as well the unity and understanding within the club to position ourselves in a really clear and honest way."
The Arsenal boss also shrugged off suggestions that the statement legitimised referee abuse. "The support we have given to everyone is not going to change," he said. "I'm going to be there, I'll be in any meeting trying to reinforce things.
"We all want the same, that this is not the topic. But we have to understand we have to be there. When we have an opinion, we have to give it in an honest, clear way.
"Respectful, but clear and honest, and continue to evolve the game in the way we want."
Arsenal could secure qualification to the Champions League knockout stages when they host Sevilla in Group B on Wednesday but will be without the injured Gabriel Jesus, while Martin Odegaard is a doubt.
Arteta hopes to use the sense of injustice from St James' Park as motivation for his team.
"Yes, especially the performance of the team," he said. "Looking back on the two games we played last year when we won 2-0 and lost 1-0, we were much better three days ago than a year ago.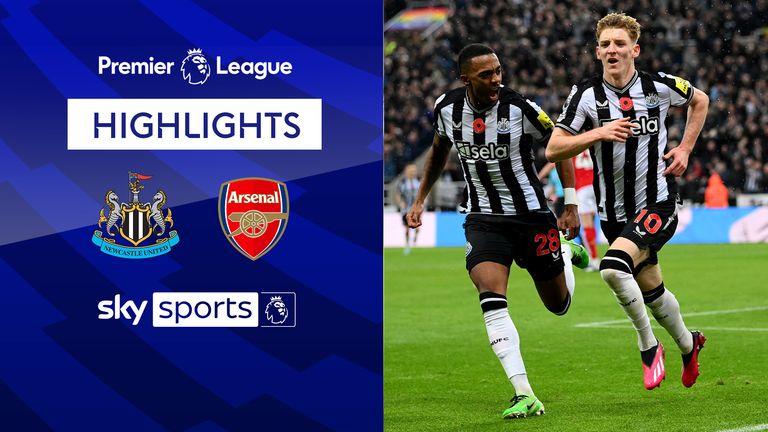 FREE TO WATCH: Highlights of Newcastle against Arsenal
"We deserved much more than in those games, but that's the beauty of the game.
"We have to build on a lot of things we did against Newcastle, improve certain things especially in the final third, but the way we played and competed was extraordinary.
"The moment you have a chance to put something to bed, you do it," he added of facing Sevilla with the possibility of sealing qualification.
"We're going to have to do a lot of things right, and then have the right to win it against a team with enormous experience in this competition.
"We have to prove it tomorrow in front of our people how excited we are to play the game and how much it means to us."
Sourse: skysports.com