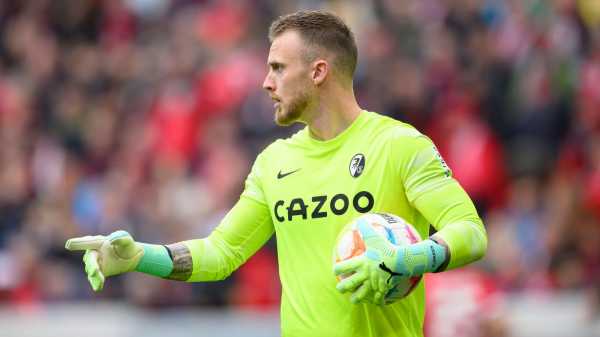 Brentford have completed a deal to sign Freiburg goalkeeper Mark Flekken for £11m.
The Netherlands international has agreed a four-year contract with the west London club and becomes the Bees' first signing of the summer transfer window.
Transfer Centre LIVE!
Get Sky Sports | Download the Sky Sports App
"We're very happy to have signed Mark," said Brentford head coach Thomas Frank.
"He's a player with a lot of quality who will strengthen our goalkeeper group. He has big experience and joins us after two great seasons with Freiburg, who have just had a top season in the Bundesliga, finishing fifth and qualifying for the Europa League.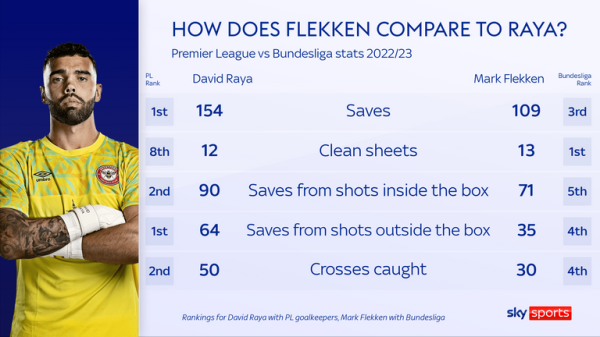 "He was a big part of the team there and now he's coming to us and will hopefully make the group better and the team better. He's a very good shot-stopper and comfortable with the ball at his feet. His distribution is very impressive."
Trending
Transfer Centre LIVE! Kane to stay at Spurs if Man Utd deal falls through
Papers: Neymar tells PSG he will only leave for Man Utd
Brentford complete £11m Flekken deal | Raya price set at £40m
Man Utd transfers: Ten Hag prioritises signing elite striker
Mourinho the immovable object meets irresistible Sevilla force
Six times the Spanish Grand Prix showed glimpses of the future
Chelsea transfers: Pochettino set to move on 15 players amid clearout
State of Origin Game 1: Cobbo's second restores Queensland's lead LIVE!
Liverpool transfers: Reds target Pavard wants Bayern exit
Illegal football streaming gang jailed for 30 years
Speaking to the Brentford official website, Flekken added: "If you had told me seven years ago when I was in the third division of Germany that, one day, I would be playing in the Premier League, I would have probably knocked you down!
"But it's a dream come true and my next big step. And I hope we can take the next steps as a squad and as a club as well.
Also See:
"I'm a ball-playing goalkeeper. I try to bring calmness into the squad and I'll always try to direct the guys in front of me – I'll help them to help me.
"The only way to achieve as much as possible is together, so that's one of the key things I want to bring."
Raya price set at £40m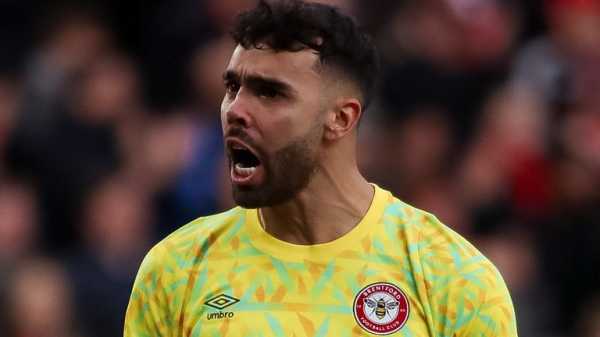 Image: David Raya could leave Brentford this summer
Frank confirmed on Sunday that current No 1 David Raya is the only 'keeper up for sale.
The Spain international has one year left on his contract and has refused several offers from the Bees for an extension.
"We only have one player for sale, that's the one that's been talked about. That's David," said Frank.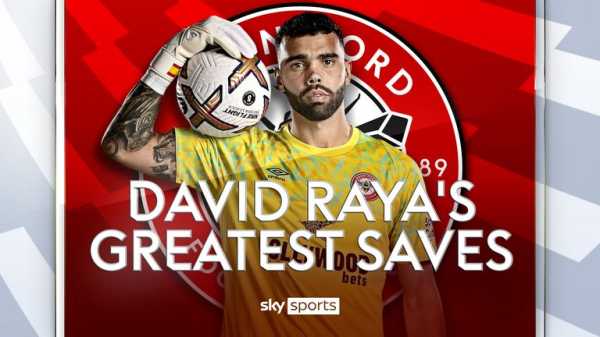 David Raya's price has been set at £40m
"He's £40m. The rest? We are a selling club, but they need to be crazy high amounts if we want anyone to leave. Everyone here is very happy at Brentford."
Brentford secured a top-half finish in the Premier League last season and missed out on Europa Conference League football on the final day of the campaign.
Flekken: 'I had to work to be sat here'
Mark Flekken spoke to Sky Sports' Adam Bate about his career in March 2023:
It is easy to see why Flekken would appeal to Brentford. His own journey mirrors that of the club. He has had to battle to be here, competing at the top end of the game. He was 25 when he made his Bundesliga debut and 28 when he became a regular.
Along the way there has been unwanted attention, most notably when he made headlines as 'the drinking goalkeeper' at Duisburg – an internet sensation for the wrong reasons when he conceded a goal because he was busy supping from his water bottle.
He had the last laugh. Flekken is now a Netherlands international with experience of European football at Freiburg. He has the skill-set to fit the Premier League but has also shown resilience in overcoming adversity, characteristics Thomas Frank will demand.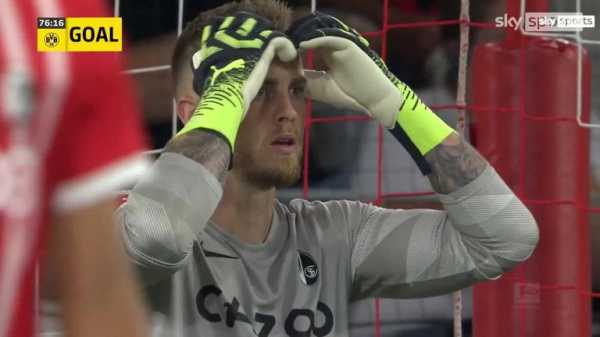 There was a moment to forget for Freiburg goalkeeper Mark Flekken as he gifted Borussia Dortmund a goal with this howler!
Speaking to Flekken recently, he described these challenges in detail.
"I know where I came from. I had to work to be sat here," he told Sky Sports. "After my first big injury in 2014, a big knee injury, I had to step back from the second German league to the third league to get another club and breathe new life into my career.
"After that point, it just went up, it just got better year on year.
"But when I finally got the No 1 position at Freiburg I got my second big injury, my elbow. The first two weeks after that injury, they were very hard. You ask yourself whether your own body is made for this level. But it has turned out quite well, it would say."
Those experiences have moulded him on and off the pitch.
"I not only appreciate it more but it has helped me to become the person I am today on and off the pitch. I am not recommending any other player do it like me but I really appreciate it a lot. I have learned to appreciate my body when it is healthy.
"I have gone through some heavy injuries and I just became the person through those periods that I am today. It helped me mature very, very quickly and I just learned to have as much fun as possible on the pitch."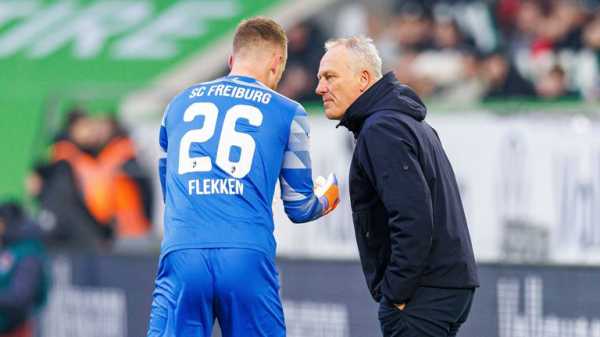 Image: Mark Flekken in discussions with Freiburg head coach Christian Streich
At Freiburg, Flekken was part of a team that defied the odds, qualifying for Europe in each of the past two seasons and reaching the German Cup final. "They put a very big value on character, they really search for those people who will fit in the group," said Flekken.
"That is how they try to work, not only to get in the big names but also the smaller guys and develop them. It is not only talent. It is also hard work. That comes on top of everything. If you combine that with talent you can push yourself through the sky."
There is a support network behind him. Both parents have been involved. "My mum coached me in my first year in the youth when I was eight. That was the start of everything." His father is knowledgeable about the game. His brother was a goalkeeper too.
"That helps when you can talk specifically with someone from outside the club about deep details about goalkeeping situations."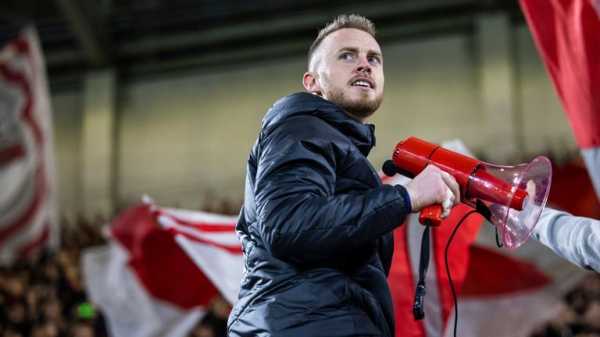 Image: Mark Flekken cheers with the Freiburg fans in the fan block after a match in November
Ultimately, the onus will be on Flekken. Filling the gloves of Raya at Brentford will not be easy but he has the attributes to do it.
"I am someone who tries to stay calm to bring peace to the game, into my team-mates, so they have someone at their back they can rely on.
"When someone slips through, there is still someone behind them who can save it. It is just the kind of guy I am. I am not someone who is going to shout as someone for making a mistake. Just supporting. It brings more than when you are shouting at someone.
"I coach a lot. I try to talk a lot. I am the kind of goalkeeper who involves himself a lot in the build-up play as well. But I am also someone who says that if I do not have to be involved I will not get involved. I am just there as an extra solution for situations if needed.
"And further, I just try to save as many shots as possible.
"That is always important!"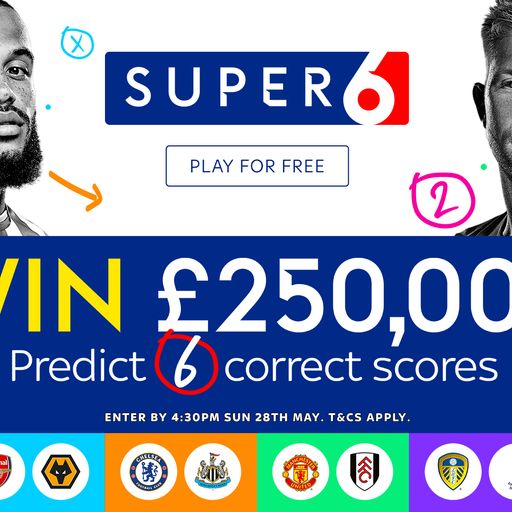 Win £250,000 with Super 6!
Another Sunday, another chance to win £250,000 with Super 6. Play for free, entries by 4:30pm.
Sourse: skysports.com