Man Utd's poor season took another turn for the worse after Wednesday's loss in Copenhagen left them bottom of their Champions League group; Erik ten Hag says they have been hard done by with the decisions that have gone against them; Sky Sports takes a look to see if he is right…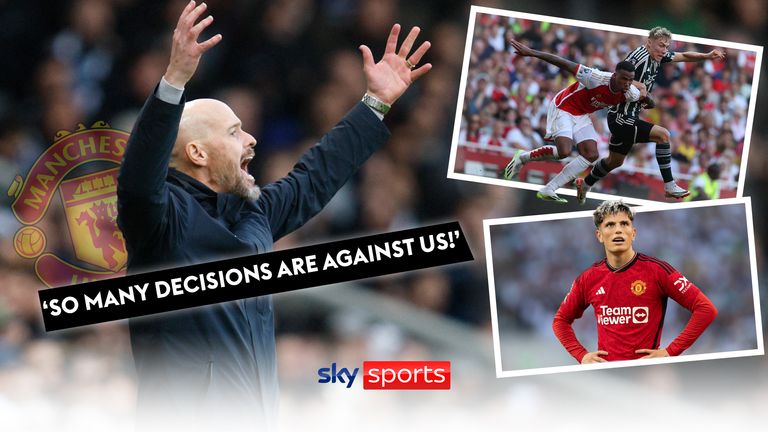 Is Erik ten Hag right? We take a look here…
Erik ten Hag says "so many decisions are going against" Man Utd this season after Thursday's calamitous defeat at FC Copenhagen – but does he have a point?
Marcus Rashford's red card – which has split opinion – certainly turned the game on its head for Man Utd, who are now bottom of Champions League Group A with two games to go.
Ten Hag also said Copenhagen's first two goals should not have counted as he pointed out what he perceives to be an emerging theme this season of Man Utd being let down by decisions in key moments.
Erik ten Hag blames officials: Decisions keep going against us
FC Copenhagen 4-3 Man Utd – Report and ratings
Stream the Premier League and more with NOW
Get Sky Sports | Download the Sky Sports app
"All season, so many decisions are going against us", the Man Utd manager said after his side's ninth defeat in 17 games this season.
Here, Sky Sports takes a look to see if he is right…
Man Utd 1-0 Wolves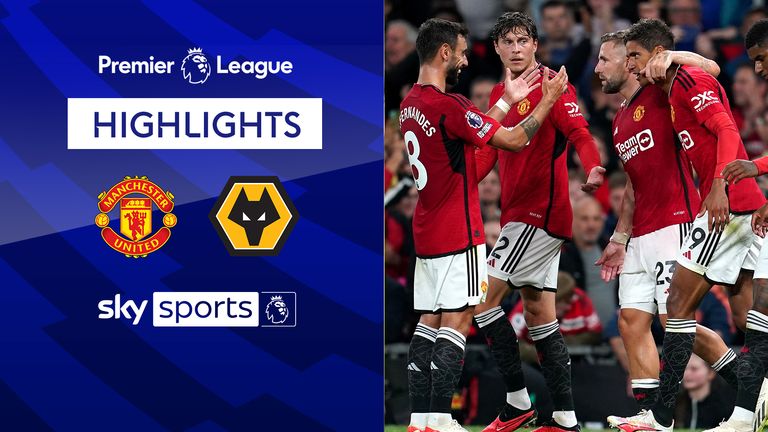 FREE TO WATCH: Highlights of the Premier League match between Manchester United and Wolves.
Andre Onana was lucky on his Man Utd debut not to give away a penalty to Wolves in the final stages of the game for cleaning out Sasa Kalajdzic when coming for a corner.
Man Utd were 1-0 up at the time and had been on the back foot for most of the game at Old Trafford.
Gary O'Neil received an apology from referees' boss Jon Moss after a VAR check failed to correct the on-field decision.
PGMOL chief Howard Webb also admitted this was a mistake. "That should have led to an intervention by the VAR," he said. "I'm sure the referee would've awarded a penalty [if he was sent to the screen]."
Ten Hag said: "After the opponent touched the ball he dived in so it was the judgement of the officials and lucky for us no penalty. I think you can debate it but I think no penalty."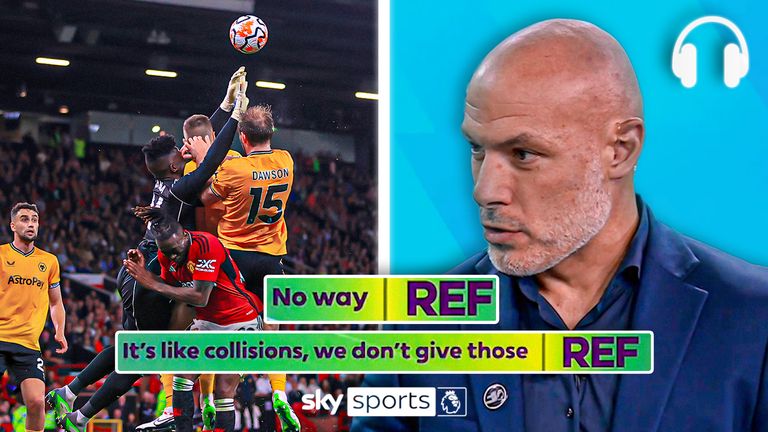 PGMOL chief Howard Webb says Wolves should have had a penalty at Old Trafford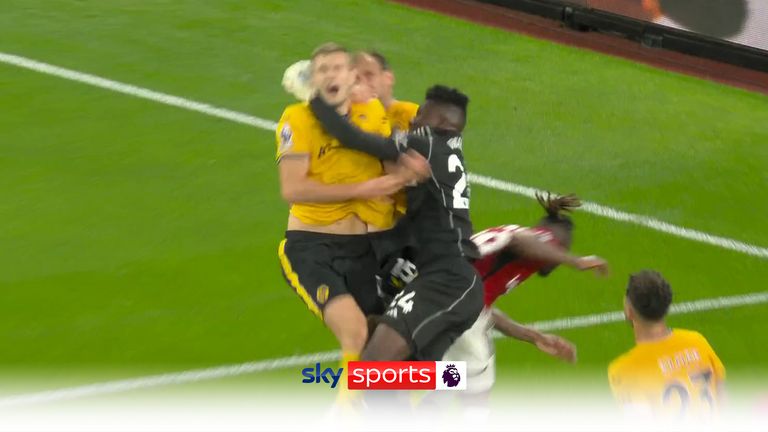 The Monday Night Football panel have their say…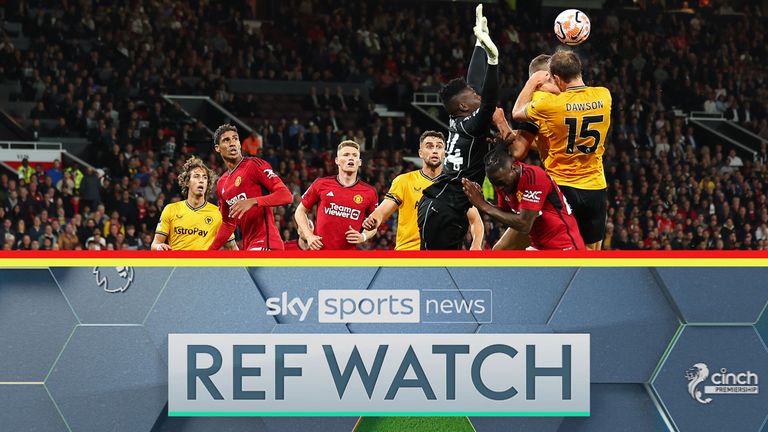 Former Premier League referee Dermot Gallagher agrees that it should have been a penalty
Tottenham 2-0 Man Utd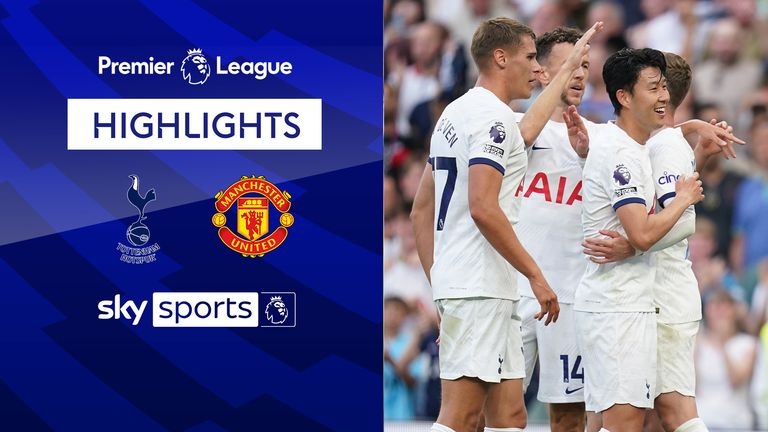 FREE TO WATCH: Highlights of Tottenham against Manchester United in the Premier League.
Ten Hag felt Man Utd should have had a penalty at Tottenham in August's Premier League defeat when Alejandro Garnacho's shot struck the hand of Cristian Romero in the box.
The scores were tied at 0-0 and Man Utd had been on top in the first half, when the incident took place.
After a VAR check the officials decided to stick with the on-field decision not to award a penalty.
Sky Sports pundit Gary Neville on co-commentary said: "Both of Romero's arms are up. It is whether his right arm is near enough his body to get away with it. I would say it maybe just is."
Ten Hag said: "We deserved a penalty. I don't know why it's not a penalty. He changes the direction of the ball, the hand is right above. But it's OK, you have to accept it."
A month later in the north London derby at Arsenal, Romero gave away a penalty for a handball in a similar incident. Neville also felt this was not a penalty, but the officials disagreed.
The Sky Sports pundit said on co-commentary: "As it hits [Romero's] hand, it's just near his body it's not up in the air, and it's low his arm. I don't think it is a penalty but [the referee] is going to give it."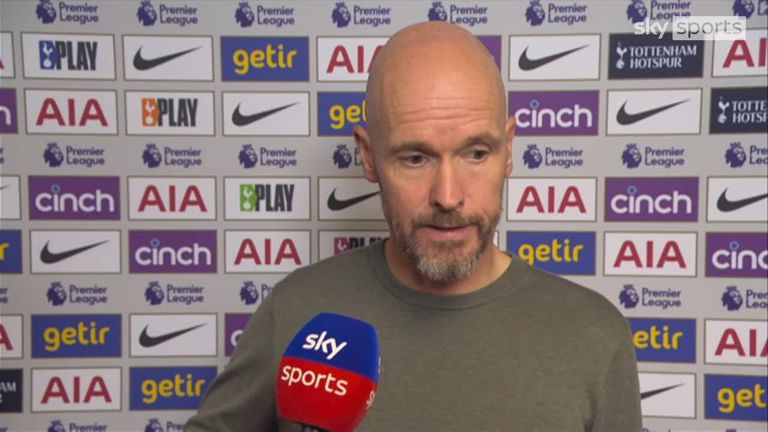 Erik ten Hag says Man Utd should have had a penalty at Spurs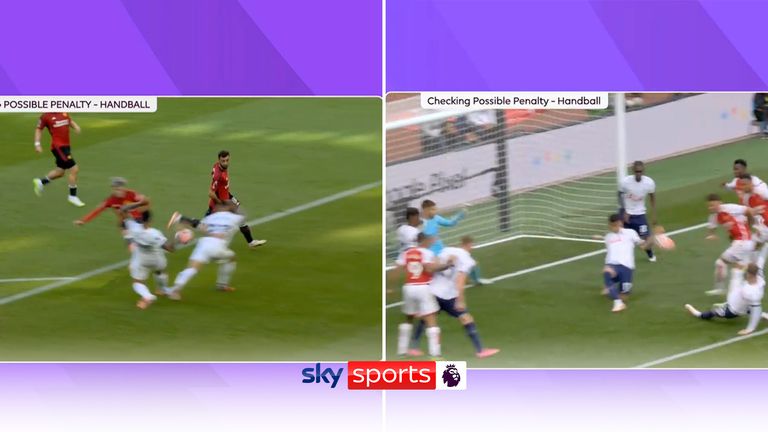 A look at Cristian Romero's handball against Arsenal and whether Manchester United deserved a penalty for the same offence.
Arsenal 3-1 Man Utd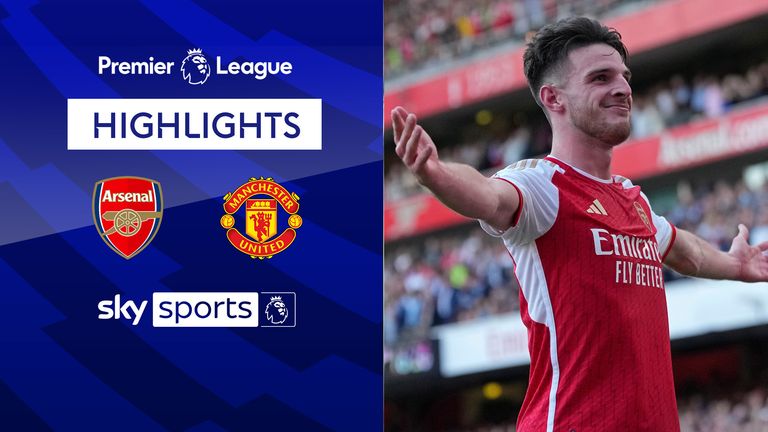 FREE TO WATCH: Highlights from Arsenal's win against Manchester United in the Premier League.
Rasmus Hojlund took a tumble in the area on his Man Utd debut at Arsenal when the scores were level at 1-1 after a tussle with Gunners defender Gabriel, which Ten Hag said should have been a penalty.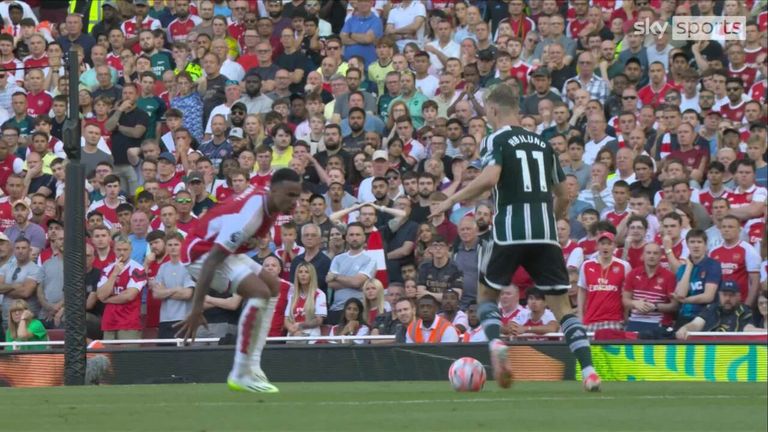 Should Hojlund have had a penalty for this incident?
Ten Hag also claimed the officials in the VAR room were looking at the incorrect angle when they ruled out Garnacho's late goal for a marginal offside just a few moments later.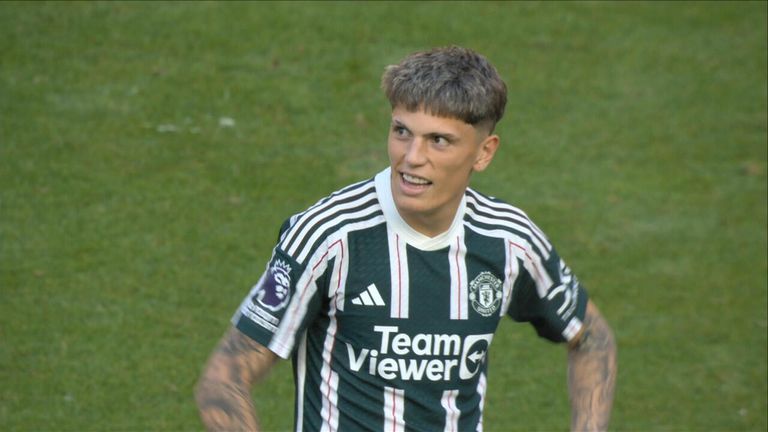 Watch Alejandro Garnacho's disallowed goal at Arsenal
Former Premier League official Dean said: "It was obviously very tight. I thought it was offside at first glance. There's one or two angles – one looks onside, one looks offside. When they put the line on you can't fault the technology.
"I understand where the manager is coming from because the angle is not ideal. But we have the technology in the hub to put the lines in the correct position. And it looked offside at normal speed."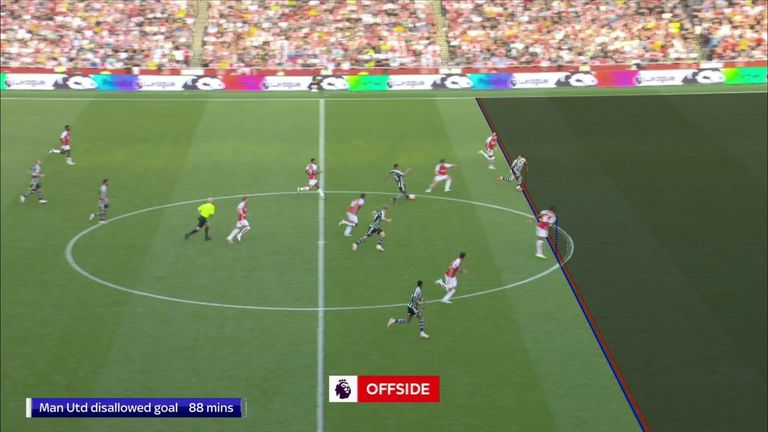 Former Premier League referee Mike Dean dismisses Erik ten Hag's claims that Alejandro Garnacho's goal was incorrectly ruled out for offside and says the technology has done its job.
Man Utd would have gone 2-1 up if Garnacho's goal had counted but ended up losing the game 3-1 after late goals from Declan Rice and Gabriel Jesus.
Ten Hag said there was a foul on Jonny Evans before Rice's goal that should have seen it ruled out.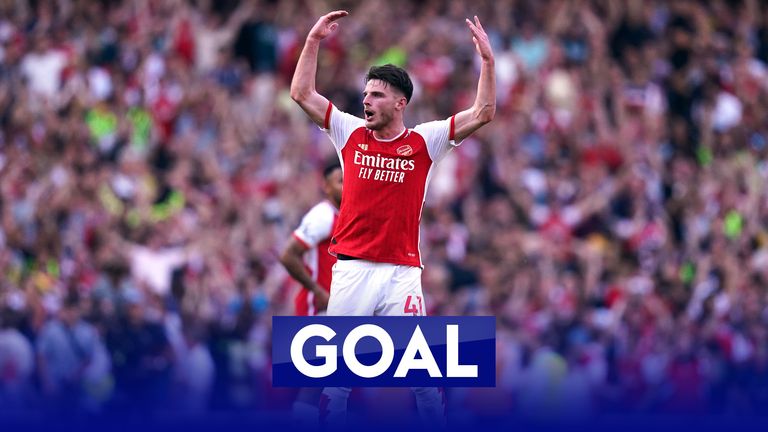 Was there a foul on Jonny Evans before Declan Rice's winning goal at Arsenal
Ten Hag: "The performance was alright from us. I thought we played a very good game but everything went against us – then you don't win the game. We needed a little bit more luck to win the game. It was not offside [for Alejandro Garnacho goal]. It was the wrong angle.
"It was then a penalty on (Rasmus) Hojlund and then we concede a goal that's a foul on Jonny Evans. It's so clear and obvious."
Man Utd 0-3 Man City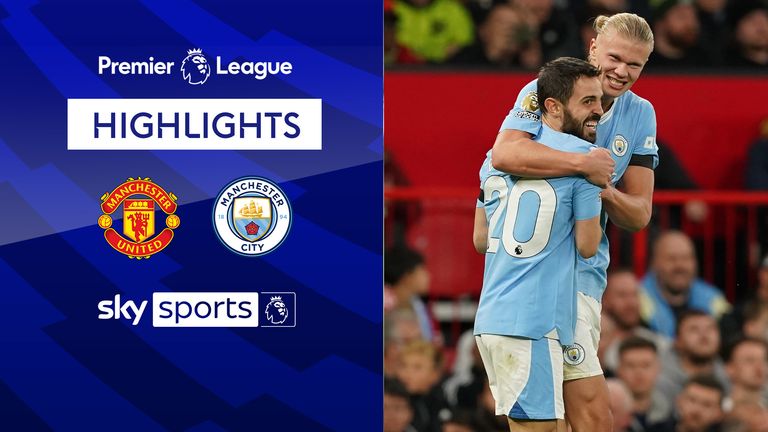 FREE TO WATCH: Highlights from Manchester City's win against Manchester United in the Premier League.
In the Manchester derby – with the scores level at 0-0 – referee Paul Tierney gave City a penalty after going to his monitor for a foul by Hojlund, who was holding onto Rodri at a set piece.
Erling Haaland scored to open the scoring and Man Utd failed to recover, losing the game 3-0.
Dean, the former Premier League official, was convinced it was a "clear holding offence".
Ten Hag said: "The penalty changed the game. I don't have a comment on it. I don't have a comment. Yes [I saw it] but no comment."
Neville said on co-commentary: "Personally I think it is a little bit soft, but he's not going to get away with it Hojlund. He has lost his man, he has wrapped his arm around him and he's going to pay for it.
"When you stop him in slow motion with an arm around him like that, it's absolutely a penalty. But I think that happens a lot on set pieces and Rodri knows what he's doing. It's clever from him."
Jamie Carragher added: 'I'm not saying it's not a foul but this happens constantly, virtually in every game and you won't see penalties given for it so I feel a bit for Manchester United because every team could show an incident like this where they feel that they should have had a pen.
"Yes, [Hojlund's] lost and he panics and the left arm comes out. Like everything, it looks a lot worse in slow motion. When you watch that in real time, as it happened."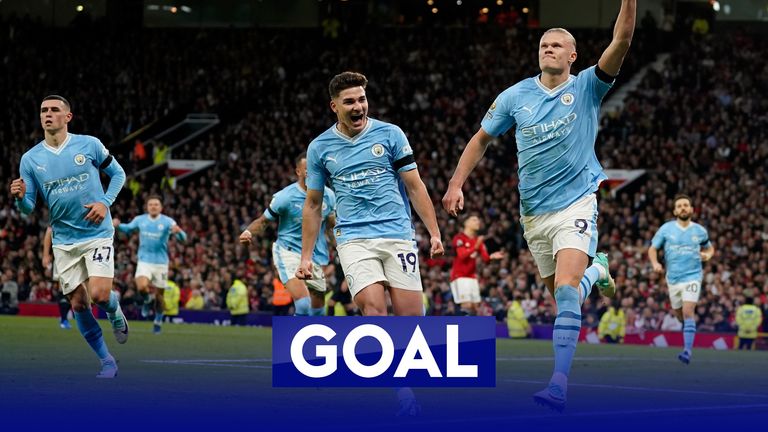 Erling Haaland put Manchester City ahead in the derby from the penalty spot.
FC Copenhagen 4-3 Man Utd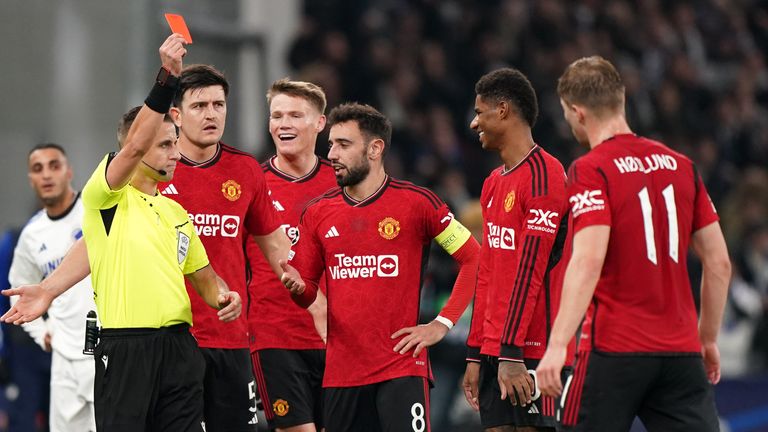 Image: Marcus Rashford was sent off during the first half with Man Utd leading 2-0
Marcus Rashford was sent off with Man Utd 2-0 up and coasting at Copenhagen following a VAR review. The game had initially continued, but the referee was brought back to look at the incident on his monitor.
Rashford inadvertently connected high on the leg of Elias Jelert with his studs when trying to protect the ball deep in his own half. He is unlucky, but intent is not taken into consideration, according to the laws of the game.
Ten Hag said: "It was a very harsh decision. He was going for the ball and the review was over but then he went to the screen. Also, I think the referee was not sure."
Twitter Due to your consent preferences, you're not able to view this. Open Privacy Options
Carragher wrote on social media: "No way is that a red card for Rashford! Hate these slow motion replays and still images that make everything look 10 times worse."
Ten Hag took umbrage with two of Copenhagen's goals. He felt Elias Achouri, who was in an offside position for the first Copenhagen goal, was blocking the view of Onana.
At the time, there were no protests from the Man Utd goalkeeper nor any of his team-mates while screenshots have emerged online from a reverse angle appearing to challenge Ten Hag's claim.
Harry Maguire then gave away a penalty for Copenhagen's first equaliser of the night for a handball. Ten Hag was unhappy with this, although he failed to mention that his side also got a penalty in similar circumstances to go 3-2 up before throwing away their lead for a second time.
Ten Hag said: "We conceded two goals that never should count. That's very disappointing. The first is offside – there is a player in front of Onana. The second, what can he do?
"Four penalties against us in four games in the Champions League and two or three are very debatable. The game can't be like this."
Sourse: skysports.com