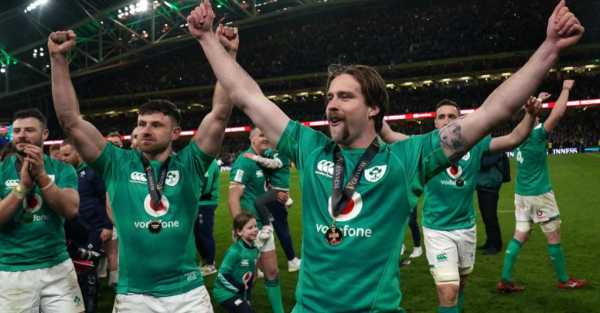 Mack Hansen believes the motivational skills of Andy Farrell are unrivalled and sensed Ireland's stunning Grand Slam success was on the cards as soon as he entered the international scene.
Australia-born wing Hansen was among a host of standout performers in the green jersey during an unforgettable Guinness Six Nations which climaxed with a thrilling 29-16 Dublin victory over England.
The 24-year-old, who only made his Test debut in last year's Triple Crown-winning campaign after swapping Canberra-based club Brumbies for Connacht in 2021, claimed three of his side's 20 tries across the championship.
His all-action displays were a constant threat for opponents, while his entertaining media interviews also garnered plenty of attention after he swore on television following the round-three win in Italy and then claimed "everybody hates England" ahead of Saturday's finale.
Advertisement
Hansen paid tribute to Wigan-born head coach Farrell after the team backed up his long-held belief that lifting significant silverware was achievable.
"It wasn't in my mind at all (when I moved to Ireland) but as soon as I was put into this team I knew that it was a thing that could happen," he said of the Six Nations clean sweep.
"They are just such good lads in the team, just full credit to the boys.
"All the coaches (deserve credit) but Andy, he can just get you up for a game like no other. He just seems to say all of the right things and it just sounds cooler in his accent as well.
"I don't actually hate English people for anybody who saw that headline that was spread! I'm just putting that out there – just in case Andy saw it as well."
Hansen, whose mother hails from Cork, arrived in Galway as a self-professed free spirit with a lust for travel and a penchant for a party.
He has since nailed down a spot on Ireland's right flank, with the presence of New Zealand-born James Lowe on the left also helping to satisfy Farrell's desire for "messy" wingers.
Advertisement
Ireland will swiftly turn attention to a shot at glory at the autumn World Cup in France.
Hansen insists that tournament is a "completely different beast" to the Six Nations and was determined to revel in the moment rather than look too far ahead.
Speaking pitch-side at a raucous Aviva Stadium, he said: "I'm going to find it very hard not to swear this week, it is unbelievable!
"And I think pretty much everybody at the stadium stayed to enjoy this with us, it's absolutely amazing.
"I'm pretty much in party mode at the moment. The next thing I'm thinking of is getting some beers down my gullet, enjoying tonight, enjoying tomorrow night, the night after."
He continued: "It's a great stepping stone but we know the World Cup is a completely different beast to the Six Nations.
"France, unbeaten in France in God knows how long, they're going to be super tough. The All Blacks are back to their full strength, they're playing some great footie.
"South Africa, Australia, all the teams that have come and played us in the autumn or Six Nations has been unbelievable, we know it's going to be incredibly hard but that's a thing to think of another day."
Advertisement
England's quest to ruin the St Patrick's weekend party was severely damaged by the dismissal of Freddie Steward just before half-time after he caught Hugo Keenan's head with his elbow as he turned to avoid contact.
Sport Andy Farrell's side have claim to be Ireland's gre… Read More
While he was happy to benefit from the decision of referee Jaco Peyper, Hansen sympathised with the opposition.
"It was super unlucky," he said. "And to lose somebody like Freddie for them, he's arguably been their best player for like two years now.
"A big plus for us, no complaints here but it was very, very unlucky. It threw a spanner in the works but fair play to them, they went the whole time. It was one of the hardest games we've played this tournament."
X
Sourse: breakingnews.ie