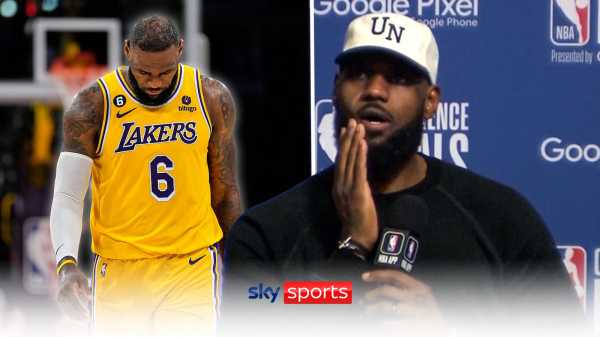 LeBron James began the final game of his 20th NBA season with the highest-scoring postseason half of his matchless career. He ended the night by questioning how much longer he plans to chase history.
James set a personal record with 31 points in the first half of Game 4 on Monday night, as his Los Angeles Lakers were swept out of the Western Conference finals, but he missed two potential tying shots in the final minute as the Denver Nuggets ended the Lakers' season with a 113-111 victory .
The 38-year-old finished with 40 points, 10 rebounds, nine assists and immense frustration after Los Angeles' remarkable late-season surge ended with four consecutive defeats. Although the top scorer in NBA history spoke about himself as part of the Lakers next season, James also said he has not made up his mind.
"We'll see what happens going forward," James said in the final answer of his post-game news conference.
"I don't know. I don't know. I've got a lot to think about, to be honest. Just for me personally going forward with the game of basketball, I've got a lot to think about."
Trending
Transfer Centre LIVE! Howe: This will be Newcastle's toughest transfer window
Papers: Man Utd to hold Neymar talks | Martial set to leave
MNF end-of-season awards: Haaland, Saka, Pep among winners
What does Champions League qualification mean for Newcastle's transfer plans?
James questions Lakers future after Nuggets defeat
'You are not football' – Vinicius Jr repeats call for action against racism
Alonso tipped to win third title | 'He's getting older but quicker'
Juventus handed 10-point deduction to all but end Champions League hopes
Leeds, Leicester or Everton: Relegation battle permutations
Four arrested over Vinicius effigy in January | Real star repeats call for action
Nikola Jokic leads Nuggets to sweep of LeBron James' Lakers and into first Finals
Denver Nuggets @ Los Angeles Lakers Box Score
Watch the 2023 NBA Playoffs unfold live on Sky Sports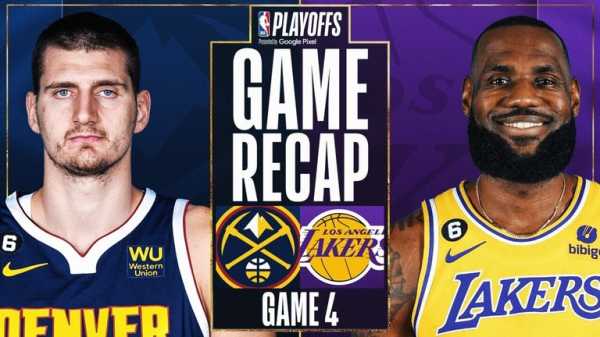 Highlights of the Denver Nuggets against the Los Angeles Lakers in Game 4 of the Western Conference finals
James is under contract for $46.9m next season with the Lakers, but he is in charge of his future after surpassing Kareem Abdul-Jabbar's career scoring record earlier this year.
He has not previously suggested much personal conflict about finishing his contract alongside Anthony Davis, and his play has not significantly declined after two decades in the NBA – although his health has grown less sturdy, particularly in his balky feet and ankles.
Also See:
"It's all about availability for me and keeping my mind sharp, and things of that nature," James said.
"Being present on the floor, being present in the locker room and bus rides and plane rides, things of that nature. It's challenging, for sure.
"It was a very challenging season for me, for our ballclub, and obviously we know whatever went on early on [in the Lakers' 2-10 start to the season]. It was cool, a pretty cool ride."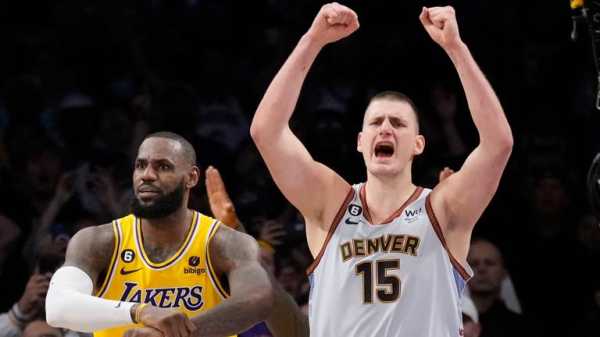 Image: Jokic led the Nuggets to an NBA Western Conference finals sweep of James' Los Angeles Lakers
James missed a month of the regular season with a foot injury down the stretch, but he returned with a series of stellar playoff performances, while the Lakers knocked off second-seeded Memphis and eliminated defending champion Golden State. That did not matter much to James, whose frustration broke through at several points after Game 4.
"I don't like to say it's a successful year, because I don't play for anything besides winning championships at this point in my career," James said.
"You know, I don't get a kick out of making a conference [finals] appearance. I've done it a lot, and it's not fun to me to not be able to be a part of getting to the [NBA] Finals."
In his NBA-record 282nd career playoff game, James dropped 21 points in a dynamic first quarter in Game 4. He added 10 more in the second while playing nearly the entire half of a do-or-die game against the top-seeded Nuggets.
But James had only nine points on 4-of-12 shooting in the second half, and he missed two chances to score in the final minute. He took a strange fallaway jumper that missed badly with 26 seconds left, and his final drive to the hoop was thwarted by Denver's Jamal Murray and Aaron Gordon at the buzzer.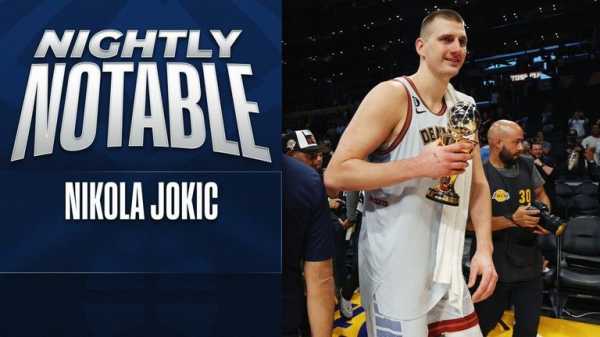 Check out Nikola Jokic's sensational performance after he helped to send the Denver Nuggets to their first NBA finals
But the first half was vintage LeBron: He made 11 of his 13 shots and hit four three-pointers without a miss in the highest-scoring playoff half of his career, which began in 2003 and has included four NBA championships. James added four rebounds and four assists, and he also got a technical foul after a physical exchange with Gordon when the two got locked up on the Lakers' end of the court.
James had struggled from distance previously in the series, going 3 for 19 in the first three games. He fixed his shot in Game 4 – and he even got credit for a three-pointer in the first quarter when his lob pass to Rui Hachimura accidentally went in the basket.
James already had the highest scoring average in NBA history in elimination games (33.5 points per game) among all players with at least 10 such appearances.
After failing to win a title this year, James is clearly thinking about whether he wants to do it all again. One major obstacle to any retirement thoughts is his long-stated desire to play an NBA season alongside his son, Bronny, who will be a freshman at USC this fall and could not join the league until the autumn of 2024 at the earliest.
"I guess I'll reflect on my career when I'm done, but I don't know," James said when asked to assess his 20th season.
"The only thing I concern myself with is being available to my team-mates, and I don't like the fact that I didn't play as many games as I would have liked because of injury. That's the only thing I care about, is being available to my team-mates."
Sourse: skysports.com