Jos Buttler, out for five in the win over the Netherlands, is averaging 13.87 at the World Cup; Nasser Hussain: "He is England's best white-ball player… what is one of the major reasons why the team haven't done well, it's because he's had a drop of form like we've never seen before"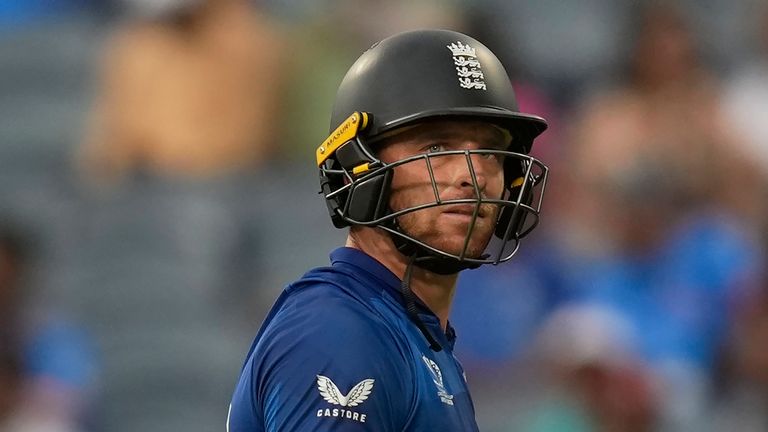 Image: England's captain Jos Buttler is averaging just 13.87 at the World Cup
England rediscovered that old, familiar winning feeling against the Netherlands in Pune on Wednesday – nearly a month on from their last triumph over Bangladesh – but the form of their captain is still of some considerable concern.
Jos Buttler's struggles were only brought into sharper focus as team-mate and fellow talisman, Ben Stokes, served a reminder of his extraordinary powers in scoring a maiden World Cup century.
But this was still an England performance of patches, hinting to their struggles in losing six of seven prior to arriving in Pune. Sitting pretty at 133-1 into the 21st over of the innings, Buttler's side lost five wickets for 59 runs over a 16-over spell before Stokes' late heroics – the dismissal of the skipper for five extending his miserable campaign.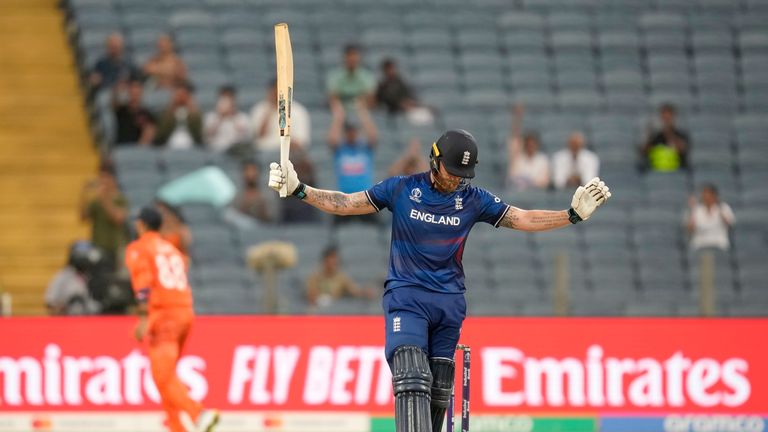 Watch as Ben Stokes puts his foot down to reach his first World Cup ton from just 78 deliveries against the Netherlands.
Stokes' ton leads England to comprehensive win over Netherlands
Cricket World Cup table – standings as sides fight for top four
Stream the Cricket World Cup and more top sport with NOW
Starting the tournament with 43 against New Zealand, Buttler hasn't managed a score of more than 20 since, averaging 13.87 at this World Cup.
Twitter Due to your consent preferences, you're not able to view this. Open Privacy Options
"Buttler is just horribly out of nick," Nasser Hussain told Sky Sports. "I don't think I've ever seen him in this kind of form – either in a Lancashire shirt, a Somerset shirt, or an England shirt.
"He is England's best white-ball player. So if you're asking me what is one of the major reasons why the team haven't done well, it's because he's had a drop of form like we've never seen before."
Hussain added: "When you're going to a player, like today with Liam Livingstone, and saying 'we're leaving you out mate', you'd want to be getting runs yourself when making those decisions.
"He's netting hard, working hard, his body language is pretty good around the team but he just can't buy a run at the moment.
"We all forget what it's like being out of nick. Your brain is completely scrambled.
"Form is an incredibly difficult thing to sustain and maintain. Once you've got it, never let it go because it's fickle."
Also, despite securing a much-needed, morale-boosting victory, England's bowling, and fielding, effort was somewhat incomplete – following on from their earlier (Stokes apart) disjointed batting display.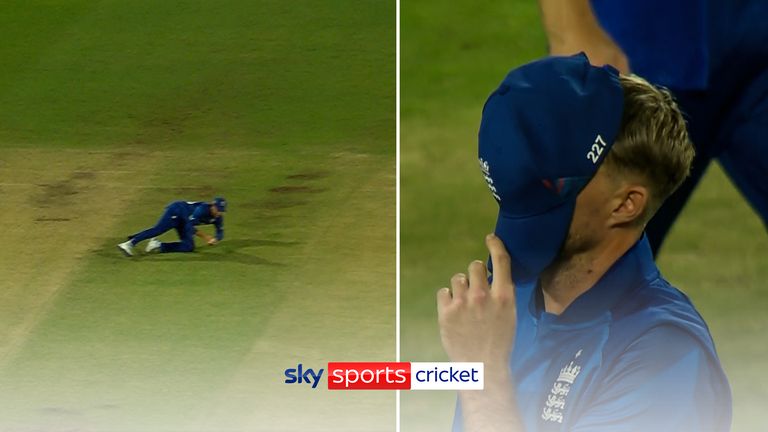 Joe Root rages after not cleanly catching Sybrand Engelbrecht, to which the Dutch cricketer followed up with a six next ball.
In bundling out the Netherlands 179 in 37.2 overs, Chris Woakes and David Willey looked particularly potent, and deserving of greater rewards, with the new ball, while Adil Rashid and Moeen Ali shared six wickets in running through the tail, but there were also a handful of dropped catches scattered through the innings and moments in the middle overs where the attack looked a little ineffective.
Hussain reflected: "They [England] were good. But there was some sloppiness in the field.
"You need to be at 100 per cent if you're going to beat some of the top nations on a consistent basis.
"And that collapse again. Other sides, better sides than the Netherlands, will make you pay for that.
Twitter Due to your consent preferences, you're not able to view this. Open Privacy Options
"They can't seem to stop the collapse while it's happening, and it took that last-chance-saloon partnership of Stokes and Woakes to save them."
Hussain: Stokes flicked switch | 'He gives absolutely everything'
That last-chance-saloon pairing of Stokes and Woakes joined forces at 192-6 in the 36th over and, after a period of consolidation, they hammered the bulk of the 125 runs blasted off the last 10 overs, 93 of those coming in the final six.
Stokes' century, secured in the 48th over, may well have been his first at a World Cup but it was certainly not the first time that he has rescued England when they've needed him most.
"He's an incredible cricketer," Hussain said. "He has that switch of tempo; we've seen it in Test cricket, in 50-over cricket, we've seen it in world finals.
"He was going along at a normal, human pace but then he flicks that switch and goes into hitting mode. And once he does, there's not many better, especially when hitting over the legside.
"He may have got things slightly wrong against India, with Mohammed Shami bowling that 10-ball spell at him where he couldn't get him away and then was bowled having a bit of a hack. Invariably he gets it right and, today, he got it absolutely spot on.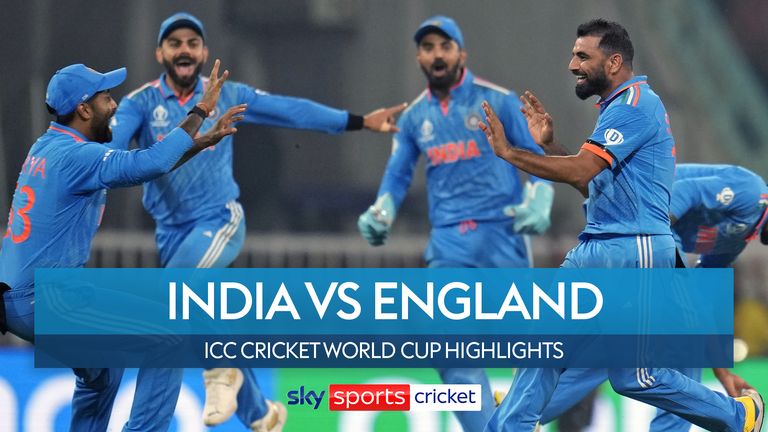 Highlight's from England's 100-run defeat to India at the Cricket World Cup.
"Obviously England are already knocked out of the World Cup, but here is a man who, every time he plays, will still give it absolutely everything."
Stokes' participation in the remainder of the tournament, following England's confirmed exit with two games to spare, had been cast in some doubt prior to the match, given his need for surgery on his troublesome knee injury ahead of leading the Test team back to India in the new year.
But his commitment to the cause, any cause, should never be questioned.
"I don't see Stokes as someone who would leave a sinking ship," Hussain added.
"And that's what this England side are at the moment; they're in turmoil, the wheels are coming off.
"The easy option would be to go home and for him to sort himself out for Test cricket. But he's not someone to leave his team-mates behind."
England have one game left to play in this dismal title defence of theirs, but they'll be hopeful that this handy win over the Netherlands can send them into Saturday's contest with Pakistan in good spirits as they look to at least bow out on a high.
It might be the last 50-over World Cup action the likes of Stokes, Buttler and the others aged over 30 in the squad see, with the latter perhaps also fighting for his captaincy future.
Can Buttler now follow in Stokes' footsteps, rediscover his form and serve the watching world a reminder of his extraordinary batting talents?
Watch every game from the Cricket World Cup live on Sky Sports between now and the final on Sunday November 19 – or stream without a contract through NOW.
Sourse: skysports.com