Jorge Vilda feels it was "unfair" for him to be sacked as Spain's Women coach after winning the World Cup in the fallout from the scandal involving the Spanish federation president Luis Rubiales.
Vilda was the only member of the women's national team coaching set-up not to resign in protest at the behaviour of Rubiales at the end of the World Cup final, but the Spanish football federation (RFEF) confirmed his dismissal on Tuesday afternoon.
Advertisement
The former head coach was seen applauding Rubiales at an emergency RFEF general assembly when he announced on August 25 that he would not resign over his actions in Sydney.
During the presentation ceremony Rubiales had kissed Spain midfielder Jenni Hermoso on the lips – something she says she did not consent to – and he grabbed his crotch in the VIP area celebrating the win, stood just metres from Spain's Queen Letizia and her teenage daughter.
Rubiales was suspended by FIFA the following day, pending an investigation into his conduct.
Advertisement
Concerns over Vilda's coaching methods and regime were reported to have been a key factor in 15 Spain players refusing to play for the national team last year.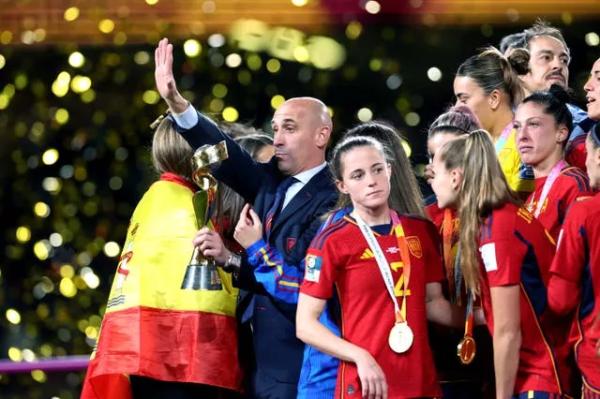 The federation, under Rubiales' leadership, refused to budge in response to the players' complaints, with a statement saying those involved would only be able to return to the national team "if they accept their mistake and ask for forgiveness".
Advertisement
The RFEF made no reference to any discontent among the players in announcing Vilda's exit, instead referring to his "professionalism and dedication during all these years".
In an interview with Spanish radio network Cadena SER following his dismissal, Vilda defended his record with the team.
Advertisement
"In sporting terms, I am going to accept all the criticisms, but on a personal level I think it has been unfair," Vilda said.
Advertisement
"It has been a special year. Nothing has ever been said directly, but indirectly things have been said that do not suit me. Things have been said that are not true."
Vilda added: "The explanation is that there have been 'structural changes'. After everything I have achieved, of working hard as just another worker, I have a clear conscience.
"I have given 100 per cent and I don't understand it – I didn't see my dismissal as deserved."
Vilda also defended his reaction to Rubiales' defiant speech at the RFEF general assembly.
"I will never applaud anything sexist," he said. "I didn't know very well why I was going to that assembly, I thought there was going to be a resignation.
"The president is valuing your work and announcing your renewal, I applauded that. I also applaud Rubiales' management of the women's football, with a budget that has multiplied by four.
"The rest – when 150 people around you applaud, it is very difficult to be the only one who doesn't."
Sourse: breakingnews.ie