Gabriel Jesus has a hamstring issue and the absence of a top-class centre forward was on show as Arsenal went down to a 1-0 defeat to Newcastle at St James' Park; Jamie Carragher says Gunners lack the quality in both boxes to win the Premier League title amid more scrutiny on David Raya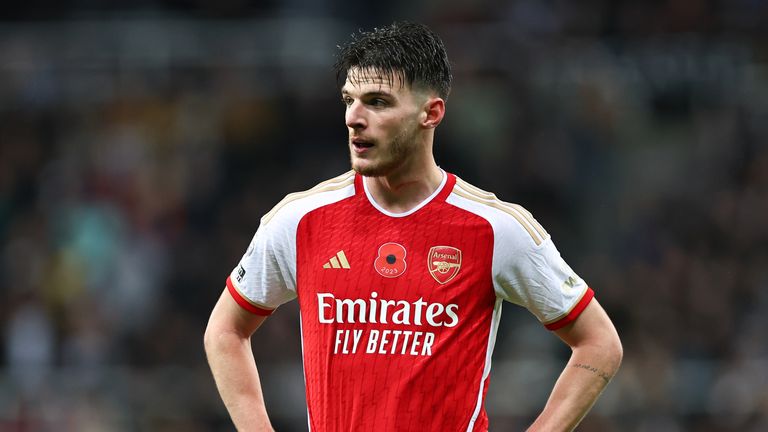 Image: Arsenal look no closer to catching Manchester City
Jamie Carragher believes Arsenal lack the necessary quality in both boxes to seriously challenge Manchester City for the Premier League title this season, with Gary Neville claiming Mikel Arteta must address the lack of firepower in January.
Anthony Gordon's controversial second-half winner clinched Newcastle a 1-0 win against Arsenal, whose unbeaten Premier League start was halted at St James' Park.
Gordon's close-range finish was confirmed as a goal after a triple VAR check and was all that separated the two sides in a game of few chances.
The Gunners slipped to their first defeat in 11 league games this season, while victory for Newcastle was affirmation that they can continue to mix it with the big guns.
Newcastle 1-0 Arsenal – Match report and highlights
Live Premier League table | Fixtures | Results
"I feel like I'm watching a different team", Carragher told Sky Sports. "They're more solid defensively, but they're not as fluid and they're creating as many chances.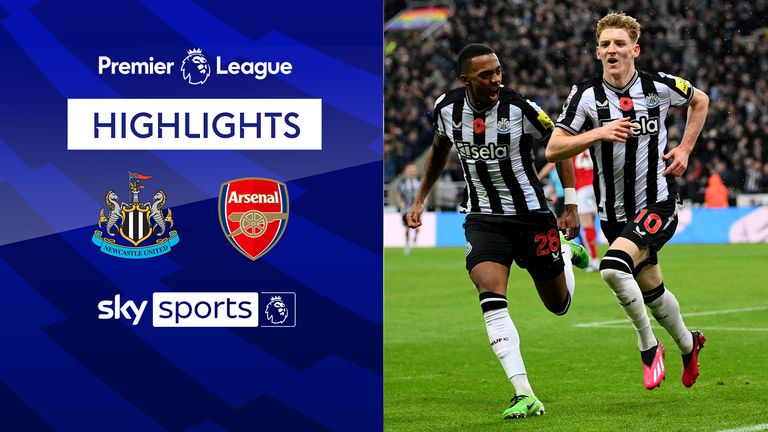 FREE TO WATCH: Highlights of Newcastle against Arsenal in the Premier League
"Have Arsenal got a centre-forward and a goalkeeper who can win you the league? I don't think they have. When you think of vital positions where teams win leagues, it's in both boxes.
"It wasn't a mistake as such to replace Aaron Ramsdale, as Ramsdale wasn't going to win you the league. But the guy he's chosen right now to come in is absolutely all over the place.
"I think bringing in Declan Rice has improved them but they've not moved the dial with the goalkeeper. They don't seem as fluid, and it's not just about the players they've brought in.
Watch free Premier League highlights | Download the Sky Sports App
Get Sky Sports | Get NOW to stream big moments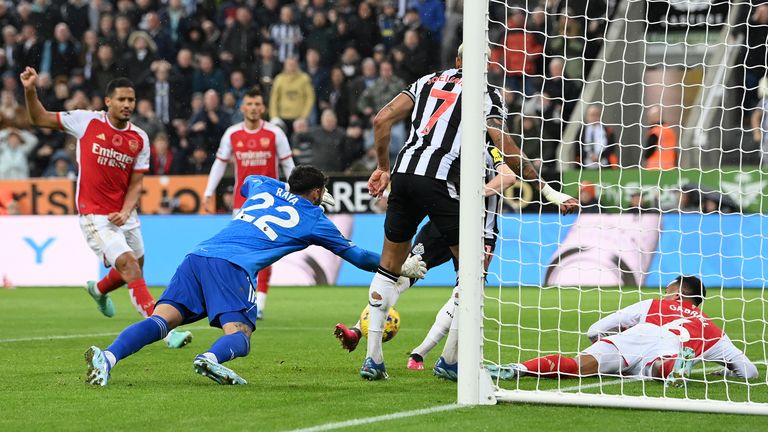 Image: David Raya was again at fault as Arsenal conceded
"The ones who were playing out of their skin last season are not quite firing this season."
The spotlight is again on David Raya following a spate of high-profile errors in recent weeks. The Spaniard was jittery in the first half of Arsenal's victory over Manchester City before he was at fault for one of Chelsea's goals in the 2-2 draw at Stamford Bridge.
Arteta has resisted calls to replace Raya, but the pressure is mounting.
Carragher continued: "Don't let it get lost in all the VAR stuff of the Arsenal goalkeeper again making another mistake. This is now a massive problem for Mikel Arteta.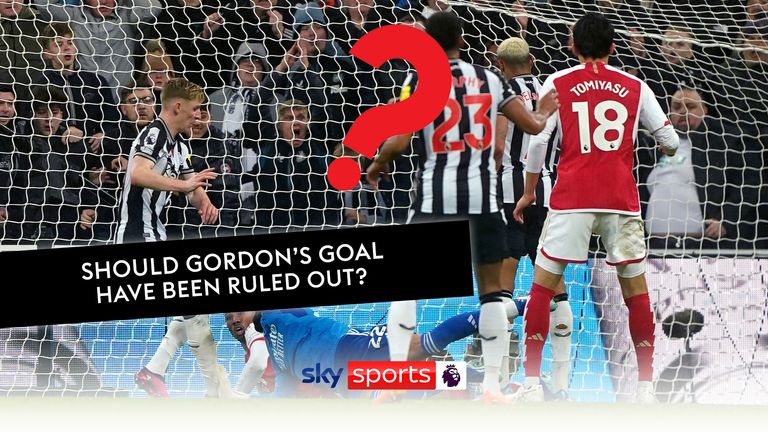 Jamie Carragher believes Arsenal players switched off after believing the ball was out of play before Anthony Gordon's winner in Newcastle's 1-0 win over the Gunners in the Premier League.
"This is a huge problem. He's made the same mistake he made as he did a couple of weeks ago against Chelsea. He got away with it against Sevilla, but he's not got away with it here.
"The goalkeeper just keeps edging and edging forward. When the ball leaves Willock's foot again, the goalkeeper is outside his near post. This is a recurring theme with this goalkeeper.
"Then he finds himself out of position, he can't then reach, and it has a knock-on effect on the foul. I think Gabriel is stooping as he thinks the ball is going to evade the goalkeeper. The talk will be about VAR, everyone will be talking about it, but Raya is a huge problem."
Neville: Arsenal have to do January business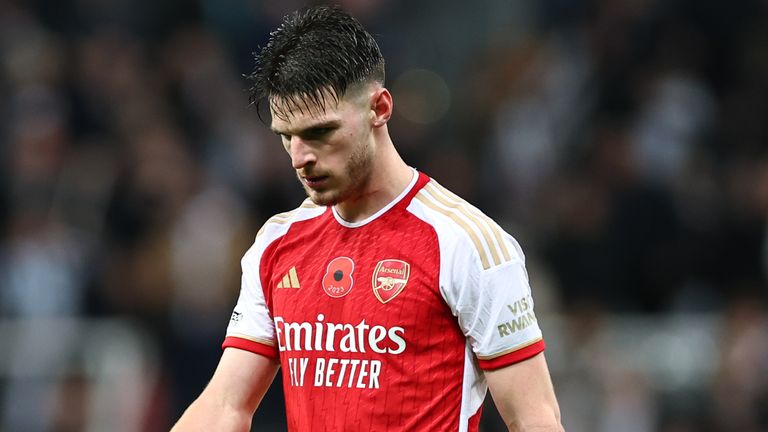 Image: Declan Rice reflects on the defeat at Newcastle
Arsenal created little and failed to have a shot on target in the second half at St James' Park.
The Gunners were without Gabriel Jesus due to a hamstring problem but Newcastle goalkeeper Nick Pope was largely untroubled in a game low on clear-cut opportunities.
In his role as co-commentator for Sky Sports, Gary Neville said: "In the games I have watched Arsenal this season, centre-forward has been a problem."
"Arsenal have to do some business in January – they are ending the game with (Leandro) Trossard in attack."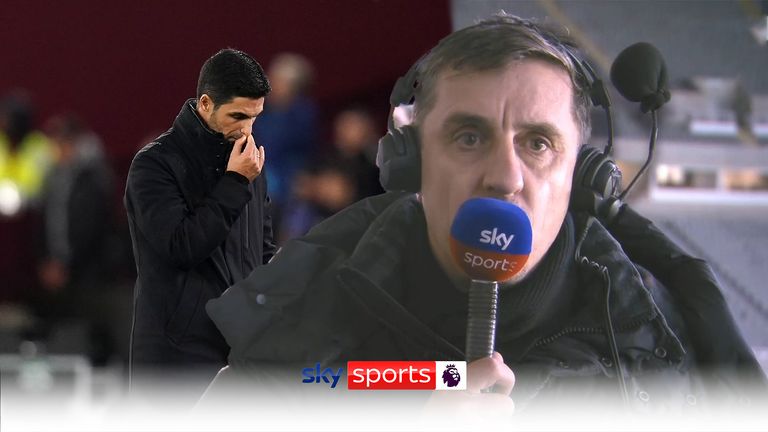 Gary Neville believes Arsenal are 'lacking something' in the final third of the pitch and a top-class striker would greatly improve their chances of winning the title
Speaking on his weekly podcast, Neville explained his views in more depth.
"I've said this after a few Arsenal games this season – Gabriel Jesus and Eddie Nketiah at centre-forward are both very good, but I'd like them to be my No 2 and No 3 strikers. I'd really love them to be my No 2 and No 3 strikers and they might even end up playing wide and off the left in certain games or off the right because both of them can do that role.
"But if Arsenal had a top No 9 and they've had some really top No 9s in the last 20 or 30 years, then I think they could go on to win the title. I've predicted them to win the title but when I look at them now in big games, I feel they're lacking something up top.
"To be fair, I think Mikel Arteta knows that. He loves them both and he should do, Arsenal fans should do. This is not a criticism of the two lads they've got because I think they can be really important players for Arsenal, but I feel like they should be part of the 20-man squad.
"They could still contribute in 25-30 matches a season, but I feel you need something more in those top matches that just get you over the line. Erling Haaland does get Man City over the line quite a bit and I think that's what the difference could be in the end. So for me, that's a big thing."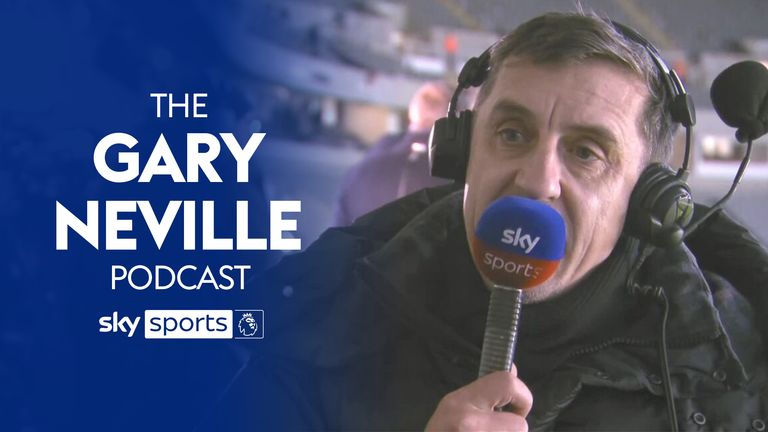 Gary Neville believes officials made the correct decision to allow Anthony Gordon's controversial goal to stand in their 1-0 win over Arsenal
Subscribe to The Gary Neville Podcast now on: Apple Podcasts | Spotify | Spreaker
Have teams figured out how to play against Arsenal?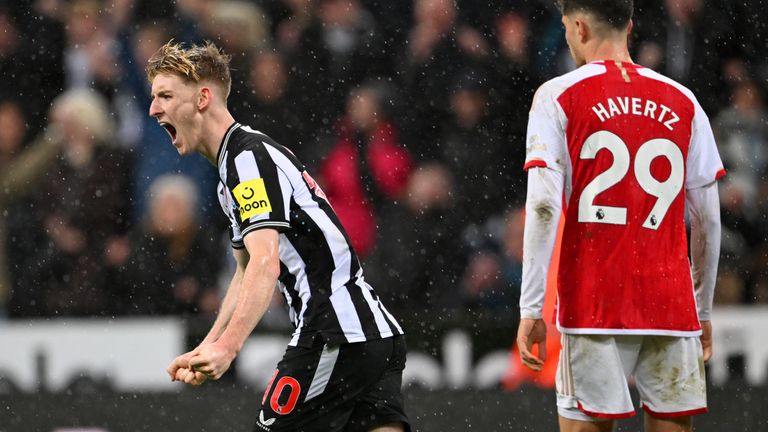 Image: Anthony Gordon celebrates after scoring in the second half
Following Gordon's contentious opener, Arsenal probed for an equaliser, but their front line continued to misfire, creating no further chances on a disappointing afternoon for the north Londoners.
"I don't think his team created enough to win the game," Izzy Christensen told Sky Sports. "I think in the context of the game, the best Arsenal could've hoped for was 0-0. I think Newcastle wanted it more and they created the better chances.
"I didn't see enough bite from Arsenal. We didn't mention (Bukayo) Saka, we didn't mention (Gabriel) Martinelli.
"There needs to be competition behind Saka and Martinelli for when their performance levels drop. You see it at Manchester City and they are the bench mark. You see it with the likes of Jack Grealish, Jeremy Doku, Phil Foden, Bernardo Silva. They have options.
"Maybe they need a target man so they can adapt their style a little bit. Teams have figured out how to play against them. Last season was Arsenal's breakthrough year where they absolutely dominated opponents.
"Every time a winger got the ball, we got excited. I'm not saying their performance levels have necessarily dropped. I just think teams have figured out how to stifle Arsenal.
"When they get into the final third, I'm seeing them chopping back a lot. But if you want to win games, you've got to go forward, take a shot. It's almost like they want to play against the block, it's their default.
"To take it to the next level, teams are getting more organised. Newcastle were the epitome of that in terms of how they stifled Arsenal and picked them off on the break."
Carra: I loved Arteta interview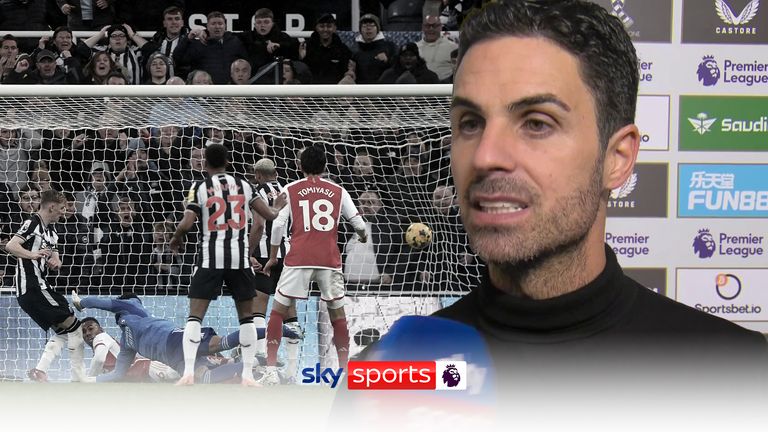 Arsenal manager Mikel Arteta hits out at the decision to allow Anthony Gordon's goal to stand in Newcastle's 1-0 Premier League win over the Gunners
Mikel Arteta was fuming at the awarding of Gordon's goal, labelling the decision "embarrassing" and "disgraceful".
Carragher came out in support of Arteta speaking his mind, adding: "I loved the interview, the passion, and that's what the game does to you.
"The margins now at the top end of the Premier League, when you're up against the best teams – which they are in Manchester City – this is a manager who is not just frustrated with what he's seen tonight in terms of decisions. It's a manager who knows you can't give that team an inch.
"That's almost in the back of his head as well. People may look at that and think, 'which part of VAR was he questioning?' I think it's the ball out of play, where we're talking about the image.
"These are the interviews we want to see and I think the Arsenal fans would love that, I certainly would. It's great to see how much the game means, not just to Arteta at Arsenal, but every team up and down the land. This is what football does to you."
Sourse: skysports.com