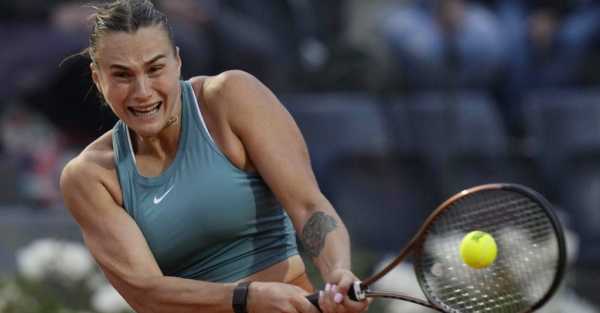 Aryna Sabalenka could end the French Open as world number one but accepts she will begin it against a player who "hates" her.
The Belarusian won her first grand slam title at the Australian Open and has maintained the momentum, winning the Madrid Open earlier this month and closing the gap on Iga Swiatek at the top of the rankings.
Winning a second successive major crown would guarantee Sabalenka the number one spot for the first time but first up comes what will be an awkward encounter against Marta Kostyuk.
Kostyuk has been the most outspoken Ukrainian player about the sport's response to the invasion of her home country by Russia and believes Russian and Belarusian players should have been willing to condemn their nations' actions.
Advertisement
She refuses to shake hands with players from the two countries at the end of matches, but Sabalenka insisted that will not bother her, saying: "I kind of can understand them.
"I imagine (if) they're going to shake hands with Russians and Belarusians then they're going to get so many messages from their home country. At the same time, I feel like sports shouldn't be in politics.
"We're just athletes. If they feel good with no shaking hands, I'm happy with that.
"I don't want to waste my energy on this kind of stuff. It's none of my business. So, if she hates me, OK. I can't do anything about that.
"There is going to be people who love me, there is going to be people who hate me. If she hates me, I don't feel anything like that to her."
Sabalenka has won arguably the two best matches of the season, beating Elena Rybakina in the Australian Open final and Swiatek to triumph in Madrid.
Between them, Sabalenka, Swiatek and Rybakina have won seven of the biggest titles of the season so far and hold all four slam trophies, burying the narrative of instability at the top of the women's game post-Serena Williams.
Advertisement
It would be a major surprise if the winner of the Coupe Suzanne Lenglen does not come from that trio and Swiatek, who cruised to her second Roland Garros title last year, said: "For sure it's a totally different situation than last year.
"It's nice to have somebody constantly kind of watching you. We played so many matches against each other that tactically we know our games pretty well. But we also have to come up with some different solutions sometimes, which is pretty exciting, because I never had that yet in my career.
"I think this is what the big three (Roger Federer, Rafael Nadal and Novak Djokovic) had to do for sure when they played 30 matches against each other or even more.
"So I'm happy to learn some new stuff. And also we are all working really hard to play better and better. It is an extra motivation, for sure."
Sabalenka will be trying to put thoughts of the number one ranking out of her mind and is enjoying the challenge of the three-way fight.
"I think it's good for tennis to see the top players consistently doing well," she said. "I think it's pushing everybody to the next level and pushing everybody to do better and to play better.
Advertisement
"That's how I was pushed by Iga last season. I think it's good for people to watch these kind of matches and to see that top players are reaching the last stages of the tournament."
Swiatek arrived in Paris under an injury cloud after suffering a thigh problem during her clash with Rybakina in Rome last week but she insisted she will be fit to face Cristina Bucsa in the first round.
"Luckily nothing serious happened, so I had couple of days off," she said. "I'm still recovering from the thigh injury, but I'll be good for my first round. That's the most important thing for me."
X
Sourse: breakingnews.ie