Former Bayern Munich and Tottenham striker Jurgen Klinsmann speaks to Sky Sports about Harry Kane ahead of Der Klassiker on Saturday; watch title rivals Borussia Dortmund vs Bayern Munich, live on Sky Sports Football from 5.20pm; kick-off 5.30pm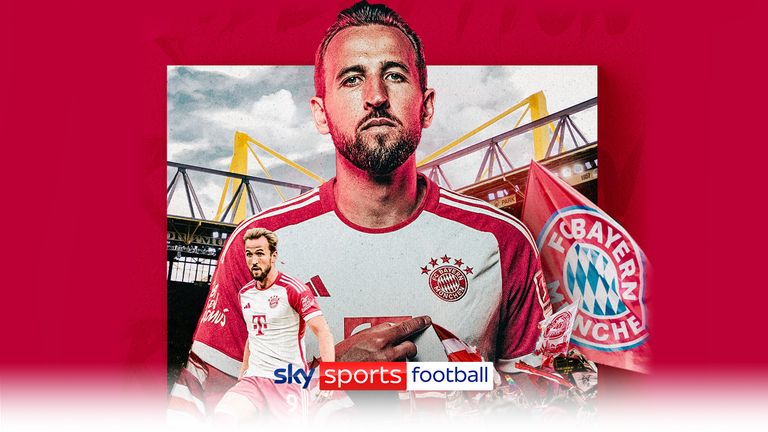 Jurgen Klinsmann speaks to Sky Sports about Harry Kane's impact at Bayern Munich and his wonder goal
Harry Kane is at the peak of his powers and brimming with confidence. The goal from his own half last Saturday is evidence of that. Now he is in the perfect place to take the next step and ensure he is remembered as one of the greats.
That status was already confirmed in England. Kane left behind the seemingly inevitable legacy of becoming the Premier League's greatest goalscorer for Bayern Munich. Now in Germany they are seeing first-hand what we have experienced for the last decade.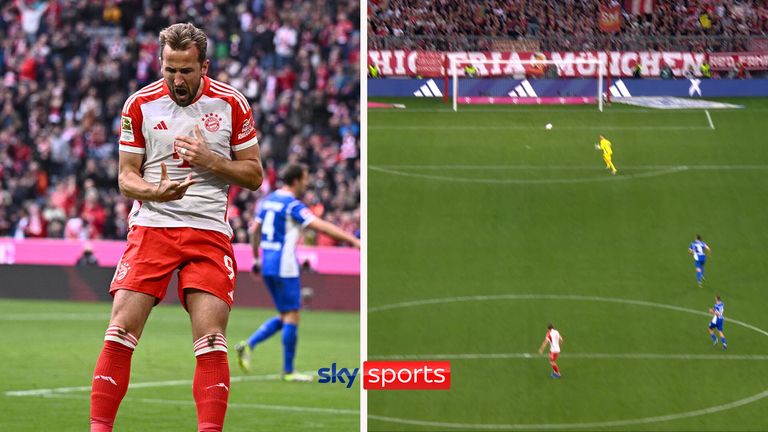 Harry Kane scores a sensational goal from inside his own half enroute to a hat-trick as Bayern Munich beat Darmstadt 8-0 in the Bundesliga
Rewatch the David Beckham-esque strike again, but this time look at the reaction of Kane's 20-year-old team-mate Franz Kratzig, a product of the club's academy. "Wow. Wow. Wow. Wow. Wow." Kane is being watched with a sense of wonderment around the globe.
Bundesliga fixtures | Table
Watch the Bundesliga and more on NOW
Get Sky Sports | Download the Sky Sports app
"It's not just in Germany, people all over the world are talking about that goal," Jurgen Klinsmann, the former Bayern and Spurs striker, tells Sky Sports. "That goal just showed where he is right now. He is capable of doing everything. To not only finish and be a great striker but also [give] assists and these crazy type of goals."
Datawrapper Due to your consent preferences, you're not able to view this. Open Privacy Options
The £100m move came at a pivotal time in Kane's career. At 30, he wants silverware and joins a team ready to deliver that, at the very least domestically. He also has one eye on Euro 2024 next summer and a shot at glory with England in the country he now calls home.
"It seems to be his moment," says Klinsmann. "He is in the right place at the right time."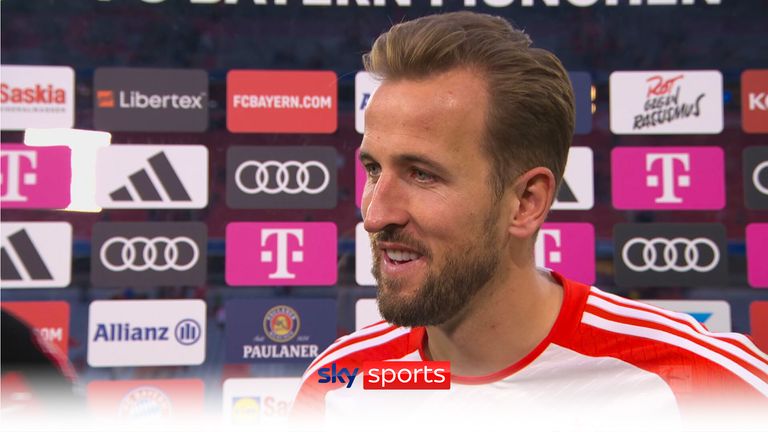 Harry Kane explains the thought process behind his incredible goal from the halfway line for Bayern Munich on Saturday
The Bundesliga title is a non-negotiable for Bayern and Kane. Hopes of a treble were ended after Wednesday's shock defeat to third division Saarbruecken in the DFB Pokal. But success in Europe this season will put Kane firmly in the running for next year's Ballon d'Or.
Do they have what it takes though? "I think so," says Klinsmann. "He has the team, and quality through the squad. He's in a very competitive environment that's always driving and hungry for titles."
Simply being at Bayern elevates Kane in the conversation. His most prolific season at Spurs was rewarded with 19th in the Ballon d'Or. Mo Salah and Karim Benzema finished higher despite being outshone by Kane in relatively lukewarm seasons by their clubs.
Twitter Due to your consent preferences, you're not able to view this. Open Privacy Options
Kane belongs in a side like Bayern and the 12 goals he has in his first nine Bundesliga appearances show that. Never before has the striker scored so many at this stage of a campaign. He is already just three goals from outscoring Bayern's top scorer in the league last season, Serge Gnabry.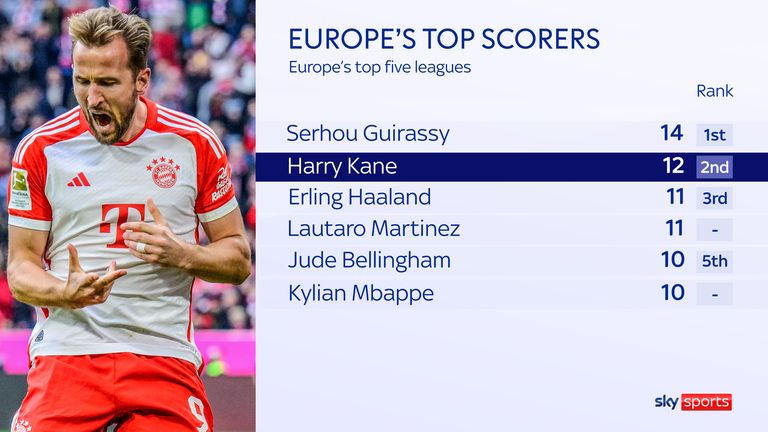 Ahead of Kane's first Der Klassiker against Borussia Dortmund on Saturday, live on Sky Sports, Bayern are unbeaten but two points behind leaders Bayer Leverkusen. The champions for 11 seasons running have some serious competition.
Leverkusen are the early pace setters, but Dortmund aren't far behind either. They can leap a point ahead of Bayern with a win on Saturday. Despite losing Jude Bellingham, another worthy challenger for next year's Ballon d'Or, they remain in contention.
"Dortmund always figure out a way to come back and find another golden boy in the neighbourhood," says Klinsmann. "If Dortmund stay close there's always a chance. If you can come off the field with three points it can give you a huge psychological boost."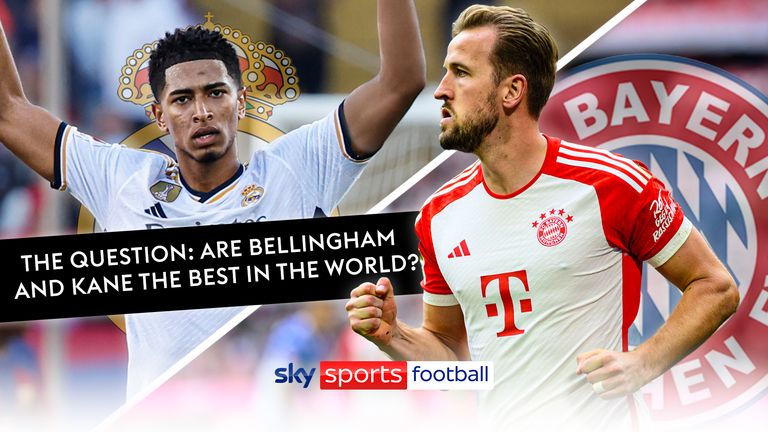 Peter Smith is joined by Joseph Shread to discuss whether or not Jude Bellingham and Harry Kane are the best players in the world right now
Kane's addition was vital for Bayern, who struggled last season after Robert Lewandowski left for Barcelona. Their grip on the title nearly slipped only for Dortmund to lose on the final day of the campaign. Bayern required a last-gasp Jamal Musiala goal to capitalise.
Julian Nagelsmann, the previous head coach, had stepped away from Bayern's traditions by using a fluid front three before losing his job. "It's a club that always builds their style of play throughout the decades on a fantastic No 9," says Klinsmann.
Kane hopes to follow in the footsteps of Gerd Muller and Lewandowski in Bayern's long line of top strikers. The early impressions are promising. "He fits so perfectly into this," says Klinsmann, another famed Bayern striker. "It was clear they would need a similar calibre of player after Lewandowski."
Thomas Tuchel, the current head coach, says Kane is "the perfect striker" for Bayern. But there was an added bonus to getting this particular signing over the line. "We took the skipper of England out of the Premier League," said Tuchel in September. "It is a huge deal. Everybody wanted to have him."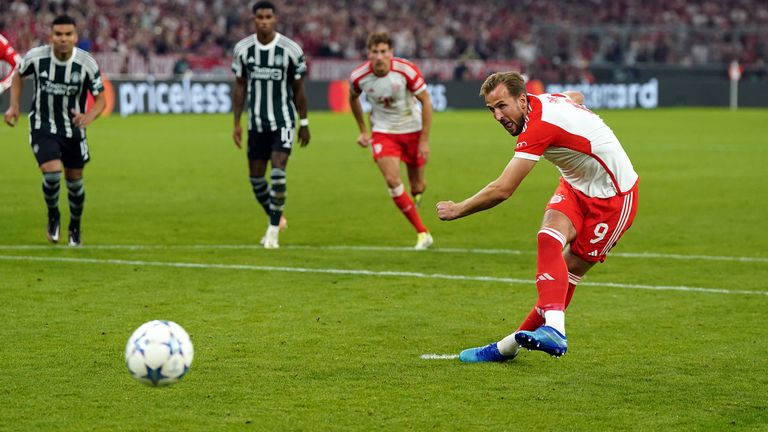 Image: Kane scored a penalty in Bayern's win over Man Utd in the Champions League earlier this season
The signing of Kane delivered a reminder of Bayern's heft at a time when questions were being asked. Three seasons without getting past the Champions League quarter-finals will do that in Bavaria.
Kane is a guaranteed difference-maker and his arrival put Bayern back among the favourites before a ball was even kicked.
There was, of course, a vanishingly small window of opportunity to get the deal done. Kane needed to be ready to leave and Spurs needed to be willing to sell. It took a well-timed approach and a club-record bid. There is no doubt at Bayern that they made the right call.
"He will prove us right. I am 100 per cent convinced," Tuchel said in September.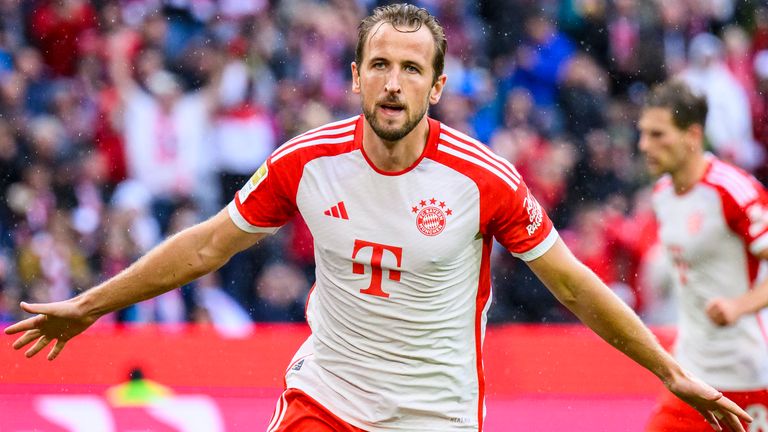 Image: Kane signed for Bayern for £100m from Spurs after protracted negotiations amid interest from Man Utd
Kane, too, seems convinced of Bayern and his decision to move on from Spurs. He left as the club's record scorer, with 280 goals, having endured enough of the dark days that no fan could hold a grudge.
It was a risk leaving home, but his new surroundings bring new comforts. "Bayern is one of the top six clubs in the world," says Klinsmann. "He is in one of the best environments. That gives him more of a possibility of winning and also maybe an individual trophy like the Ballon d'Or."
That is after all what the move was about. "It's what we discussed in his last year at Spurs," says Klinsmann. "We just wanted him to win trophies. Hopefully he can cash in."
Kane and Bayern, it seems, met at the perfect time.
Watch rivals Borussia Dortmund vs Bayern Munich on Saturday, live on Sky Sports Football from 5.20pm; kick-off 5.30pm
Sourse: skysports.com