Everton handed heaviest points punishment in Premier League history; club "shocked and disappointed" by ruling and will appeal; Everton plunged into relegation zone; Sky Sports News understands the charge related to interest payments on the cost of building the club's new stadium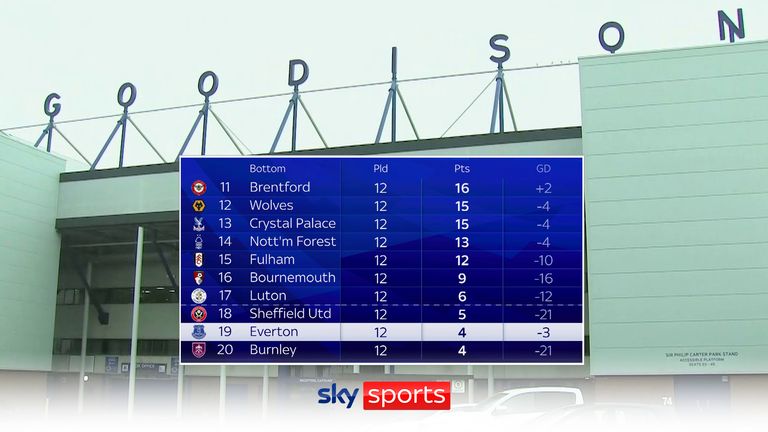 Football finance expert Kieran Maguire explains why Everton have been deducted 10 points by the Premier League and what he expects them to do regarding an appeal
Everton have been deducted 10 points with immediate effect for a breach of the Premier League's profit and sustainability rules.
Everton say they are "shocked and disappointed" by the ruling and have vowed to appeal.
"Both the harshness and severity of the sanction imposed are neither a fair nor a reasonable reflection of the evidence submitted," said the club.
Reaction LIVE! Everton 'shocked and disappointed at unjust decision'
Everton fixtures | Live Premier League table
Stream the Premier League and more with NOW
The deduction, which was meted out by an independent commission and will be imposed with immediate effect, is the largest in the history of the Premier League and plunges Sean Dyche's team into the relegation zone.
According to the Premier League, Everton admitted during a five-day hearing it was in breach of the league's profitability and sustainability rules (PSR).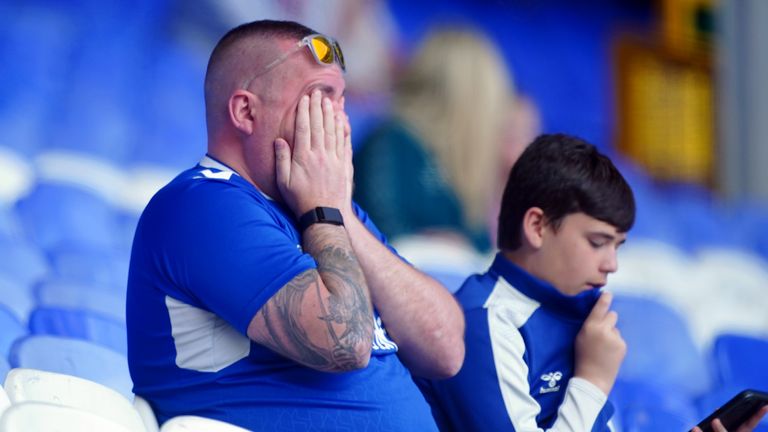 Image: Everton are now two points from Premier League safety – and the cost of relegation is not known
The commission determined that "Everton's PSR calculation for the relevant period resulted in a loss of £124.5m, as contended by the Premier League, which exceeded the threshold of £105m permitted under the PSRs."
After narrowly avoiding relegation to the Championship last season, Everton were – prior to their points loss – 14th in the league table, eight points above the bottom three.
Twitter Due to your consent preferences, you're not able to view this. Open Privacy Options
Only three clubs have previously been docked points in Premier League history. Middlesbrough were deducted three for failing to fulfil a fixture against Blackburn in 1996/97, and Portsmouth were stripped of nine after entering administration in March 2010.
Tottenham were handed a 12-point deduction before the 1994/95 season for financial irregularities committed several seasons earlier, but that punishment was initially reduced to six points before eventually being revoked.
Everton's next match following the international break is at home to Manchester United on November 26, live on Super Sunday – kick-off 4.30pm.
Everton's tricky fixture list
Manchester United (H) – Sunday November 26, kick-off 4.30pm, live on Sky Sports
Nottingham Forest (A) – Saturday December 2, kick-off 5.30pm, live on Sky Sports
Newcastle (H) – Thursday December 7, kick-off 7.30pm
Chelsea (H) – Sunday December 10, kick-off 2pm
Burnley (A) – Saturday December 16, kick-off 5.30pm, live on Sky Sports
What's the background?
Everton were referred to an independent commission by the Premier League in March for a potential breach of profit and sustainability rules.
The club said they would "robustly defend" and "strongly contest" the charge ahead of a hearing which took place last month.
Sky Sports News understands Everton feel their overspend was brought about by unforeseen and unprecedented circumstances and they have justifiable mitigation. The war in Ukraine led Everton to severing financial ties with Alisher Usmanov's holding company USM.
On top of the 15 commercial deals they had with USM, they lost a naming rights deal for the new stadium at Bramley Moore dock worth £200m. This would have been activated once planning permission was granted.
It is also understood Dyche was told about the independent commission's punishment by director of football Kevin Thelwell and is said to share the club's disappointment and surprise at the verdict.
Everton's reaction in full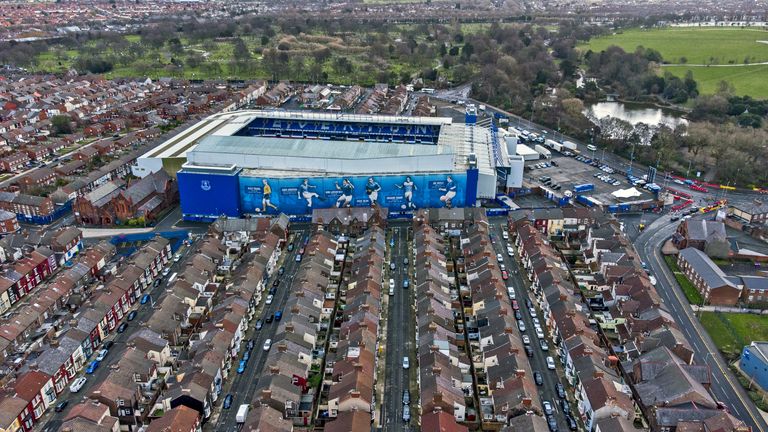 Image: Everton are planning to leave Goodison Park for a new purpose-built stadium
In a statement, Everton said: "Everton Football Club is both shocked and disappointed by the ruling of the Premier League's commission.
"The club believes that the commission has imposed a wholly disproportionate and unjust sporting sanction.
"The club has already communicated its intention to appeal the decision to the Premier League. The appeal process will now commence and the club's case will be heard by an appeal board appointed pursuant to the Premier League's rules in due course.
"Everton maintains that it has been open and transparent in the information it has provided to the Premier League and that it has always respected the integrity of the process.
Twitter Due to your consent preferences, you're not able to view this. Open Privacy Options
"The club does not recognise the finding that it failed to act with the utmost good faith and it does not understand this to have been an allegation made by the Premier League during the course of proceedings.
"Both the harshness and severity of the sanction imposed by the commission are neither a fair nor a reasonable reflection of the evidence submitted.
"The club will also monitor with great interest the decisions made in any other cases concerning the Premier League's profit and sustainability rules.
"Everton cannot comment on this matter any further until the appeal process has concluded."
Meanwhile, Everton's fan groups made a collective statement on Friday evening which read: "The punishment handed out today by an independent commission is disappointing, to say the least. Whilst we understand the need for rules to be followed and standards upheld, this punishment only punishes the fans, players and management team.
"It's no secret that our club has been run incompetently at the top for several years now. The fans took it upon themselves to push for change and force the removal of an underperforming board that broke your rules. The people who broke your rules are not the ones suffering."
Leicester exploring legal options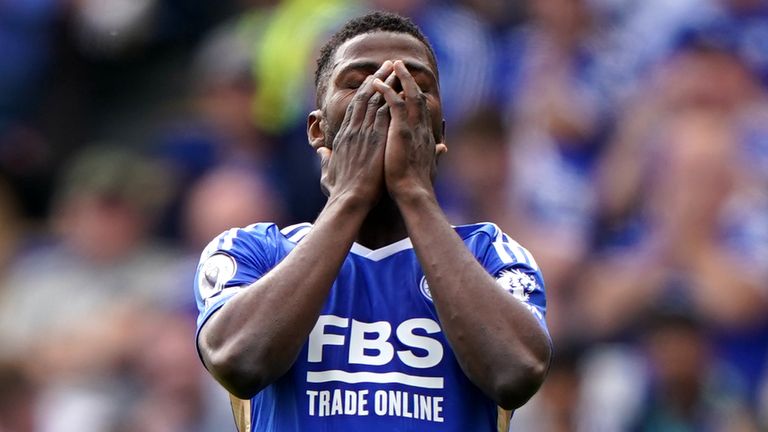 Image: Leicester were relegated from the Premier League last season, while Everton just about survived
Leicester are considering their options and consulting lawyers about how they may respond to Everton's 10-point deduction.
The Foxes finished 18th in the Premier League last season and were relegated to the Championship, while Everton finished one place and two points above them.
Had Everton been handed their points deduction during the previous campaign, Leicester would still be in the top flight.
Leicester are not commenting on the matter but Sky Sports News understands discussions are ongoing about the possibility of a legal claim against Everton.
If Leicester were to bring a case through the civil courts, they could only seek financial reparations for the lost revenue associated with relegation.
It is thought the club's bosses accept there can be no sporting response – for example, it would be impossible for Leicester to request their Premier League status be reinstated at Everton's expense.
Explained: Why have Everton been handed 10-point penalty?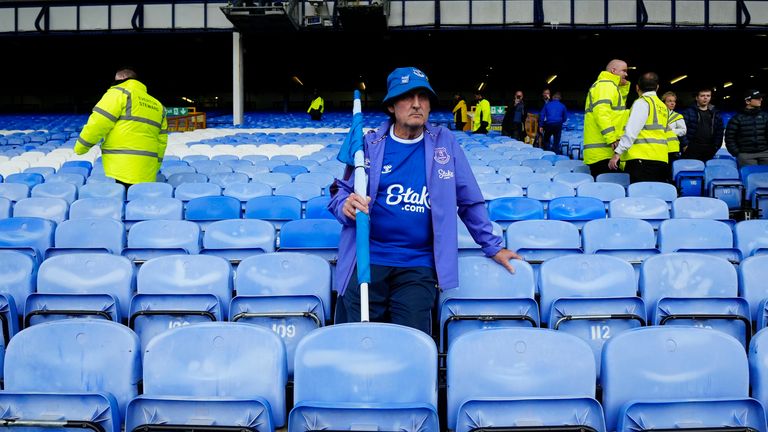 Image: An Everton fan stands dejected at Goodison Park
Sky Sports News chief reporter Kaveh Solhekol:
"To make it as simple as possible: Everton have been found guilty of breaking the Premier League's financial fair play rules. They are called the profit and sustainability rules.
"What they mean in their most simplest terms is that clubs are allowed to lose a maximum of £105m. The commission has looked at this case and it has decided that in the period of 2021/22, Everton ended up losing £124.5m.
"There are lots of reasons why that may have been. In the Covid period, loads of clubs were hit hard financially. We are talking about a period where Everton spent a lot of money on players, went big on wages and it didn't go well on the pitch and they were trying to cut costs.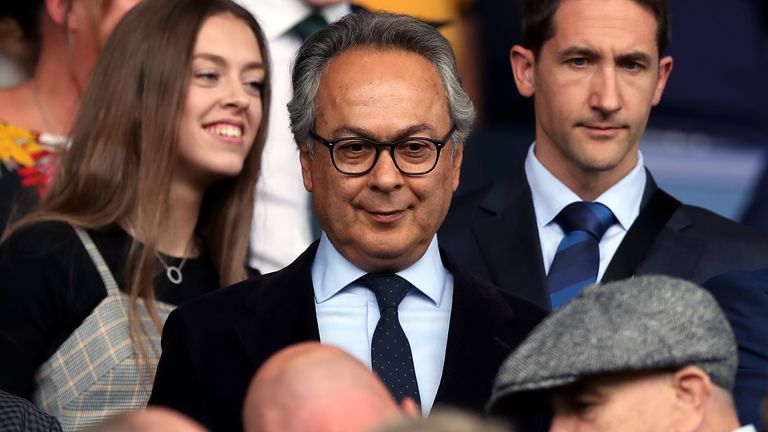 Image: Farhad Moshiri, Everton's majority shareholder, is looking to sell the club to 777 Partners
"We are also talking about a period where Everton are trying to build a new stadium as well. Everton have also been hit with the fact that Alisher Usmanov, who had commercial relationships with the club, has been sanctioned, so that source of funding has been closed off.
"This is the biggest sporting sanction ever handed down by the Premier League. It has a massive impact on Everton's season and it has a big impact on whether they go up or stay down.
"The other times it happened to Premier League clubs – to Portsmouth and Middlesbrough – both those teams ended up being relegated."
"There has been a lot of unease and uncertainty about these profit and sustainability rules and the potential punishments, as these cases can drag on and on.
"The Premier League brought in new rules to say these cases have to be fast-tracked, so if somebody has been deducted points, it would be for that season and the case would be dealt with quickly.
"So this process, from start to finish including any appeals, has to take a maximum of three months. It will be heard by a new panel and I'm sure Everton will put up a very robust defence."
Sourse: skysports.com