Dawid Malan left out of West Indies tour entirely while Moeen Ali, Adil Rashid and Chris Woakes are only included for the T20s; Three uncapped players make the cut in ODI side with Test vice-captain Ollie Pope joining seamers John Turner and Josh Tongue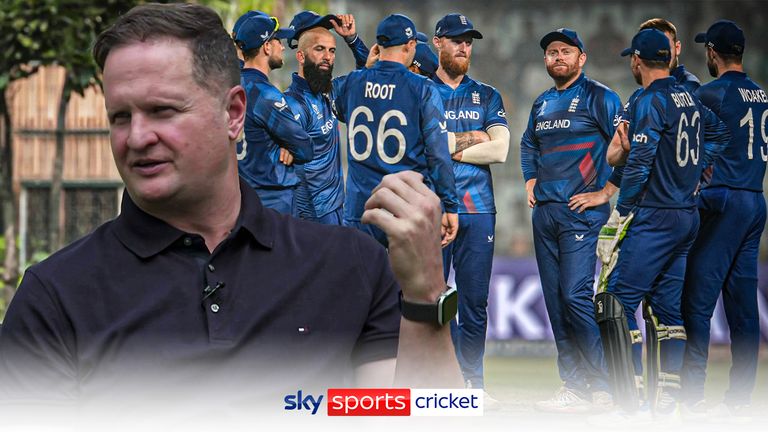 England managing director Rob Key agrees with Ben Stokes that the World Cup has been a 'disaster' – and explains reasons for the new-look England squad
Just six players from England's ODI World Cup have kept their places in a new-look squad for their white-ball tour of West Indies.
The tour, which includes a three-match ODI series (starting December 3) and a five-match T20 series (beginning December 12), will be England's first action since their unimpressive World Cup title defence in India.
Jonny Bairstow, Joe Root and Mark Wood have been rested ahead of January's Test series in India and Test captain Ben Stokes is heading straight for an operation on his long-term knee injury.
But the omissions of Dawid Malan, Moeen Ali and Chris Woakes from the 50-over squad may prove to be more final.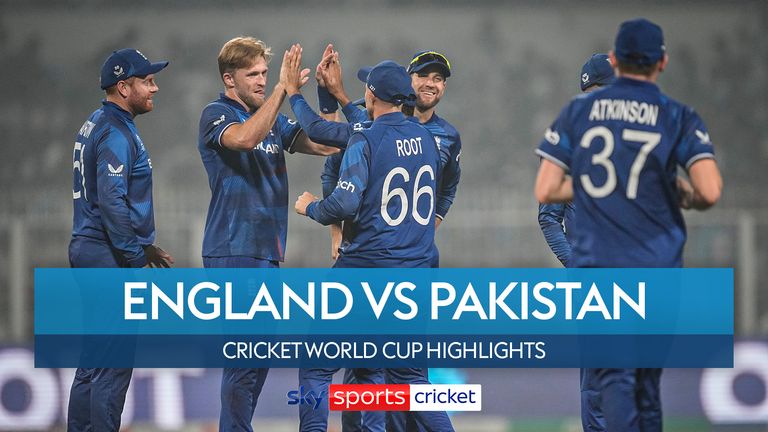 England signed off a disappointing Cricket World Cup title defence on a high by securing a convincing 93-run victory over Pakistan in Kolkata
Moeen and Woakes, together with Adil Rashid, are retained for the T20 leg, suggesting they still have a chance of making next summer's short-form World Cup to be held in the Caribbean and USA, but Malan has been cut from both formats.
Michael Atherton: England do not need a complete reset after World Cup
England exit Cricket World Cup with big win over Pakistan
Stokes to 'think hard' about one-day international future
Stream the Cricket World Cup and more top sport with NOW
Despite being England's top run-scorer over the last few weeks, finishing exactly 100 clear of his nearest challenger, at 36, he seems to have run out of road.
Captain Jos Buttler remains in charge and is joined by Gus Atkinson, Harry Brook, Brydon Carse, Sam Curran and Liam Livingstone.
Three uncapped players make the cut in ODI side with Test vice-captain Ollie Pope joining seamers John Turner and Josh Tongue. The pace pair also feature in the 20-over squad.
Phil Salt, Will Jacks and Rehan Ahmed will also make the full trip, indicating they are all seen as important parts of England's white-ball rebuild.
While Ahmed was handed a two-year central contract last month, it is notable that neither Jacks nor Salt were among the 29 names who did receive deals.
Malan, who appears to have played his final limited-overs international, was signed up for a year.
ODI squad: Jos Buttler (captain), Rehan Ahmed, Gus Atkinson, Harry Brook, Brydon Carse, Zak Crawley, Sam Curran, Ben Duckett, Tom Hartley, Will Jacks, Liam Livingstone, Ollie Pope, Phil Salt, Josh Tongue, John Turner.
T20I squad: Jos Buttler (captain), Rehan Ahmed, Moeen Ali, Gus Atkinson, Harry Brook, Sam Curran, Ben Duckett, Will Jacks, Liam Livingstone, Tymal Mills, Adil Rashid, Phil Salt, Josh Tongue, Reece Topley, John Turner, Chris Woakes.
Atherton: England do not need a complete reset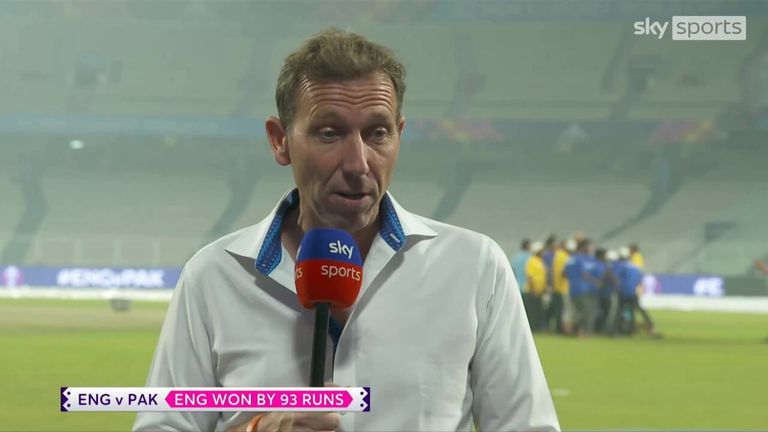 Michael Atherton believes England shouldn't 'rip everything up' and start again, they just need to 'freshen up' after a disappointing World Cup campaign
Former England captain Michael Atherton had said there is no need for a complete reset of the England one-day cricket set-up, despite the holders being knocked out of the World Cup with a whimper.
"There definitely needs to be some fresh blood in there," he told Sky Sports after it was confirmed England will finish seventh in the group of 10 at the World Cup, having won only three matches all tournament.
"You have to have half an eye on the Champions Trophy in 2025 and the next World Cup in 2027.
"But I don't believe in just ripping everything up. It's not much of a template that I've seen be successful in the past in terms of regeneration. I think you do regenerate, but you do it smartly and wisely and there are still some very good cricketers in that dressing room by any estimation, and they would deserve their place in any England 50-over side.
"So it's not a complete reset, but it's just a gradual regeneration and introduction of fresh blood. And let's not forget some of the quality in England's domestic cricket in terms of white-ball cricketers that are out there is amazing. You think of the people who are not here, people like Ben Duckett, people like Will Jacks, those kinds of guys, so there's plenty to come in.
"England's average age is 31. You don't go over the hill in six or seven weeks. I actually took a little bit of time just to compare age profiles with some of the other top teams. India's average age is 31, New Zealand's average age is 31, Australia's average age is 31. England have got four players under 30 in their squad, New Zealand have only got three. New Zealand, like England, have got some veterans of three World Cups in their mid-30s."
Key: England need to rest key players ahead of India tour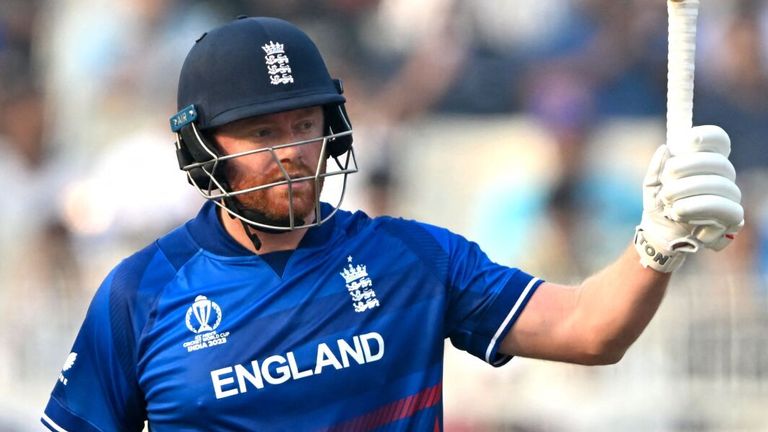 Image: Jonny Bairstow made 59 in England's final Cricket World Cup match against Pakistan but has been rested for the tour of the West Indies
England's managing director, Rob Key, gave a scathing review of his team's World Cup misery, including an insight into which players need to revamp their outlook ahead of the new year.
He said: "It's been incredibly disappointing because we felt we had a good chance in this competition.
"All of our focus was on the fact that we felt we were coming out here as one of the favourites, and we've not lived up to that.
"I never think you can guarantee winning anything, especially at a World Cup, but we've not played anywhere close to our potential – which is all we wanted."
The former right-handed batter also pointed out which players had performed well and those who needed a reset before the next round of Test cricket.
"Jonny Bairstow, who had that horrific injury [in summer 2022], and we threw him straight into The Ashes, then into The Hundred, the T20 series against New Zealand, and here. He needs a block of time to get himself into good order.
"He also needs to get himself through an India Test tour. The same can be said of Joe Root and Mark Wood.
"Dawid Malan in T20 cricket is another; his form over the last year hasn't warranted selection. But that doesn't mean he's out of the running or that he's done. Like many of the guys, he will have franchise cricket to prove to us what they can do".
Key: England to 'take it slow' with Archer after latest setback
England have slowed down plans for Jofra Archer's return after he experienced soreness in his troublesome right elbow.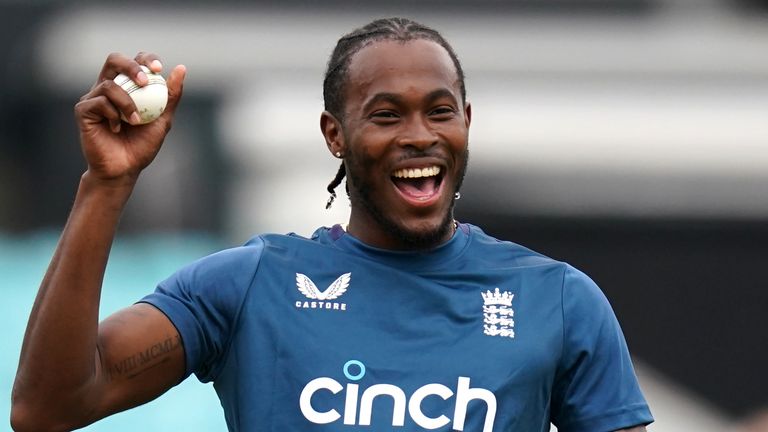 Image: Jofra Archer will not feature for England during their tour of the West Indies
Archer has suffered several years of injury trouble and has not played competitively since May. His recovery had been going well enough for England selector Luke Wright to identify him as a "travelling reserve" for the 50-over World Cup, but he ended up spending less than three days with the squad in Mumbai last month.
On his only day of training, at the Wankhede Stadium, he reported discomfort during a very brief bowling spell and was immediately sent for scans. He was immediately ruled out of replacing the injured Reece Topley and also taken out of contention for the West Indies tour.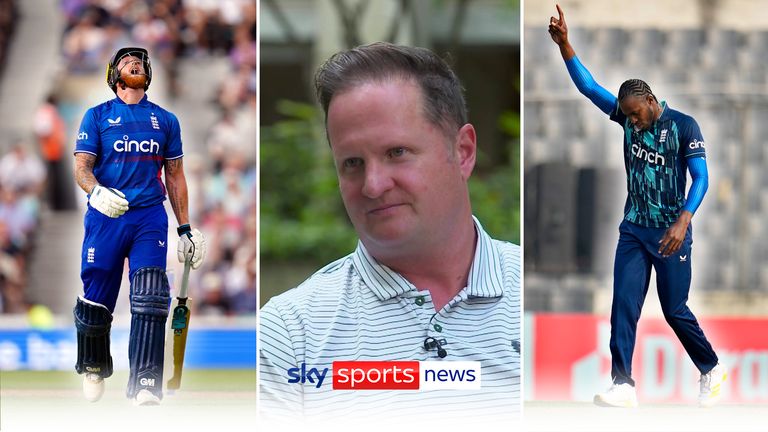 Key explains the decisions taken surrounding central contracts as Jofra Archer signs a two-year deal, but Test captain Ben Stokes only a one-year extension
"He might well be [in the West Indies] but until he's ready and fit he won't be in the squad," Key said. "Even then he'll need a period of building up. We take a bet with Jofra, because of the upside. That's what lures you in.
"Who's the best with the new ball? Jofra Archer. Who's the best in the middle? Jofra Archer. Who's the best at the death? Jofra Archer. It's the Ashes in two years, the T20 World Cup in the summer, you don't want to risk rushing something and kibosh the rest of his career."
England's limited-overs tour of the West Indies
One-Day Internationals:
1st ODI: Sunday December 3, Sir Vivian Richards Stadium, Antigua
2nd ODI: Wednesday December 6, Sir Vivian Richards Stadium, Antigua
3rd ODI: Saturday December 9, Kensington Oval, Barbados
T20 Internationals:
1st T20I: Tuesday December 12, Kensington Oval, Barbados
2nd T20I: Thursday December 14, Grenada National Stadium, Grenada
3rd T20I: Saturday December 16, Grenada National Stadium, Grenada
4th T20I: Tuesday December 19, Brian Lara Cricket Academy, Trinidad
5th T20I: Thursday December 21, Brian Lara Cricket Academy, Trinidad
Stream the Cricket World Cup and more top sport with NOW
Sourse: skysports.com