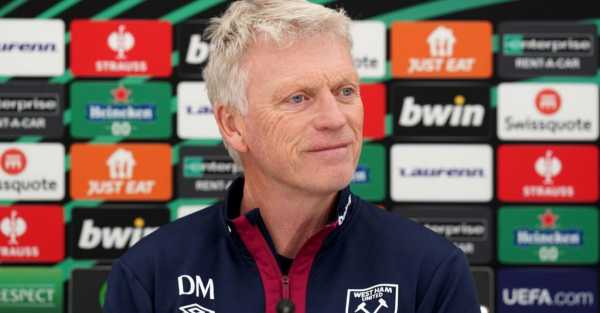 David Moyes insists West Ham will not resort to the use of dark arts following Fiorentina's admission they will employ tactical fouls in next Wednesday's Europa Conference League final.
The Serie A club's boss Vincenzo Italiano has outlined his strategy for the showpiece in Prague, stating it will be necessary to combat the Hammers' most potent threat.
"We will try to not give them dangerous balls and to work on tactical fouls, preventative tackles, to avoid counter-attacks. These are the counter-measures to play against this kind of attitude," Italiano said.
But Moyes promises that West Ham, who are aiming to win their first trophy since defeating Arsenal in the 1980 FA Cup final, will stick to the rules.
"It will be down to the referees to sort that out and not for us to have a huge opinion on it," he said.
Advertisement
"We'll try to play a fair game and from my point of view that's always the best way to try and do it."
West Ham have completed the Premier League season without receiving a single red card while also incurring the lowest number of yellows in the competition with 43.
"I didn't know that stat and it's obviously a good stat. You always want to be well disciplined in finals and in any games. Hopefully that's the way it remains," Moyes said.
"You also hope that the referees are looking at that and saying, 'they're a well-disciplined side going about their job correctly'. Hopefully they're doing their homework as well."
Moyes refused to be drawn on his own future amid speculation he could depart even though his contract has a year left to run.
The Scot has faced calls from fans to be sacked because while he has masterminded passage into a European final, a disappointing Premier League campaign ended in a 14th-place finish. Moyes reflects on his three seasons in charge with pride, however.
"The only focus I've got at the moment is to win the game and perform as well as we can. I'm certainly not thinking any further ahead than that," he said.
Advertisement
"I'm not sure that if you'd told anybody that we'd finish sixth and seventh in the Premier League, we'd get to the semi-final of a European competition and then the year after we'd get to the final of a European competition…if you said that to people before I came in I think they'd have said 'no, that's not true'.
"In a way there are a lot of really good things going on. We've given lots of the West Ham supporters and the West Ham club some really good times. And long may it continue.
"We've got to try and keep it going, we want to grow it and keep these moments happening.
"To be in a cup final is special, certainly for West Ham because it's been a while since we've been there."
Moyes insists only time will tell if the Hammers' 10-day break before the final will be beneficial, knowing that Fiorentina's final match is on Friday night.
"I don't think there's a reason to say one is better than the other but what I do think is that Fiorentina have such a big squad that they've been able to change their players," Moyes said.
Advertisement
"It may be a help or it may be a hindrance, we're not sure what the outcome will be. The result will give an idea.
"For all football clubs, whether in Italy or England, the season has been really long due to the World Cup. It's been a long season for all teams."
X
Sourse: breakingnews.ie